Moving Company Newton Ma
Are you ready to start planning and preparing for your move to Newton? The first step to a successful move is hiring a reputable team of professional movers in the Boston area. As your trusted Newton MA movers, Poseidon Moving and Storage will put over 20 years of experience into making your move to Newton a true success. Contact us today or request a free quote online to get started!
Things you should know before moving in Newton
If you are currently considering a move to Massachusetts and want to place your roots somewhere close to or within Boston, it is likely that you have heard of Newton MA. When it comes to finding the best suburb in Boston, many residents would argue that Newton is the best option available to you. This suburb lies just west to the city of Boston and is close enough to Boston proper that you are still allowed all of the job opportunities found in the city. As the best Newton movers, Poseidon Moving and Storage would like to take this opportunity to tell you more about the area.
On this page, we will be highlighting the cost of living in Newton MA, what life is like in the popular Boston suburb, and what Poseidon Moving and Storage can do for you as your chosen Newton movers. We hope that all of this information will prove valuable in helping you to make your final decision. Our services include packing, local, long distance, and office relocation options. With that, let's get started and learn more about living in Newton!

FAST SERVICE
Booking your move has never been this easy and stress-free. Let the professionals get the job done for you.

EXPERT TEAM
Our team goes through thorough training by management to ensure each person truly understands their role.

AFFORDABLE PRICES
Poseidon Moving offers high-quality service at affordable rates for your local/interstate/commercial moves.

AWARD WINNING
Bostons and NYC award-winning service of 2017 & 2018

MODERN TECHNOLOGY
Poseidon Moving offers easy to use software to help you manage your quote online, live GPS tracking system.

ALWAYS OPEN
Our agents can be available for you at any time by email
What Does it Cost to Live in Newton MA?
For anyone considering a move to the Boston area, it is important to keep in mind the cost of living. When determining the cost of living in Newton, it is crucial that we consider all of the important factors that make up the total cost of living in the suburb. This includes housing costs, transportation costs, utility costs, and grocery costs.
Starting with housing costs, it is important to note that Newton MA is a highly sought-after area to live. With this, comes slightly higher housing costs. The median home value in this market is $1,143,170. This is a 2.5 percent increase in the past year. That being said, most people living in Newton MA rent their homes. For this reason, it should be kept in mind that the median rent price in Newton is $3,000 per month. While this is higher than the average rent in Boston proper, it should be kept in mind that the quality of life in Newton is higher and offers the best of
both worlds with close proximity to the city.
In terms of all of the other factors to consider in the cost of living in Newton, we should look at transportation, utilities, and groceries. Transportation costs are a bit higher than the national average in Newton with gas prices averaging $2.99 per gallon. That being said, with the quality of the Boston public transportation system, you shouldn't be needing your car too often. Utility costs are also higher than the national average with the average energy bill being $201.36 per month. Finally, groceries are 11 percent higher than the national average.
Moving in Newton MA
Now that you have a better idea of whether or not you can afford to live in Newton MA, it's time to discuss what life is like in Newton. Voted one of the safest towns in the United States as well as the best place to live in Massachusetts, it is clear that Newton has much to offer those that live here. For one, it should be noted that Newton is popularly referred to as "the Garden City" and for good reason. Those looking for wide green spaces will find few areas in Boston better than Newton. There are both quality parks and reservations in Newton. Newton is also home to
some of the best schools, easiest commute to Boston proper, and the safest neighborhoods in Boston.
With a population of 88,300 residents spread across 18.19 miles, Newton is still growing each and every day. Much of the population of Newton residents is college-educated with over half of residents holding a master's degree and one-third holding a bachelor's degree. This love of education extends to the quality of Newton's public school system. In fact, many residents living in Newton will tell you that they relocated to the suburb strictly because of the quality of the school system. Each of Newton's public schools have received the highest possible rating on Niche and some of the best private schools in Massachusetts are also found in the area.
With so much history found in Newton, there are plenty of things to do for those who have a great love of history. A particularly popular way to spend an afternoon includes a visit to the Jackson Homestead and Museum where residents can learn more about the history of the area, as well as hear about the role that Newton played in the Underground Railroad. Music lovers, on the other hand, will love the New Philharmonia Orchestra which holds programs year-round.
The Best Newton MA Storage Services
Ready to make your dreams of moving to one of Boston's best neighborhoods a reality? It is likely that you will need more than just the best moving services in Newton. Aside from being top-rated moving Company Newton Ma, Poseidon Moving and Storage also offers the best in storage services. Our climate-controlled storage units come in a variety of sizes so no matter what you need to store, short-term or long-term, we have the solution! Check out our Storage Services page to learn more.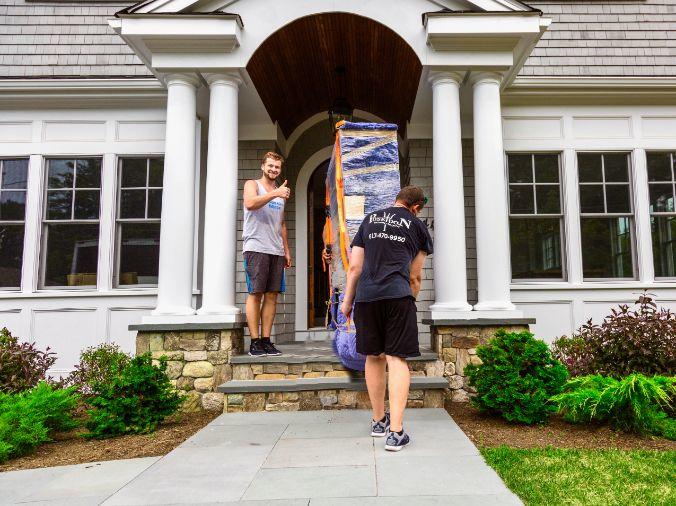 They trust us
Nothing is more important to us than your satisfaction. You will be happy with the quality of our services.
Frequently Asked Questions
How much do movers in Newton cost?
Hiring movers in Newton can cost on average $300-$700.
How much does packing in Newton cost?
Hiring packing service in Newton can cost on average $200-$500 plus packing materials cost.
What is the minimum charge for moving in Newton?
Newton movers have a minimum 2 – 3 hour charge.
How many movers do I need for my move in Newton?
Newton movers decide the number of movers your move will require by calculating the cubic feet of your move.
What size truck do I need for moving in Newton?
On average most people in Newton use 12'-16' box trucks.
Can I get a virtual estimate for my move In Newton?
Many Newton movers offer virtual estimates through zoom or Google meet.
Can my estimate be guaranteed by Newton movers?
Most Newton movers give a rough estimate which is not guaranteed unless it's a flat rate.
Is renting a truck cheaper than hiring Newton movers?
Renting a truck in Newton can be cheaper than hiring Newton movers. If you have time, family/friends that are willing to help and experience.