We are currently remaining operational and closely monitoring instructions from CDC regarding COVID-19. Read more here.
Get moving today!
We have a team of dedicated moving specialists waiting to help.
Moving can be one of the most stressful experiences of a lifetime, but it doesn't have to be when you choose to work with Poseidon Moving. Let our team of organized, and efficient relocation consultants help you. With over 20 years of experience relocating households of every size, our team offers a variety of moving services for your needs. Big or small we can handle it all.
Looking to move from state to state? Hire one of the top interstate moving companies in the North East – Poseidon Moving & storage offers competitive rates for high-quality service – Fully Licensed & Insured! Flat rate guaranteed, you won't pay a penny more than what you have been quoted on. Let us take the stress out of your move.
When considering a moving company that can handle and execute your office move without hiccups – two of the most essential requirements should be knowledge and experience. Planning and management are crucial aspects of an office move. Our experienced commercial specialists are here to help you coordinate a smooth, and stress free move. Contact us for an onsite estimate, or schedule a video call with our agent.
Packing for a big move is something that no one wants to do. Virtually everything in your home or business needs to be carefully boxed up and transported to their new location. As exemplary Boston movers and packers, our team of skilled moving professionals understands customer needs what it takes to have a successful packing experience.
A Better Way to Move
Let our team prepare you for your next move.
Full pack & unpack
Expert crating
Special handling
Floor protection
Furniture protection
Wall protection
Insurance
Discounts
A+service
Why is Poseidon Moving one of the best moving companies?
There are many moving companies to choose from, so why us? We are proud to hold a 98% referral rate – our stellar reputation stems from our consistent quality of work, commitment to our clients and our integrity in the moving industry. Our moving team is the core of our business- all of our movers are handpicked and thoroughly trained before they assist you with your moving needs. With almost 100,000 customers served over the years, we take pride in building strong relationships with our clients, making us the #1 choice when it comes to moving. Our team at Poseidon is here for all of your moving and storage needs. Please don't hesitate to contact us by phone or email if you have any questions regarding your move- our team is thrilled to help!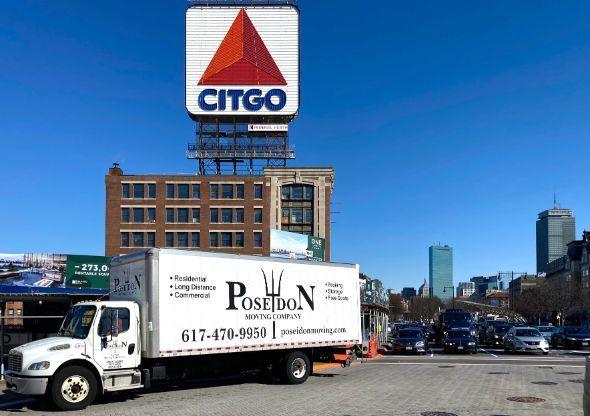 A Truly Moving Experience
Hourly Rate
Within Boston and surrounding 150 miles.
Starting from 3 hour minimum.
Long Distance Moving
Flat rate guaranteed – you won't pay a penny more than what you have been quoted on.
Interstate moving – same or next day delivery on the East Coast & Central U.S.
NEW YORK

BOSTON
CALIFORNIA

BOSTON
Additional Services
Let us help you prepare for a smooth and successful move.
STATES AND CITIES WE SERVE
Customer Testimonials
Don't just take our word for it…hear from our customers
My wife and I have had horrible experiences with movers in the past, and we were a little nervous when we booked Poseidon to help us load our POD. Well, the nerves were unnecessary.
Last we did a complex local move with Poseidon: packing one day, a 2 stop move the next. Our crew was great! Thank you, Emmett, Efim, Kosta, and Abraham! These guys were on time, fun to work with, careful,
My wife and I utilized Poseidon Moving for a move from Boston to Charlotte, NC this summer. We were happy with the reviews we saw online and their prompt response to our initial inquiries and went with their company for a pack and move service.
Really great moving company very reasonable rates, punctual, and polite. Would definitely recommend.
Had a great experience with Poseidon! I had a relatively simple move, but Alex and Efim were quick, friendly, and professional. Even the scheduling / quoting was quick and easy. Will definitely use again in the future!
Poseidon was able to accommodate my last-minute schedule request! I needed a mover to shift some furniture in my home from one floor to another to make room for new furniture being delivered the next day.
Poseidon moving has been featured in:
How do I get a free quote?
How do I book my move?
If you have decided to secure your move with us simply email/call our team specialist, you will receive an email confirmation which will include everything you'll need to know for your move.
Is there a deposit required?
Deposit is required to secure your move – $200 for local moves 30% of your flat rate for your interstate move.
Make the right move.
Let us do the heavy lifting for you.