Professional Piano Moving Services
Much like furniture, moving large instruments is no easy feat. As one of the largest musical instruments, those who need to move their piano from one home to the next to have to consider many factors when selecting the best piano movers.
Aside from being extremely large, heavy instruments, pianos also tend to be very delicate and expensive. One misstep and your piano could come crashing down. That is, at least, if you hire an amateur moving company that lacks the knowledge and experience of piano moving services.
At Poseidon Moving and Storage, you can rest assured that your piano will be moved with the utmost care. As the best piano movers in Boston, we know that moving a piano is a sensitive process and we're here to provide some visibility into the process.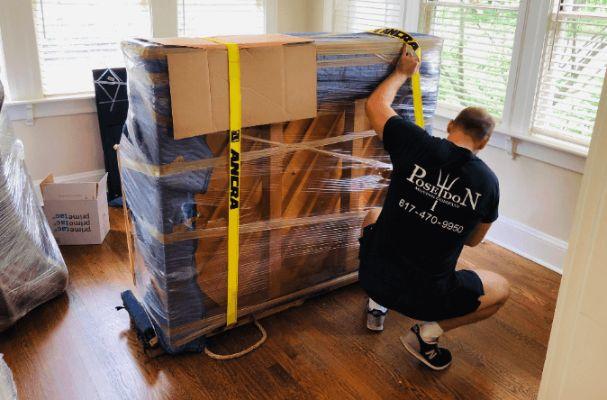 What to Look For When Hiring Piano Movers
Before we get more in-depth with the process of moving a piano, it is important that you know what to look for when hiring piano movers. Although Poseidon Moving and Storage has a reputation for being the best movers in Boston, we don't expect you to just take our word for it. We want to show you!
So what should you be looking for when hiring piano movers for your move? There are a number of factors to consider. First, make sure you hire a professional moving company that provides piano moving services. The last thing you want to do when hiring a company to move your piano is to go with someone who "is pretty sure they can make it happen". When considering any company, ask them if they have experience moving pianos. If not, look elsewhere.
It is also vital that you hire piano movers that understand the value of your piano. As with any moving process, your professional movers should treat your belongings as though they were their own- with care and sensitivity. At Poseidon Moving and Storage, we know that pianos can carry a great amount of not only monetary value, but sentimental value as well. Any company that is going to treat the process of moving your piano with anything less than the utmost care simply isn't worth your time. Let our Boston movers handle your piano moving needs for you! Our services include local, long distance, commercial, and storage.
Piano Moving Cost
On to one of the most frequently asked questions when it comes to piano moving services: how much will it cost you to hire a team of piano movers? At Poseidon Moving and Storage, we pride ourselves with offering high-quality piano moving services at a fraction of the cost. While our competitors will charge impossible fees to handle such a heavy piece, we know that your positive feedback is the greatest reward.
If you'd like to know just how much you could be saving when booking Poseidon Moving and Storage as your piano movers, use our online two-step quote calculator. This convenient tool will give you a great idea of what you can expect to pay and it only takes a matter of minutes!
Piano Moving Services at Poseidon Moving and Storage
Now, onto the most important question at hand: what is the process of moving a piano like? As the owner of a fine piano, it is vital that you have an understanding of the process piano movers utilize to transport your piano from one location to the next. For this reason, Poseidon Moving and Storage would like to share our method, step-by-step.
When hiring Poseidon Moving and Storage as your dedicated piano movers, you can rest assured that your piano is in the right hands. Not only is our team highly experienced with moving pianos, but they also utilize the proper equipment to do so effectively and safely. First, your piano movers will secure the piano for transportation. This involves wrapping the instrument in protective blankets to prevent any possibility of scratching or denting along the way. Next, we will take care to lock down the lid in order to protect the keys from any damage.
Once your piano is properly secured for transportation, our piano movers will use the overall weight and size of your piano to determine the proper weight distribution. This is an important step in moving a piano as it reduces the chances of an unexpected drop or scrapes significantly. This is one of the most important steps of the piano moving process and Poseidon Moving and Storage takes it incredibly seriously.
Depending on where your piano is being moved to, our team will then use the proper equipment (straps, metal ramps, dollies, etc.) to load and unload the piano from the moving truck. Your professional piano movers will then take care to ensure that your piano is properly fastened and secured inside the truck to prevent any damage during transport. Upon delivery of your piano, we will ask you to expect it for any sign of damage (that's just how confident we are in the quality of our piano moving services). Our job isn't done until you are completely satisfied!