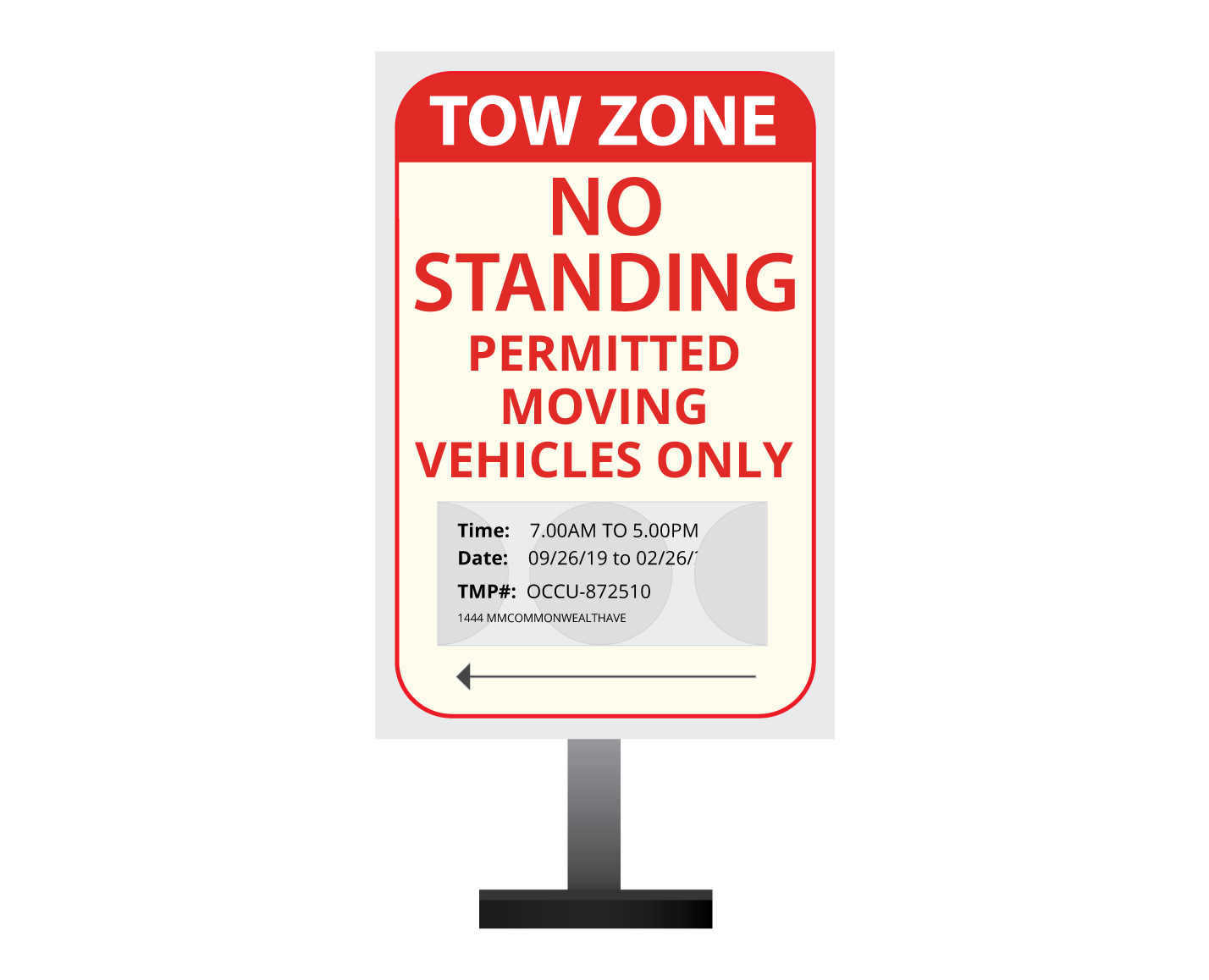 Boston Moving Truck Parking Permit
Valid Parking Spot: The street space you want to secure with a permit must be a valid parking spot. It can be residential, commercial, or metered, but it must be a legal parking area for a vehicle.
Blocked Areas: From August 31st to September 2nd, certain common moving locations are blocked off to allow pick-ups and deliveries for moving trucks.
North End Permit: If you require a permit in the North End from July 1st to August 31st, you must obtain permission from the City before applying online. Contact the Boston Transportation Department at 617-635-2560 for guidance.
In-Person Permits: Permits for overnight storage or moving containers must be obtained in person. Additionally, you need to provide a letter of authorization from the company that owns the containers, and this company must hold a bond with the City.
Costs: A one-day permit for a moving truck, covering two non-metered spaces, costs $69 and includes two signs. For two metered spaces, there's an additional fee of $40.
Brookline City Hall Truck Parking
If you're moving in Brookline, here are some important details regarding truck parking permits:
Signs must be posted after 6:00 pm the evening before the scheduled event.
Signs must be removed after the scheduled event.
Signs can be attached to sign poles, meter heads, telephone poles, trees, etc., using methods like tape, twine, rope, etc. (Note: Nails and staples are prohibited.)
Prohibited from blocking driveways or crosswalks.
Prohibited from posting signs within 10 feet of fire hydrants or 20 feet from intersections.
Prohibited from covering existing signs.
Reusing or altering signs is not allowed.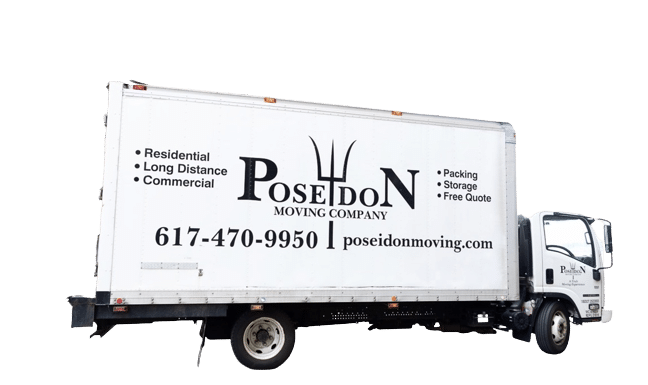 How Much is Moving Truck Parking?
Costs: In Brookline, the permit fee is $10, and Poseidon Moving & Storage charges a service flat fee of $100, making the total cost $110. If metered parking is required, there's an additional fee of $15 per day per meter reserved, but Poseidon Moving does not charge an extra fee for metered parking.
Other Cities' Permit Costs
Cambridge: $40 city fee + $160 Poseidon fee = $200
Somerville: $50 city fee + $150 Poseidon fee = $200
For applications that involve metered parking, there are additional fees, but Poseidon Moving does not charge extra for metered parking.
Obtaining moving permits can be a time-consuming process, especially with so much to handle during a move. Poseidon Moving & Storage offers a convenient service where our agent can obtain your parking permit and set it up at the right time and date to secure your parking spot on moving day. Contact our team at 617-470-9950 or email [email protected] to reserve your permit and make your move hassle-free.
What our customers say
They were prompt, easy to work and communicate with, and did a great job with the move. We'll definitely use them again in the future.

Jay Sean and his crew were wonderful! Made our move very seamless and they were so charismatic. Made our love delightful. Would definitely move with poseidon moving again!

The actual moving service was great. They were were communicative about when they would arrive and were able to get things in and out of the house in a very timely manner. They were also easily able to accommodate weirdly shaped furniture and packing help. The one gripe was they were 3 weeks late in delivering the goods to the final destination so I had to sleep on an air mattress and live out of a suitcase for nearly a month

I highly recommend Poseidon Movers! They were very helpful prior to the move - they promptly answered all my questions over the phone and through their website. The movers were on time, worked quickly, and were professional. Their storage option is also easy to setup. I will use them again and highly recommend them (especially for moves in Boston). Update - my second move from Poseidon was also very smooth! Communication was great and pricing was fair.

Very friendly and professional. They worked hard and non stop, always careful not to do any damage. They were there on time. I will definitely recommend poseidon moving company to my friends. Thank you Poseidon, you made the move so much easier!

Can't recommend Poseidon Moving enough - I decided to stick with their services after using them for my previous move 4 years ago and couldn't be happier with the decision. I heard back from them within a day of requesting services and their email communications/reminders were clear and helped me to prepare for my move from Brookline to Cambridge. All in all, the whole move took around 2.5-3 hours and their team of 3 was professional and personable, even after doing various moves all day.

They were amazing while delivering my things. They were very prompt, were very friendly, worked fast, and were great! My things arrived in great condition. I'm glad I went with Poseidon.

We have used Poseidon Moving several times and every time it has been fantastic. Great communication, on time, and movers are super friendly and more importantly efficient and make the move easy.

Poseidon Movers helped make my September 1st move in Boston easy and stress free. They were prompt, communicative, and very pleasant to work with. I was extremely satisfied with their work and would definitely recommend them to anyone needing movers.

I was changing apartments locally in Boston, and Raheem and his team were very efficient! They had me moved and set up in my new apartment within 2 hours, and Raheem was very communicative throughout the whole move. Thank you Poseidon Moving!

Poseidon were our movers for our big Boston to SF move. They were easy to communicate with, efficient and there were no surprises. I would easily recommend them to friends and family.

This was my second time using Poseidon Moving Company. When preparing for this move it was a no-brainer to go with Poseidon again because I such a great experience the first time. My moving team this time around was equally as amazing! Raheem, Timothy and Marvin were kind, professional, worked efficiently and carefully. Raheem reached out the day prior to review my inventory and answer any questions I had and kept in touch the morning of with updates. I highly recommend Poseidon moving for their fair pricing, professional and nice staff, and the ease they bring to a stressful thing like moving!

I moved from Boston to NYC with around 10 medium boxes of things I had accumulated as a graduating college student who lived in campus housing. I requested a quote for my move and received the best estimate for my specific situation and was provided a decent amount of options for pickup and delivery of my boxes. I'm grateful for Shota and his hardworking partner (unfortunately didn't catch his name!), who handled my boxes with care and were also very communicative before arriving to the origin and destination of the move. Will recommend this service to other friends in Boston who are making a move to NYC!

I moved from Boston to Los Angeles and decided to use Poseidon to move all my boxes. So happy with my decision! Shota, Elijah, and Raheem were all so helpful throughout my move. They were responsive, attentive, and hardworking. Nothing was damaged and I received all my items. Highly recommend for cross country moving.

This company is great. They helped me move my stuff from Boston to AZ, and I have not a bad thing to say about them. They were timely, professional, and very helpful. Elijah and Raheem, as well as Mohammed, were all great to work with. Definitely recommend booking with them if you're considering a long distance move!

I used Poseidon for a move from Massachusetts to North Carolina and the team was exceptional. They took incredible care in packing and wrapping my furniture. The team was easy to work with and communicated with me at every step of the way. I would highly recommend Poseidon for a local or long distance move - best experience I've had with movers!

I used Poseidon for a move from Massachusetts to North Carolina and the team was exceptional. They took incredible care in packing and wrapping my furniture. The team was easy to work with and communicated with me at every step of the way. I would highly recommend Poseidon for a local or long distance move - best experience I've had with movers!

hello nico and the crew were polite, caring and fast i was not as prepared as i thought they picked up my loaded baskets and carefully and quickly moved them antique furniture looks great this was a very emotional move for me and they helped me threw it i would recommend them and use them again

We were so impressed by Poseidon Moving for our recent cross-country move. We were struggling to find a reputable company that could service our remote departure location and guarantee a delivery date for an affordable price. Nico was always responsive. The team of movers, JB, Ibrahima, and Brayn, were professional and friendly. We're so happy with their service that we want to book them again for our next move! Thank you, Poseidon!

Oleg and Jay were very professional during our move. They were on time with positive attitude, running up and down the stairs without stopping which really impressed. You dont expect athletes to show up at your doorstep when you hire a moving company. Thanks for a great moving experience!

Just recently moved from Boston to Miami and couldn't be happier with Poseidon! Jayshon and his crew were very friendly and efficient

I've used Poseidon moving for my last three moves and they have been fantastic each time. So professional and responsive. They work efficiently and always make sure my belongings are protected. Fabrice and his team were especially great this most recent move. We had a very stressful moving situation that they completely turned around for us. They are really great at their jobs. A-pluses all around.

We used Poseidon for a significant cross-country move and could not be more pleased. Yes, you will have to wait a bit longer for your stuff to arrive. If that's something you can accommodate, then go with Poseidon. All our movers were fast, efficient, kind, and helpful. Before we booked I saw reviews that said some other people's stuff was damaged. I can only speak from my own experience but everything we moved was in pristine condition when it arrived. They did a great job wrapping up furniture, including a big fragile mirror and some antiques.

My experience with Poiseidon Moving Co was excellent. They were communicative and very nice. They moved everything out and into my new place in less than 2 hours! No problems at all with the movers they were great!

Really easy to deal with from the beginning. The movers themselves were hard working and really went above and beyond to help me out. Highly recommend! This was our second move with Poseidon and we'll 100% use them again in the future.

I love this app and it's so easy to use. the missions are easy to complete too!

Professionalism, Quality, Responsiveness

Jayshon and Victor were incredible. They worked carefully and efficiently to move all of our items between cities. The loading and unloading processes were quick, orderly, and deliberate, and the truck was packed very securely. They arrived promptly and were respectful of neighbors in the buildings. They took care to wrap furniture, frames, and electronics (beyond what we had already prepared), and were extremely careful with fragile items. Beyond the effective performance, they were very nice, friendly, and in good spirits despite the heat and stairs (and heavy items). The reservation process with Nico was a breeze, and there were no surprises with billing. Would highly recommend using Poseidon in the future.

Poseidon Moving exceeded my expectations! They wrapped all of my furniture to protect it. They utilized every square inch of their truck to pack my stuff. They were prompt, professional, and helpful. I would definitely recommend them. Hard workers! Thank you, folks!

Poseidon Moving exceeded my expectations! They wrapped all of my furniture to protect it. They utilized every square inch of their truck to pack my stuff. They were prompt, professional, and helpful. I would definitely recommend them. Hard workers! Thank you, folks!

Professionalism, Quality, Responsiveness, Value

We needed to move a grand piano across town - they were great! It was easy to make arrangements, communication was good. Thanks!

Quality, Responsiveness, Value

Everyone I spoke with was helpful and kind. I only had one couch to move from Boston to Denver. They picked it up, held it until a move was scheduled and delivered within 6 weeks. Would use them for anything!!!

Professionalism, Responsiveness, Value

Best moving experience! Hopefully I won't have to move again anytime soon but if I do I'll be calling you. Thank you!

very friendly and professional!!! jay did a great job and was not only speedy but also very kind and easy to make conversation with. very reasonable prices, and good discounts for off peak. highly recommend!

I have moved a number of times over the years. Poseidon was by far and above any movers I have used. From the estimate with Nico, the packaging, delivery, and unpacking experience with Mohamed, Isaac, and the team, the whole experience was excellent. This was a big job too and from NJ or FL. They executed exactly how the described. I would HIGHLY recommend this company.

The movers were fantastic. They worked quickly and were pleasant the entire time. If I were to move again, I would definitely make sure to choose Poseidon Moving.

Professionalism, Quality, Responsiveness, Value

Movers were on time efficient and very professional.

Professionalism, Quality, Responsiveness, Value

They were polite, quick, and very efficient. They took good care in loading and unloading the items that I had moved. They worked well as a team and you could tell they truly enjoyed what they were doing. Thanks Poseidon Moving.

Just moved with Poseidon and i love it! Great team, everyone worked hard moving my 2 bedroom apartment from 2nd to 5th floor walk up. Thanks to Mo and his team - you guys Rock!

Emmett and his team were great. Sweet, friendly extremely organized. He was also the person who delivered my things to CA from Boston. He was familiar with my items and where they needed to go. Very happy.

I've used Poseidon Moving twice now and they're fantastic. I recommend them to everyone who asks for a mover. They're personable, helpful, quick, and efficient. Thank you again!

The workers performed as a team, and as such were extremely efficient, and obviously well trained. Throughout the move they communicated with us to ensure we were all on the same page. They were very hard working, respectful crew. Thank you for minimizing the stress of an otherwise daunting task!

Recently chose Poseidon to handle my move from Boston to New Orleans. Nico who was my point of contact for handling the move was always very responsive and honest with me about the details of the move. Additionally, Mohamed, who lead the pick up of my inventory and Emmett, who lead the drop off, were personable, professional, and efficient. Big props to Emmett and the guys with him for handling the drop off on a narrow busy street in downtown New Orleans.

This was my second time moving with Poseidon and couldn't have been treated any better. Emmett and Sam were nothing short of superheroes, facilitating an interstate move within a day. Even more impressive was their positive attitude and careful attention to detail. 10/10!

Excellent service, responsiveness, and professionalism from booking through to delivery.

This is the best company I ever had! I had spoken to multiple companies and not many wanted to move my 700lbs Safe. Poseidon Moving fulfilled this service and went beyond. I am highly grateful and If any friends or family are moving I will for sure be recommending this company.

From my account rep to the movers, everyone was professional and attentive. The movers were quick and friendly, and my account rep provided me with next steps and confirmations every step of the way. Highly recommend Poseidon Moving.

Service was excellent and everything went smoothly. I would move again with Poseidon Moving. Love to use them again!

Professional and reliable

This is the second time I've hired this company for my move. Dependable and top notch customer service. Jay and his team were very careful with my things. Such hard working individuals and eager to get my stuff in and out. Thank you!!

Just moved last week. Three guys came and moved us from our fourth floor walk up. These guys were sweating and working hard and fast. they took care of all fragile, odd shaped and precious items and didn't throw boxes around. they had great efficiency. This is the second time I have used them and I would use them again. They have another stair fee fee, and the hourly rate is so good it is worth it. The price is budget friendly and the work is top notch. I would use them again in the future. Just give them accurate information and they are good with their quote estimate.

These guys are amazing! First out of state move I've had where nothing was damaged or lost and everything came on time. The guys were super professional and kept me in the loop the whole way from NY to LA with no surprises. A+++++

Poseidon movers took so much stress off of my move. They worked quick, efficiently, and carefully. I will definitely hire them again!

I am a big fan of these movers. They have great customer service, and efficient at wrapping up furniture, flexible with budget, easy to work with. I highly recommend for anyone in the area to use them for your next move! You won't be disappointed!!

I am very happy to hire "Poseidon Moving & Storage" for my move from Boston to NY. The movers were pretty punctual in arriving at the scheduled time and very courteous. Highly recommended services.

We recently made a move from Brookline to NYC outskirts and used Brookline Moving. He the inside contact was really nice and professional and he was as well. They provide us with free boxes and tape and wrapping paper. The move went very smoothly and we were very happy with them. There was nothing damaged and even the storage went without incident.

Great experience with this moving company. Movers were professional and easy to work with. They were fast and efficient. Most importantly nothing got broken or damaged. Price was also very reasonable. Highly recommended them and would definitely use them again.

The team from yesterday was extraordinary. He did perfect work. The move at my end was smooth... They were done in a great time... your entire team made this move seamless. I will def recommend your company to everyone I know.

From the first contact with Poseidon Moving to the end of our move all went well. HE in the office was patient with questions and concerns and the movers themselves could not have taken more care with our belongings. In fact, we could not quite believe how careful they were in wrapping and protecting everything. We will be using them again to move from storage into our new home.

These guys are incredibly careful and efficient. I called the office a few days before to arrange my move and Alex was quick to answer all of my questions for my upcoming move and even helped me to get a parking permit for my pick up location. Great attitude, fast, reasonably priced. Will definitely call them again for my next move.

Wow, just wow. The most amazing service I've ever gotten. I have Ikea furniture and everyone knows that Ikea furniture does not hold in being transported. But nothing was scratched! Nothing broken at all. I am completely amazed. Oleg was there on time, ready and enthusiastic to get started. He made sure to take extra good care of things I was most worried about. Most of my things were made of plywood and acrylic and everything was completely intact when it arrived. No words can explain how great the service was. Will definitely be recommending to all my friends and family.

I used Poseidon Moving on a recommendation from a colleague. They had fantastic service from start to finish, protected everything, re-assembled beds, and was very accommodating. I would definitely use them again.

We contacted Poseidon Movers in late July for a very, very last minute move from Brighton to another Boston neighborhood. We needed to move within a few days, so we were scrambling. They were fast and responsive and super easy to work with. They showed up with enough people and we were out of our old apartment and into our new one within a few hours.I would definitely recommend their services and use the company again - they were friendly, professional and great to work with!!

This is the best communication with the company and the team. Guys went out of their way to fit us in on a last-minute move. Super quick move, easy and nice guys. I would like to give him full star work.

My father has been here for 3 years and find it easily accessible and could not live without having a secure local place to store all my stuff. Highly recommended.

Great customer service and easy to work with - thanks Poseidon Movers!

I called this company and received it. Fantastic service and great prices! Remarkable work.

Poseidon Moving staff is the best friendly and responsible, clean environment, will use again.

Guys at Poseidon Moving is very helpful, professional and friendly, great service, Highly recommended.

I have used first time this company (Poseidon Moving) very happy with the service I will use them again. Thanks for everything and fast.

Excellent teamwork. Good service one of the best. I have experienced door to door would recommend to anyone who needs moving. Highly recommended.

Thank you so much for all your help with our move, superb team and company did my job with the given time.

Top Boston Movers and guys Just moved my heavy stuff this morning. Great guys. Fast, clean and very friendly. They disassembled and reassembled my furniture as well. impressed. Clean. Honest.

This is a good and professional company (Top Boston Movers), and very well. He complete his job at a given time.

Top Boston Movers and guys were fast, efficient and professional. And the price was amazing! I would recommend this company to all who needs movers.

This is a professional and knowledgable service! Punctual, careful and personable movers. They worked quickly and efficiently and we couldn't have asked for a more seamless move. I received perfect moves with this company.

These guys doing a great job! They did a great job packing the unit, so we actually ended up with extra room. Overall, exactly what you want in a moving company: fast and careful, plus reasonable prices.

I've used them for my move from Boston to New York and the job was done flawless! I really appreciated that my all my furniture was wrapped really well and my total price didn't go over the original estimate.

I've used them for my move from Boston to New York and the job was done flawless! I really appreciated that my all my furniture was wrapped really well and my total price didn't go over the original estimate.

Best moving experience I've ever had! They were on top of everything, so responsive, all around so so great and easy to work with. Very quick and careful job for an awesome price! The fact that they were able to deal with permits to ensure a spot for the truck outside of my apartment made my life so much easier...definitely the least stressful move I've ever had. Will definitely use again next time I relocate!!

Best experience with these guys. Very professional team. One of the best movers in Boston. Highly recommended services. Thanks Poseidon Moving whole team.

Incredible! They loaded and unloaded everything much faster than last time experience with other moving company, without compromising on safety or damage. They were timely, courteous, skilled, and FAST. "The price was very fair". Manager of this company is very professional. I'd recommend them a thousand times over.

I would definitely trust them with my stuff and they took care of it very well.

Great team. They were efficient and careful.

Very satisfied with my experience with Poseidon. Poseidon's rates were competitive, they were communicative throughout the process from the moment I was quoted to the time they left the driveway, and most importantly, they packed/moved me efficiently and with care. I would certainly recommend the company to others and wouldn't hesitate to use them again in the future.

Best movers I've worked with - I would highly recommend their services.

These guys are great! They were very polite and pleasant to work with every step of the way. Not only were they on time, but they were early, which was great! They called when they were 30 minutes away and they finished the job quickly and efficiently. I highly recommend!!

They were great. Low price but amazing job.

Poseidon movers did a great job. They moved me out of my apartment and into my new home about 45 minutes away very quickly and efficiently. They told me not to do anything and really made sure everything was done for me!

They were 4th choice after Monday movers' clerical error left me in the lurch when I had to be out by Wednesday night. They fit me in on Wednesday--and came an hour early after calling rather than taking a long lunch while I stressed out. I felt 100% confident that my property was in good hands; I met them on the other end. Poseidon is now my 1st choice!

I was able to book this company at relatively short notice. It was a small job which some companies won't take on. Their price was reasonable and they took good care of the furniture I had to move.

My wife and I have had horrible experiences with movers in the past, and we were a little nervous when we booked Poseidon to help us load our POD. Well, the nerves were unnecessary.Denis and Almat showed up early and were very patient as we waited for our POD to arrive. Once they started moving our stuff, our minds were blown at how fast they got the job done, while taking good care of our possessions. They were friendly and professional, and we would recommend them to anyone. Also, I was very impressed with the customer experience, all the way from when I booked with Poseidon on YELP, through the answering of my questions through their online portal on the days leading up to the move. The best part was that I had a single point of contact for my move, Alex, who I could call or message anytime to work out the timing issues we were dealing with. 5 stars, only because I can't give more. Definitely one of the good moving companies.

Helped move my family and long distance from MA to PA. Overall amazing experience. Workers were professional, hardworking, and efficient. The quote was very reasonable and I'd hire them again.

These guys were great! We had a 6 man team: Egor, Ilya, Vlad, Matt, Peter and Slava. They worked hard, non stop from 7am-4pm. Moved us from 1 house full of stuff for 2 kids and 2 adults to another house. Both houses had a staircase to even get into the house, and both had 2 additional levels. They were professional, courteous and just very helpful. They never minded moving heavy plants or boxes when we changed our minds about where they needed to go. They dealt with an awkward parking situation at the new place; they made a stop on the way to drop off 1 heavy item etcc.. Probably our least painful move so far, out of 7 in our adult lives. Thanks guys!Highly recommend them.

Excellent service, great people - highly recommended Poseiden Movers.

I was very impressed with Poseidon Moving! The movers were incredibly speedy. They also were incredibly flexible & they were able to adjust quickly and not lose any time! I would definitely use them again. Plus, very affordable! Thanks Poseidon Moving.

Last WE we did a complex local move with Poseidon: packing one day, a 2 stop move the next.  Our crew was great!  Thank you Emmett, Efim, Kosta and Abraham!  These guys were on time, fun to work with,  careful, and troopers!  Emmett ran a tight crew and everything was accomplished on Day 2 in one day! (2 stops etc finished at 10pm). Alex and Oleg (owners?) were also responsive and very helpful.  Thank you Poseidon...

Best mover's company in Boston. Higly rated company.

Poseidon made our out-of-state move easy. 1) The price was very good 2) The movers were professional, efficient, and friendly 3) They assembled and disassembled big pieces of furniture with no problem. 4) Our glass and fragile items arrived intact. Special thanks to Emmett for directing the crew and driving the truck for many hours. Book them now!

Poseidon has been the best moving experience I have dealt with thus far in Boston (and I have moved over 9 times in a few different counties). The process was speedy, efficient, friendly and overall a great experience that I would recommend to anyone searching for movers! Slava and Oleg were very helpful and prepared. I was noticeably anxious and they reassured me by being very knowledgeable and understanding. I had such a positive experience with Poseidon, they made the entire process a breeze and I no longer have movers anxiety. 🙂

These guys are amazing! They were so friendly and professional - and they got the job done fast. No damage to any of our furniture or home. They were super organized and I was happy to see they didn't spend any time on their phones until after they were done. Pricing was fair and owner was great to work with. Would definitely recommend to anyone!

Really great moving company very reasonable rates, punctual, and polite. Would definitely recommend.

Poseidon Movers knocked my move out of the park. They did an amazing job loading up the truck and getting my pain in the "A" furniture out of the house. They had to breakdown three items, but they were able to get them back together no problem in my new location. My movers, Jay and Emmitt, were full on professionals and would 100% recommend to anybody. ????

My husband and I moved yesterday from Chinatown to Southie. We had a wonderful experience with Jay and his team. They were extremely efficient and truly made the move pain-free. As an added bonus, everybody was kind and friendly. It was an overall enjoyable experience. I have already recommended them to several friends who are looking to move in the near future. Thank you again!

I would highly recommend Poseidon Moving. They are professional and caring. They moved our two bedroom apartment from Natick to Brookline. They did a Great job!!

Really amazing crew. We had them drive to Connecticut and pick up things there and return to Boston to move things from there to a new apartment in Boston. Woke up to a major snowstorm. Almost everyone else we expected on this day cancelled. NOT these guys...they not only did the job, they did it for the price they quoted even though they spent extra hours on the road to get to/from our home to pick up things for the move. I'm so appreciative and they definitely will get our business the next time we move.

Take bit longer than expected but with the bad traffic and moving to the 3rd floor of my new apartment.. Nice job!

Just amazing! Super nice over the phone when I booked the job. Flexible with Groupon requirements. Frequent email reminders very helpful leading up to the job. Job involved several locations and a few cumbersome pieces of furniture. The 3 man crew were so impressive!! Communication was excellent, they called when 45 min. out from my house. They called when arrived at each of my 2 delivery/ pick up locations. It was amazing how they got my super heavy futon and tall bookcase down from my 4th floor apt.  They took great care  and even wiped down my dusty bookcase. They were super nice. I will always use Poseidon for any future moving needs!

Moved from Chelsea to Newton recently. Was extremely satisfied with the service provided. The booking was easy and convenient. I had requested for a specific time to start the move (later in the day) and was immediately accommodated. Our movers arrived on time and will equipped. Both our movers were super friendly and helpful. The charges were justified and definitely appropriate. They really made the move less stressful.

I had a relatively straight forward 1br move, but definitely had a great experience with Poseidon!

My boyfriend and I recently worked with Poseidon Moving for a tricky move. When looking for a moving company, I knew I wanted a company based out of the Brookline/Allston area, just for logistical reasons. Poseidon had great reviews and they responded very quickly to my quote request with competitive pricing. I say the move was tricky, because we checked off many of the boxes for complexity:1) We needed to move to our new local location on September 1. And anyone who lives in the Boston area knows that's the absolute worst day to move in this area, with about 75% of leases turning over on that day. 2) My boyfriend's lease ended Aug 14, so we needed to have the company pick his things up and store them for 2 weeks.3) Then of course on Sept 1, they needed to get everything out of storage, drop by my place to pick up my items, and finally drop everything off at the final location.Working with Poseidon was incredibly easy. They absolutely understood what I was asking for, and they set up all the details. I loved their website, which allows you to view your full reservation details, including the quote, addresses, pickup times, and item inventory. From the site I could see that they had properly set it up as a 2 part move, which made it much easier for me to keep track of what to expect and when I needed to make payments.For the first part of the move in August, the company confirmed the move with me the day before, and the 2 movers were absolute troopers. The loading dock for the building was on the far opposite side of the building (easily an 8 minute walk each way when you're not carrying furniture), and they moved quickly. Also, the foreman, Alex, was innovative in using our discarded blankets and boxes to protect glass furniture parts to avoid having to pay extra for their packing supplies (besides tape of course). They were done in 3 hours including travel time and time to load things into storage.For the second part of the on Sept 1, I gave the company a call in the morning to check on the confirmation, and they said that they may be able to come a little earlier than expected, which I was very happy to hear, because I was scheduled for a 3pm start time. They gave me a call to confirm the start of the clock when loading the truck from storage, and they called again when they were 15 minutes away from my place. Again, the movers were amazing. THEY CLEARED OUT MY APARTMENT IN 30 MINUTES! All in all, the full move only took an astounding 4 hours including travel, which was 1.5 hours less than the quote. I guess it helped that I had organized all of my items, cleared pathways, and reserved a spot for the truck right outside the front door, because time was literally lots of money.I would only complain about the deposit policy/ misinterpretation of the policy. For me to book for Sept 1, I had to leave a deposit by credit card for half the quoted amount for that day. They have a 5% discount if you pay cash or a 3% fee if you pay by card. I thought the deposit on the card would be reversed and I would pay the Sept 1 all by cash to get the 5% discount. That didn't happen because I had paid in part by card, even though I could not complete the booking without paying the deposit by card. At least I didn't have to pay the 3% fee for paying by card, and with them finishing in less time than quoted I saved money overall.All in all though, I was very satisfied with Poseidon Moving and I have been recommending them to my coworkers and friends 🙂

Had a great experience with Poseidon! I had a relatively simple move, but Alex and Efim were quick, friendly, and professional. Even the scheduling / quoting was quick and easy.Will definitely use again in the future!

My moving day was a very hot day the three men that showed up to move me were great never complained  about the heat and got the job done in a reasonable amount of time. I would definitely use Poseidon moving again and recommend to family and friends

I had an excellent experience moving on September 1 with Poseidon Moving! The team was on time, friendly and quickly moved my belongings to my new apartment. Before selecting Poseidon, I researched ~15 other moving companies. Poseidon had the best prices and ratings. I would not hesitate to use them again or recommend them to friends and family.

Due to a cancellation, Poseidon Moving was able to arrive early for the move, which worked out great! They were very fast and efficient, while taking great care of the antique furniture they were moving for my client. They asked all the right questions, were easy to communicate with for furniture placement and didn't mind my vacuuming while they worked! I will definitely refer them to future clients.

Amir and Ephim were great. Very friendly and fast.

Poseidon made my move from Boston to New York practically seamless. I got quotes from multiple companies before deciding on Poseidon; their quote was by far the best deal (competitive pricing, dedicated truck, and guaranteed pick up and delivery dates). The crews who handled my move were extremely professional and efficient. My shipment arrived on time and in perfect condition. The company is great about communicating and quickly answered any questions I had. All around great experience - I would highly recommend Poseidon, especially for an out-of-state move.

I have been in the moving and storage business for over 25 years on Florida these guys are extroidinary they confirmed tome they reconfirmed they reassembled treated everything as it were theirs I would highly recommend this company anytime and the price was so reasonable cant thank them enough highly reccomend.

We recently got scammed by a mover we hired. Out $500 bucks !!! So I called Poseidon and told them what happened! Owners name is Alex. They fit me the very next day and I didn't have to pay them until furniture was delivered!!! Best movers EVER!!! Prompt. Amazing young men that packed up the truck Emmett & Maslah were amazing! Beyond Patient . I would HIGHLY RECOMMEND THIS COMPANY!!!

This moving company comes very highly recommended.The closing was scheduled for the morning of July 31st. I had booked the moving for the afternoon, between 13:00 and 15:00.Due to circumstances beyond the movers control the scheduled move was running very late.Even though there was a late start the three movers worked tirelessly and super fast, moving us out of the apartment and into my new home. I was on the fourth floor of the apartment and my new home has 3 floors so as you can imagine there was many levels to endure but the men worked super hard and with a commitment like no other!Alex, the owner, was one of three men and he actually rose to the occasion and the unfortunate tardy circumstance and took on the responsibility of making this move happen as per our verbal contract: what a great owner and business man. He certainly is a great role model to his peers!Thank you Poseidon Movers!

Best moving company. The movers were extremely professional and kind hearted. They took extra care and were very gentle with all my belongings. I would go back to Poseidon for my next move.

Great working with this group. We moved from out of state and needed help unpacking a moving truck we packed ourselves. Movers were on time, polite, brought plenty of equipment and supplies, worked quickly, communicated well, and we communicated mostly through the yelp app which worked very well. Would definitely use Poseidon moving again. The mover was also able to provide a general liability form for insurance purposes which was required for our building- small extra fee, but extremely reasonable and professional.

We hired Poseidon to move our one bedroom apt. Getting a quote over the phone was very easy. They sent a big truck and two movers. The move went off without a hitch. The movers were polite and efficient. Nobody likes moving but it was much more bearable with help. Thanks Poseidon!

Due to unforeseen circumstances and ones that were clearly out of the movers realm of rectifying: the move was delayed by several hours. However when they arrived the move went very fast and Alex was very professional and extremely apologetic for the delay. I was also compensated for this said issue. There were three people in total and they worked fast and furious and extremely efficiently. I am extremely satisfied and these movers are highly recommended!

Amir and Dragos are amazing!!I've had Poseidon Moving help me move 3 times, and every time they do a 5-star job. There's never been disappointment. These guys are punctual on time, organized, do all the heavy lifting, take extra care of the furniture, and are very quick in move. They are also being very considerate of where to put the boxes in my new apartment (makes so much easier for me to unpack!). I managed to move my 1bd apartment (12 large boxes, 6 suitcases, 1 queen-size bed frame and mattress, dining table&chairs, TV, etc.) within 3 hours including travel time. I truly enjoyed the moving experience with Amir and Dragos as it's sweat-free and worry-free. I'd highly recommend Posidon moving

Fantastic and friendly moving service! I used them for a local move from Brookline to Brighton and could not have been happier! They are fast, efficient, and very careful with furniture! They go over the quote and bill one-on-one to make sure the customer is aware of every charge. They do all the heavy lifting and even offered to help pack. The company allows for overnight storage, which I used, and they shipped me my boxes a week before my move. They are responsive to emails and phone calls as well. I would HIGHLY recommend this moving company and would absolutely use them again in the future. Hands down the easiest move I've ever done, thanks to Poseidon movers!

Team was professional, efficient, and friendly. Easy to work with and everything was done on time, as quoted.

It has been my best moving experience. The movers are punctual, professional and patient. I would hire them again in a heartbeat.

what can I say- HIRE THIS COMPANY!! They moved us from 7500sq ft down to 2000sq ft. That's a lot of moving and a lot of stairs. I found them on thumbtack and hired based on their reviews. From the first contact with Alex they were responsive and professional. Communication was excellent. They were moving me after an early morning job that ran late. They never complained about how much stuff we had to move or how many hours they had already worked that day. Poseidon sent me Kevin, Luis and Dmitri. These guys were truly AWESOME! start to finish. Would hire them again and recommend to anyone that doesn't want to worry about a move. they took great care of us and I feel they charged us a great price for the work involved. - Milissa and Brenden

Very friendly movers. Nice people. Responsive to all phone calls and emails. Receptive to feedback and readily reimburses for minor damage (this is just unavoidable in my experience with multiple moves). A great experience with interstate move from Boston to Cincinnati. Can't beat their flat fee pricing, which was honest and true to the estimate provided. Would happily recommend to friends and would use again!

Believe all the 5-star reviews -- these guys are the best!  I had to do a Boston-to-NYC move with one week's notice, and after calling 17 other movers whose schedules were (understandably) already full, Poseidon said they could fit me in.  On the day of, Slava and Demetrios were the perfect movers -- courteous, incredibly efficient, and they left precisely zero scratches on the walls on the way out.  When we arrived at my new building and found that another moving truck was unloading and using the freight elevator (despite our reserving the space in advance), they took it completely in stride, even though this was a big hassle for them (they had to park farther away from the entrance, and then use the normal, smaller elevator).   Great attitudes!   Even though this added probably an hour to their moving time, they agreed to accept more money than their quote only after I repeatedly insisted.  Some moving companies are out to scam you -- these guys are the exact opposite! Moving stuff in, they made sure they put all the boxes in the right rooms, and assembled the bed and other furniture like pros.  Smooth as silk. I could not recommend Poseidon Movers more strongly.  Incredible customer service both on the phone and in person, very reasonable prices, super friendly, and great at what they do!

I wanted to share the awesome experience I had with Poseidon Moving on Wednesday. Chris, Elly, Amir, and Vlad moved us from Medford, MA to Kingston, RI. They were ruthlessly efficient (carrying three boxes at a time kind of efficient), respectful of our homes and our belongings, and nice people. On top of that, they were very fair with pricing, which I really appreciated. I saw the 120 or so five star reviews Poseidon had on Yelp and didn't really believe it (how can movers be that good?), but now I get it. Thank you for making a stressful experience easy for us.

Poseidon was able to accommodate my last minute schedule request!I needed a mover to shift some furniture in my home from one floor to another to make room for new furniture being delivered the next day.  Probably about a two hour job.  And one large couch needed to be moved to my husband's office.  Two movers showed up at the scheduled time on a Friday afternoon with a truck large enough to transport the single couch to a destination about 45 minutes away. But first, the furniture in the house needed moving.  The two movers were polite, conscious about NOT nicking woodwork and able to complete the job quickly.  They didn't have any tools with them (surprising) to take the legs off a couch but I was able to supply the needed tools!!All in all, a good experience with Poseidon!  I'd recommend them!

From initial quote and setup with Oleg to the move itself with Max, Andrey and Alexey, everything went seamlessly. These three guys were very professional with handling and packing of the cargo to loading and unloading to the final destination. Final bill matched the estimate exactly. they handled everything right. nothing was broken and the amount of energy that the moving crew showed on such a muggy hot day was amazing. I will definitely use them again and highly recommend their service to anyone looking for great movers.

POSEIDON crew moved us this past summer for a second time. We moved two years ago from Boston to Norwood with them. Since they did such a great job the first time, we did not hesitate to call Oleg to schedule a moving date the second time without getting another quote from other company. During the first move, I got 3 quotes and their is most reasonable. We decided to go with Poseidon because of the great reviews they have on Yelp and Google, which is means a lot nowadays. I trust these guys with belongings and they work extremely hard. They did such a fabulous job the second time that I had to tip each crew member $100. Hopefully, we aren't moving anytime soon but if we do I will call up Poseidon without any hesitation. I would highly recommend Poseidon to move you and your things. Also remember to TIP the crew as they're probably don't make that much.

Slava did an incredible job moving me out of my fourth floor walk up apartment. They were careful, fast and great to work with. Highly recommend.

Reasonable pricing, and very communicative leading up to and on the morning of the move. The movers were great and we will be using them again! Highly recommend.

POSEIDON crew moved us this past summer for a second time. We moved two years ago from Boston to Norwood with them. Since they did such a great job the first time, we did not hesitate to call Oleg to schedule a moving date the second time without getting another quote from other company. During the first move, I got 3 quotes and their is most reasonable. We decided to go with Poseidon because of the great reviews they have on Yelp and Google, which is means a lot nowadays. I trust these guys with belongings and they work extremely hard. They did such a fabulous job the second time that I had to tip each crew member $100. Hopefully, we aren't moving anytime soon but  if we do I will call up Poseidon without any hesitation. I would highly recommend Poseidon to move you and your things. Also remember to TIP the crew as they're probably don't make that much.

from the start they had great communication. they got the job done quickly and efficiently. The movers were on time and very courtious as well. would definitely hire again

This was a great experience! I was moving in state but for quite some distance but nothing was damaged. The guys showed up on time, were well prepared and made the whole thing a breeze. The price was great too! Would definitely recommend.

Couldn't have asked for a better moving experience! They showed up on time, moved all of my heavy furniture down several flights of stairs in a very narrow apartment in Boston with such ease. Didn't hear one complaint from either of the 2 male movers. They even made some jokes! Moving is one of the least enjoyable tasks there are and this moving company made it easy as can be. On top of that, the men moved quickly which helped me keep the price down. It was so affordable, I'm not sure why everyone doesn't use these guys! They even helped me assemble the bed frames and kitchen table. Those projects would have taken triple the amount of time it took them. Overall very pleased and would highly recommend!

Used Poseidon to move out of our apartment and into our first home and despite it clearly being the end of a long day they were great. Carefully wrapping up everything, putting everything where we asked, very careful with all our stuff, and very friendly. Peter, Ben and Andres were all we could ask for.

I was talking to my coworker about moving and needing to hire movers this time around and he recommended Poseidon ...he had just used them. We had never hired movers before so we were nervous...(but also excited to not be the ones moving boxes around haha)We had vetted several companies people recommended to us but we went with Poseidon for a number of reasons: my co worker's high regard of them, Yelp reviews, their pricing and the ease of their site. They are also very quick with communicating with you so there are no questions about how much they are going to costTo be honest, I was not around on moving day (yay work engagements), but my husband was. I guess they were a tiny bit late, but the "annoyance" of that went away pretty quickly with their professionalism. We have some annoying pieces of furniture, which they can move with ease. Our ginormous couch had to be hoisted over our second story level front porch at our new place (I think they charged us about $25 extra for that-- extremely fair, just FYI in case you have big pieces that won't fit through your door). They didn't waste ANY time getting things out and getting things in. I will update this review with names of our movers so I can give them a shoutout. And if you are reading this, one of your cables you used to hoist up our couch is still on our porch :-PTHANK YOU FOR MAKING OUR LIFE EASIER! We will definitely recommend you!!!!

Poseidon was fantastic to work with. When I first contacted them I was uncertain about the exact date of my move but they were very flexible with my uncertainty. The parking in my apartment complex was a nightmare because of construction, but they were patient and easily maneuvered the truck into an open spot. Oleg and Alex were incredibly efficient and kind. They handled my possessions with care while quickly loading the truck. When we arrived at the new house they were also patient with my erratic box labels and my needing to direct each piece of furniture to different rooms on different floors. I can't imagine the experience having gone any better!

Similar to others, my experience with Poseidon Moving (PM) was very positive. On August 29th, my wife and I moved from the North Shore to Waltham. Though hesitant, we decided to hire movers for the first time. In the past we had moved ourselves with the help of friends. Due to their stellar reviews, we decided to try PM, and we could not be happier. Slava & Kevin arrived on time and began working immediately. They kept a feverish pace throughout the day without being reckless, making sure all of our possessions arrived at our new home intact. Further, both Slava and Kevin went above and beyond to make sure we were happy, spending extra time at the end of the day to make sure our furniture was placed in our new home how and where we liked. All this, and priced significantly lower than the big name moving companies in the Boston area. Needless to say, we will definitely be using PM the next time we move.

I think everyone can agree that moving is one of the most frustrating experiences you have to endure in your life. And, especially in Boston, you usually have to endure it over and over again! Fortunately for us, there is a company like Poseidon that makes the transition so much smoother.I've now used Poseidon for 2 different moves, and both times I've been very pleased with the experience. It is easy to schedule as well as affordable. If you pay with cash, there is a 10% discount, and if you are a returning customer or refer someone/are referred, there is an additional 3% discount (you can't combine both of these 3% discounts though). The movers are very fast, efficient, and careful while moving your things. They are also very nice and appreciative when you offer them water or a snack! I don't hope to move again any time soon, but when I do, Poseidon will be the first company I call!

Poseidon was fantastic to work with - start to finish. Oleg set us up to make sure we were all settled at each step of the way. They were extremely flexible, especially since we didn't have firm details upfront. Even with late changes to our schedule, Oleg was extremely accommodating. We moved from Boston to Washington DC. On the day of the move, Peter and Slava were fantastic - extremely professional. Our place in Boston was a huge pain to move out of (very tight hallways, fourth floor) but I never heard a complaint. They did a fantastic job and were very careful with all of our furniture. I highly recommend Poseidon. Very well-priced, professional service.

We hired Poseidon to move our son from Waltham to Pittsburgh for Grad School. They were the only movers who could guarantee a delivery date which was important to us. From start to finish the job was done professionally.

This was my first time ever using movers, and it was worth it! Nothing ever goes easy for me, but Oleg and Sasha got a move from Waltham to Cambridge in 2 hours! They also accodomated me last minute and had very reasonable rates at $100 an hour. I will absolutely use them again for my next move. Totally appreciate the hassle free service and very friendly customer service. Agreed it was a "truly moving experience" thank you!!

Very good experience. They handled our long move smoothly on a short notice. Thank you.

Hands down this was the best experience I've ever had. They were early, efficient, professional, and very neat with all my belongings. They wrapped all my furniture so well and were very fast!! I will honestly never use another moving company again unless it's them!! Five stars for sure.

Best movers ever! Mark and Alex (hope I got their names right) were super-efficient and professional. I would highly recommend to anyone who is looking for movers in the Boston area. I am definitely hiring them again. One request to the business owner though - please have the card swiping option (e.g. Square Credit Card Reader) available for customers who pay using credit/debit cards.

Professional and efficient.

If you are looking for some great movers look no further- Poseidon did an excellent job communicating through the day and were extremely fast and professional. Best money you will ever spend on a Boston area move.

Bottom line, these guys are reliable, communicative and affordable. We recently moved from a 2 bedroom condo in Brookline to a 4 bedroom home in Newton. They arrived promptly at our agreed upon time and they worked for 8 hours straight. They were careful with our belongings and got everything there in one piece, as well as in the right rooms. I would use these guys again, but hoping I never will need to. 🙂

Poseidon was great! We requested our move at sort of the last minute (just 1 week before) and they were very accommodating. When I didn't fill out the online form correctly, they just called to clarify things so I could get the best rate possible. The movers were a little late (2 hours past their window), but they made up for it in efficiency and speed, keeping our price to a minimum. I would absolutely hire them for my next move!

AMAZING!!!!!!!!!! Let me start by saying I've avoided moving for 4 years, despite rent increase, because I hate moving. I finally took the plunge. I found Poseidon on Groupon. I submitted my estimate online , including pictures of my items. The day before the move, I had an overwhelming sense of dread and called Alex in a panic. I actually told him that I'd rather get my teeth pulled without Novocain, then pack and move. He reassured me they would do FULL packing and added an additional man to help. On the move day, they called 30 minutes out and arrived at promptly 8am. I actually left to do an errand and came back. By that time everything was packed and in the truck. The unloading process took 45 minutes. Great guys!!! Hardworking, NO attitude, NO complaining. The final price was under the estimate by half. I wish I could give them 10 stars!

Impeccable, professional service from quote to end of the job. They were on time, knew what they were doing and finished everything including travel and unwrapping the furniture 15 minutes under the minimum time estimated. They then offered to set up my bed, which was appreciated!I would rehire and recommend these guys without question!

I have used poseidon twice now and they have been great and accommodating both times. The prices are fair and the guys that come are always hardworking and polite. The second time we used them they were running late so they sent a third guy for free to help with the move. All in all I was happy with the experience and would recommend them for anyone!

We used Poseidon to move into our new 3 floor home from a 4th floor walk-up apartment .... they were efficient, no nonsense, never complained (even when it started raining) and got the job done as quickly as possible.  They properly wrapped everything and were super nice.  Thanks!

Amaizing service, if you are looking for a trustworthy moving company look no further. They do a great job and take care of everything like it's their own stuff.  They called me in advance to give me a 30 minutes notice and came on time. They were great! Friendly and professional, quick and efficient, and very respectful. They went under my estimate by 40 minutes. The price I paid was more than good. If you're looking for good quality service from professional movers, you should most definitely give them a call and hire them. Thanks, guys!!!!!!

These guys were great!! Half the cost of another company who came out and quoted on the job, and the service was fantastic. Oleg, Alex and Armon took great care to wrap everything, deducted time took for lunch and even helped us carry the new dryer downstairs. The final price was lower than I had anticipated. The absolute best moving company I have ever used.

I hired Poseidon for my move this past weekend. I was moving from my two bedroom rental into my two bed condo. They showed up a few minutes before their scheduled arrival and got right to work. I had moved most of my kitchen items and some of my personal items as I was mainly interested in help moving my furniture. It took less than three hours from start to finish including their travel time. I have a large sectional that I was nervous about moving and they did it easily. All of my furniture, tvs, and boxes made it without any issues or damage (they wrap all furniture quickly and securely). They were great about having me provide details as to where to place everything in my new unit so I didn't have to rearrange anything after they left. Leading up to my move Oleg was very responsive to my e-mails and questions. Although I have no plans to move again in the near future, I would definitely use them again and recommend them to any of my friends.

Oleg and Max helped me move this morning, and they were fantastic! They got to my apartment right on time at 9:15, which I was really nervous about because I had to be at work by noon. I had a small bedroom on the third floor to move, which consisted of a queen bed, a nightstand, a large dresser, a 3-cube storage bench, and a small AC unit. From the moment they got there, it took them exactly 25 minutes to pack everything--impressive! They were very polite and the price was very reasonable. If I have to move again in the Boston area, I'll definitely use them again. Thanks, guys!

I am so glad I stumbled across Poseidon Moving! I loved working with Oleg. Starting with the quote, he was personable and followed through with everything (this won them the job as other companies didn't seem to want my business as much and the rate was unbeatable). The day of my move could not have gone more smoothly. The guys were super friendly and treated my belongings with great care. I was able to trust them and not supervise their every move (for me, being a tad bit type A, that is saying a LOT). Did I mention they were super fast? In the end, it cost me a lot less than expected and a lot less than the minimum other places had quoted. I will absolutely recommend Poseidon Moving and will use them for my next move.

The service is great and people are friendly!

Oleg and his team at Poseidon Moving are true professionals. I had such a pleasant experience working with them in the course of a recent move. Moving is stressful and Oleg gets that. He has organized his business and engaged his team in a way that is seamless and  truly helpful at a time when there are million other things you need to focus on. From offering to deliver boxes and supplies to showing up on time and working swiftly, this experience was truly pleasant. When I had a specific concern regarding my move that I was afraid has been missed, Oleg made the time to call me directly and make sure we were on the same page and confirmed all the details. THAT is simply stellar service. Thank you to Oleg and his team. I recommend Poseidon Moving readily and without hesitation.

We used Poseidon Moving on July 31st to load our 15ft UHaul truck that we then drove to NYC. Alex, Arman, and Sasha (I'm so sorry if I mixed up/spelled your names wrong) were fabulous! They worked their butts off moving everything out of our 3rd floor walk-up and basement storage unit. They were on time and amiable [even after we had to change the moving time last minute due to some frustrating things related to UHaul], efficient, professional, and everything arrived in NY in great condition. I spoke with Oleg on the phone to learn a bit more about the company and to see if they were available on our move date. He then said he'd reserve the date for me so I could head home and make an official reservation request online. Everything from that point on was very easy and I'm more than pleased with Poseidon. I definitely recommend them!

I've moved with them twice now, both times they showed up on time, were very professional, took great care of my stuff and were very reasonably priced.  Both crews were also very nice and fun to spend the morning with.  I don't know what else there is to say, two separate excellent moving experiences.

Impressive service. Very professional. Nothing broken. Outstanding communication before and during the move. Payment was just what they quoted (plus gratuity). Honored my groupon. No issues! This was a major move from a 4 bedroom house. Don't hesitate - call them!

We had three Poseidon movers come to our place to pack everything into boxes. We loaded the rented moving truck and drove 2000 miles and when we unloaded and unpacked it all we found that we did not have anything break. If that doesn't show the precision of packing I don't know what will. I would certainly recommend them to pack your home.

I've moved 5 times in the past 6 years and I just got downright sick of moving on my own. I decided to treat myself and hire movers this time. I found a Groupon deal and purchased the $175 deal for $320 (I think) worth of moving services. Groupon did not indicate that this deal was only meant to be used on peak moving days (first and last days of the month) and I discovered this was the case when I called Poseidon to book their services. They didn't have any availability on the day that I wanted to move, which happened to be a peak day, and I wasn't able to use the $175 Groupon on a non-peak day. Fortunately, I was somewhat flexible with my moving day. I wasn't able to get a refund from Groupon for the $175, but I did get Groupon bucks, which I was mildly annoyed about, but more toward Groupon not Poseidon. I ended up purchasing the $50 Groupon for $100 of service to use on a non-peak day. The booking process was really easy and Oleg was very responsive to my questions. Fortunately, I don't have a lot of things and nothing that was terribly difficult to move. Since I've never hired movers before, I didn't quite know what to expect. My moving men, Slava and Misha, were very considerate and asked me what I wanted moved, wrapped (if it wasn't obvious), and where to place items in the new place. They were very efficient. So efficient that my bill was half as much as what I expected it to be even with the Groupon discount. There were no hidden fees and Oleg explains any additional costs, which for me was only travel time. If I need movers again, I will definitely use them again.

Amazing again. Used these movers twice and they are reliable, reasonable pricing, efficient, and friendly. Would highly recommend using Poseidon for any type of move. They offer a discount if you pay with cash which is great as well. They communicate very well with you as well. Never had an issue reaching them or with scheduling. They also take into account any time restraints you may have (I needed to be done by a certain time and they made that happen with a little time to spare). Excellent experience again with them!

I could not have asked for a moving experience as good as the one Poseidon Moving gave me! From start to finish, everyone was responsible, friendly, punctual-- I seriously cannot say enough good things about them! My contact-- Oleg-- is the nicest person on the planet. He always answered my calls, or returned them promptly if he missed one. He answered any and all questions I had. He helped me trouble shoot any problems before they arose. The movers that helped with the actual move were also very pleasant to deal with... Very careful with my stuff. I'm really happy I trusted Poseidon with this... Moving is really stressful, but they actually alleviated pretty much all my worries and anxieties. Thank you Poseidon! I wish I could give you all more than 5 stars! Bottom line: Poseidon Movers are the best movers. Ever. In the world. And you should use them for everything ever.

We hired Poseidon Moving to move us from a three bedroom home in Waltham to Andover. This was our first time hiring professional movers and we were very pleased. Cost was one of our main concerns, since buying a house is already a huge expense. They were one of the first companies to get back to us with a quote, which we found very reasonable compared to other companies. Their pricing was straightforward and there were no extra fees or surprises when it came time to pay. I was able to deal with them quickly and efficiently over email leading up to the big day. On moving day, they arrived right on time and worked quickly and professionally. I would highly recommend them.

These guys are great! We had to do a within building move. They have been very professional, motivated and rapid. They moved all the furniture almost effortlessly. I will sure refer them to any friend moving to town.

Poseidon Moving was awesome!  I was moving around the corner and up two files of stairs, and these guys were pros.  They arrived on time, assessed my things, wrapped everything very carefully and executed the move flawlessly.  They even worked to get some of my large items up the stairs when I thought there would be no chance.All of this was after Oleg, the manager helped coordinate the details of my move and personally came out to take a look at some of my larger items to provide an assessment of the stairs.I would highly recommend Poseidon to anyone looking for reasonable movers, especially in the Brookline area as their travel time is limited.Thanks for the awesome help!

Moving is the worst, but these guys made it so much better. These guys were great- I really can't say enough about how patient they were with us and what nice guys they were. We had grossly underestimated how much stuff we had which made the move take MUCH longer than scheduled but these guys were on it. They rearranged things behind the scenes and were great at communicating what was going on. I would recommend them to anyone and would call them again in a heartbeat (even though we hope that we are not moving again anytime soon).

It's really true - these guys are AMAZING. They're fast, efficient, smart, friendly, take care with your belongings, don't over charge you. I've moved about 30 times in my life - thanks to Poseidon this was the least painful it's ever been.

Wow. These guys were amazing! So friendly and did all of the work. My husband was out of town and I have a neck injury and I hardly lifted a finger. Really great prices, and quick too! They were training a new guy and so i had three for the price of two! Also only charged me for 20 minutes travel time on the way to my storage unit even though it took them over 30 minutes because of traffic. I really appreciated that! Thanks Tony, Gary and Surge, you guys rock!

Moving on September 1st is always a nightmare in Boston, and I had been wary of hiring movers because I knew it would be expensive. I looked around multiple places until I found Poseidon, which offered the best deal and had great reviews. Any questions or voicemails I had left for Oleg prior to my move were promptly answered and clearly explained. The day of my move, I received a phone call an hour before the movers arrived. Poseidon provided 3 movers for $130 an hour! I was only moving 5 minutes down the road, and the guys had everything out of my old apartment and in to my new place in two hours flat! I cannot say enough good things about Poseidon. They made a stressful day so much easier, and the movers were incredibly professional. Also, not one thing was damaged or broken during the move. I cannot say enough good things about Poseidon and would book them again in a heartbeat!

My wife and I used Poseidon on probably the single busiest moving day of the year in the Boston area, September 1st!  We were fortunate to get a slot with them with less then two weeks notice - and we couldn't  have been happier with them.  Tony, Alex, Slava, and Misha were all incredibly professional and courteous.  And considering the large amount of stuff we had for a 2 bedroom apartment, they were remarkably efficient and skilled in how they loaded and packed everything into the truck.  All of them had great attention to detail overall and took extra care with fragile items as well.  All of them were total pros and very nice guys as well!  Moving isn't really much fun at all, but my wife and I actually had some fun with this crew.  We'd definitely use them again and would recommend them in a heartbeat!

We met Tony by chance as he worked on another move.  What a great guy!  Took care of his client and gave us some tips at the same time.  Even helped move our truck when it got a little hairy for us.Next move, I'm calling Poseidon!

After reading the reviews on Yelp, I decided to take the plunge and book my move with Poseidon Moving.  Oleg was very responsive via email and phone after I sent an inquiry.  Tony (foreman), Alex, and Slava were my movers for the day.  They arrived late due to a previous move taking longer and then traffic, but Tony was great and called to let me know approximate times for arrival.  Although they were late, they were able to finish the move with lightening speed!  The entire experience with Poseidon Moving, from obtaining a quote to booking, and getting the move completed, was excellent.  I will definitely use them again when the opportunity arises and highly recommend their service to others.

Excellent experience - highly recommend!This company exceeded my expectations and I couldn't be happier!First, getting a quote and making a reservation with Oleg went smoothly: clear and speedy communication. Second, Max and Misha both did a FANTASTIC job with the actual move: highly professional, polite, arrived on time, were really respectful/careful wrapping & padding the furniture, and worked very fast and efficiently (the entire move took 3 hours, and they didn't take a break!).  Overall, I'm genuinely impressed with the quality of Poseidon Moving's service, and all of this at a very reasonable price. I couldn't recommend them strongly enough! Definitely 6 STARS!

These guys are amazing. They wrapped everything took our stuff apart and put it back together and helped assemble our beds. No movers can compare! They are a must hire.

These guys did a great job! My boyfriend and I just moved from one side of Boston to the other and it couldn't have gone better. Oleg was very responsive via email and called us the night before to make sure we were all set. Tony was the foreman for our move and was great. They wrapped the couch and bed in syran wrap  so it didn't get dirty and everything got here in one piece. They even offered to stay and help us rearrange the furniture in our new place. The price was extremely fair (we paid $385) and we will definitely use them again in the future.Also, these guys completed a 23 hour moving job the day before and only had a couple hours in between returning to their base and arriving at our place.(They started at 7am the previous day were at our place at 10:30!!) I can't imagine doing that, but they were all friendly and helpful. There's also a 5% discount if you use cash too!Thanks Oleg and his crew!

I've moved several times in my life and none were as painless as this past time with Poseidon. Oleg was great to work with over email and was even better as the foreman for the actual move. They showed up on time, did a quick walkthrough, were friendly and polite - didn't mind that I was basically in their way the whole time. As we moved to the delivery location they kept me up to date as they had a break etc and once we got to the new place, the move in was even easier. Plus, they helped me figure out where things should go! Very reasonably priced and a pleasure to work with. I'll be calling them the next time I move!

I've made lots of moves in lots of cities, and these guys were hands down the best.  Slightly less expensive than everyone else we looked into (and even cheaper if the Yelp voucher is available), their work was perfect.  The 2 people we had booked showed up EXACTLY on time; if you're like me you know that showing up early is almost as big of a hassle as showing up late, so I really appreciated this.  They didn't tack on extra charges (but be aware that if you're paying with a credit card, they will charge a nominal service fee), and they worked quickly and efficiently, and everything made it through in one piece.  The guys that came out were also quite friendly and respectful.And, to my mind, the best thing was how responsive Oleg (who I assume is the owner, but could be the manager) was.  Responded to emails and phone calls immediately, and just great.All in all, they made moving as easy as it can be.

These guys were great!   Moving is a pain, but with the help of Poseidon Moving it made the day much easier and less stressful.  The morning of the move they showed up on time and ready to go.  They were very professional, friendly, and happy throughout the entire day.  Everything was properly wrapped before being loaded into the truck and nothing was damaged.  All of my stuff was very carefully taken care of.  They disassembled all the furniture before taking it out and then put everything back together once we arrived at the new place.  All the furniture was placed and moved around as I wanted.  They were very helpful throughout the whole process and I could not have been happier with the service.  Price was very reasonable for the 4 hours it took to move my entire one bedroom apartment over to the new place.  The bill was exactly as quoted without any extra charges as they originally stated.  I will absolutely recommend their service to anyone that asks and would use them again in the future.

These guys are hands-down the best movers I've ever worked with. Friendly, fast, safe, and efficient. They handled even the bulkiest items (like my arcade machine) with ease and came up with creative ways to pack cumbersome or unstable furniture (like shelf slats or worn-down TV stands). Would gladly bring then back on for my next move.

very terrific company. I recently hired them and those guys met my expectations.Their customer service is absolutely on top level. They moved my 3bdr from brookline to brookline and total bill came out twice cheaper than other company's estimates. Poseidon moving is a real deal and if you are moving you should definitely use them. 🙂

We had a great experience with Poseidon Moving. The owner was local and offered to come to our apartment to give us a more accurate quote. His was lower than any others we received. They came during the time he gave me and I worked with them to help reduce my own cost. Everything was moved quickly and the guys were hard working. The time it actually took to move was less than was quoted and that was including difficulty with a couch which was too big for my doorway. All of the furniture was wrapped in blankets for protection and nothing was damaged during the move. I would recommend using this company.

The guys helped me move from Boston to Brooklyn, NY. It was a big move and I expected it to be stressful considering the amount of fragile furniture that I had, and the distance. However, everything was handled professionally and with care. Nothing was broken or scratched! Yay! The team worked very hard, and were nice and friendly. The guys are a wonderful team and I would definitely hire them again. Highly recommended!!

Top-Notch Moving ServiceLook... moving is painful.  The last thing you want is for a moving company to make that any worse.  Having had bad experiences in the past, I was a unsure what to expect from a moving company.  My wife put a lot of work into finding a good mover and settled on Poseidon.  Poseidon had terrific reviews, and after my wife spoke with Oleg, who runs the business, she was confident they would do a good job.  Their quote was reasonable and they were able to schedule the move easily.On moving day, Poseidon showed up on-time and ready to go.  Oleg and Tony arrived and immediately got to work.  They were efficient, friendly, and knowledgeable about packing, wrapping, stacking, and transporting.  I'm more convinced moving is a science than ever before.  Both Oleg and Tony were very helpful and professional.  They asked questions that helped them pack, load, and unload efficiently.  Almost as important and anything else, they had smiles on their faces and made the process smooth.  Having had bad movers who looked pissed off the whole time, Poseidon stood out by having a great attitude.    Once they got everything packed into the truck, they efficiently moved everything to our new home.  Unpacking was smooth as well.  They stayed late into the evening reassembling furniture and then helping us arrange the rooms.  All of our furniture and belongings were intact.  As they finished up, Oleg and Tony cleaned up after themselves and did not leave any mess.  Oleg then went over the bill with me.  It was exactly as quoted without any extra charges.  Again, a very reasonable price for moving a 1BR condo in Boston to a house in the suburbs.My wife and I couldn't have been more pleased.  We took a stack of their business cards because we will be recommending Poseidon frequently.  We would use them again in a heartbeat.  You should too.  They are top-notch!

Fantastic help in moving! Oleg was SO flexible in scheduling when we had changes in people moving in. They were extremely helpful and stayed the entire time until everything was finished (even though we went way over the estimated time). They were the most affordable of many companies that we compared and were professional and fast. They bring their own moving gear to help protect everything and we didn't have a scratch on anything!  Thank you so much!! We will definitely be using them again!

These guys are great! They came the day after a blizzard... a foot of snow fell. Didn't matter -- they were there on time and easily navigated the Boston streets despite the weather. They did a great job and are exceptionally nice, polite and communicative. I initially contacted them via email and they were extremely responsive. Great price too! Definitely go with them...

Had a terrific experience - moving is never fun, but what would have been an exhausting day was made far better with Poseidon Moving's help. We were referred by a friend who had only good things to say about Oleg and his team, and they were spot on! Oleg even agreed to move up our scheduled start time a couple hours on relatively short notice, and arrived right on time the day of the move. We were going from a small one-bedroom on the ground level to a third-floor walk up on a rocky embankment, and on a freezing cold day at that. Oleg and his crew-mate loaded quickly and efficiently, unloaded just the same, and literally had smiles on their faces the entire time. All of our things made it safely and in one piece and they even offered to help set up some of our furniture. Oleg's prices were competitive, and even though it took a little longer than expected due to the extra stairs, we'd absolutely use them again in a heartbeat.

We used their service last year (october 2014). They were very professional and accommodating. We are definitely going to use their service next time we move.

I've used Poseidon Moving twice now and they're fantastic. I recommend them to everyone who asks for a mover. They're personable, helpful, quick, and efficient. Thank you again!

We had a great moving experience with Oleg the manager and his buddy Alex.  We were moving from a 1 bedroom on the 1st floor to a 2+ bedroom on a 2nd floor, and what would have taken us a whole day took them only 1 hour!  Their rates are also very good compared to other local companies.  Note: it would save you time and money to pack ahead of time so the movers can just pick up your things and move as we did.

These guys are awesome! I have only written one other review in the past couple years and I feel that Poseidon definitely deserves a good review.I wasn't sure when I was initially moving and once I found out what day I only had 2 weeks until the move, but they were able to fit me into their schedule. On top of that, they are very well priced, especially when you compare to other moving companies in the Boston/Brookline area. I moved yesterday and they were incredibly fast! They took great care of all of my furniture (bed, sleep-couch, large dresser, desk, mirror, etc.) by wrapping everything in blankets, tape, and saran wrap. And moving everything up to a third floor apartment felt just as fast as moving out of my old 1st floor apt and they completed the whole move in 2 hours! If I ever need to move again, I'm definitely going to hire Poseidon Moving again, and I highly suggest anyone else who is moving to hire them. Thank you for the stress-free and easy move!

I had a great experience with Poseidon Moving last weekend. They helped my roommate and I move from our Mission Hill apartment to Somerville, and we wouldn't have been able to do it without their help. They were great to work with all day, were very careful with our things and upfront about the price and any extra costs. We got a great deal with Poseidon Moving and would definitely recommend them to anyone looking to move in the Boston area!

There truly isn't enough I could say about Oleg and his moving crew.  For the past few months, we were trying desperately to secure a moving company to help unload a Penske truck we drove up from Washington DC in the late afternoon on a Monday.  I read reviews, and reached out to Oleg who quoted not only the most reasonable price, but guaranteed that they would work with our late afternoon time frame. Lucky for us, we actually arrived two hours earlier than we had thought we would, and I reached out to Oleg to see if maybe he could come earlier.  We hadn't realized that there was a time limit on street parking in the Brookline area as we are new, and went into mild panic mode at the thought of not having our beds in our apartment that night due to traffic rules.  I called Oleg in a panic, who reassured me, very calmly, and said "not a problem, we will come right now, and I promise we will have all your things unloaded before we leave tonight." He showed up less than 20 minutes later, and took complete control. He moved the truck to a space for unloading, parallel parked it (something I had been freaking out about doing since driving a truck is NOT my forte!) and he and one of his other guys, unloaded every box/piece of furniture I own.  It started pouring on them, and they didn't stop to take any breaks, I was beyond blown away.  After four hours of unloading, and bringing things up what amounts to almost 6 flights of stairs, they were finished, and had placed all my things exactly where I wanted them.  I have never been so impressed with any service! I took numerous cards from him, and plan to hand them out to new friends in the city as I find out people are moving. If we move again, this is the ONLY company I will use to help me with my things. Oleg, thank you for taking what was a really stressful and draining day, and fixing it completely! I am SO grateful to you and your guys!!

SIX STARS.I spent two days on the phone with various moving companies looking for the right people to lug our stuff from Cambridge, MA to New York City. Prices ranged from $950 to $3000. We were hoping to come in somewhere around $1250. I know that was low-balling it, especially given that we were moving into a 4th floor walk-up, but the broker's fee on our apartment took a big old bite out of our bank account and moving to New York without some financial padding is a mistake.Anyhow, of all the companies I spoke with on the phone, Oleg, the owner/operator of Poseidon had, by far, the best customer service skills. You could hear him smiling on the other end of the phone. He asked that I send him a list of our things-- an approximation on our end to allow for an approximation on theirs. He was on a moving job at the time, but wrote be back with a flat fee, committal quote. I had three quotes in total that I was deciding between, and Poseidon's landed in the middle.My instincts told me to go with the voice that sounded the most honest and my instinct couldn't have been more correct. We scheduled a pickup in Cambridge at 6AM and Oleg and his coworker Max were there at 6AM on the DOT and immediately got working. Nothing slowed these guys down and Oleg was an impressive bundle of positive energy. We were slightly over our estimate for the things we needed moved and I'd read horror stories on yelp about other moving companies either extorting their customers or just walking away from the job in situations like that. Nope. Oleg and Max just smiled and made it happen, wrapping every big piece in protective blankets along the way.In New York, it was 90 degrees, humid and they had to park in front of a hydrant to get our stuff into our building. I stood watch over the truck while Oleg and Max ran up and down three flights of stairs tirelessly for two and a half hours to get all of our things into our apartment in an organized fashion. They even disassembled a piece of IKEA furniture because it wouldn't fit up the stairwell. These guys are AMAZING, AMAZING, AMAZING. Seriously.I can't imagine that any of the $3000 moving companies could have done a better job. Oleg and Max were PERFECT. We tipped over 20% on our flat rate, and these guys deserved every cent. If I were richer, I'd have tipped them more. Truly impressive, always friendly, incredibly professional and generous with their hard work, Oleg and Poseidon Movers did, as their t-shirts claimed, turn out to be a "truly moving experience."

Moving day is stressful enough, and it turned ugly for us when the moving guy I had arranged for bailed out on us at the last moment. We called a few numbers we could find through a google search and came across Poseidon. Oleg was very responsive and agreed to push around his existing commitments to make room for us on a super short notice. He arrived within 15 minutes of us getting in touch with him and we were busy loading up in no time. Both Oleg and Tolya were very professional, efficient and meticulous about the job. It was clear that Oleg was very experienced in moving things and new exactly what needed to be done with each item and its placement. One of the shelves did end up getting tipped during the drive so may be that's something to keep in mind for taller shelves in future. The drive was smooth, and the unloading fairly efficient as well. I would hire them again and would recommend these hardworking guys for anyone looking to make their move easy and smooth.

OMG!! These guys are simply fantabulous. We used  few movers before nothing nothing like Oleg the owner and his team. Their promptness is very impressing. They send an email confirmation, reminder call day before and  20 mnts early show up..they care for our stuff and fine impressive packing. More over very pleasant, ,enthusiastic,professional,accommodative , fun young boys.you can not find this price,I bet!! Much much cheaper and  very reasonable prices than any body around Massachusetts . My family is too happy using them as our movers. We are  very proud of our selves to pick them.Somebody that can take care of our stuff is very important,that  you can blindly expect from Oleg n his team.we highly highly recommend this wonderful team. We. Will be using them only and suggest all our friends and families.we would request you to plz use Poseidon movers ,Brookline  MA ..you will be very happy with their services and price and more over peace of mind that your stuff being well taken care.Thx for reading this review.ciaoKiran

Best moving experience ever!!!

These guys are just simply Awesome!

Excellent movers, showed up at 9 a.m. on the dot, very friendly and extremely efficient. They wrapped up my couch and other furniture items to make sure they didn't get dinged. Moved a 2 bedroom apartment from N.H. to Boston. Showed them one time what was going and what wasn't. There was no questions and no mistakes. Definitely would use these guys again.

i wish there were more stars cause this company is an asset to the city of boston.i got a same day pickup and delivery within 1 hour of posting this job.alex and oleg went to quincy picked up my brand new aquarium and stand and extras.they made a perfect solution to my move. i had bought a 125 gal. aquarium and when i posted this job i got more responses from people with suvs who swore they could do it.not happening.when they called it was a sigh of relief.delivered it to my 3rd floor appartment in downtown bostn with ease. again if i were to move or need something moved i would never bat an eyelash to rehire this company.alex and oleg were professional ,outgoing and extremely maticulous with the way the handled my move,everytihng was wrapped for protection and delivered unscathed.cant say enough good about this place.they were more than fairly priced as well.

I used Poseidon for my move from Boston to NJ.  These guys are so professional and efficient.  Moving gets so stressful but these guys made my moving experience stress-free and pleasant.  They were careful with my belongings and had such great attitudes.  Friendly and strong men to help you move at a decent price...you can't go wrong!  Highly recommended!

I want to thank Poseidon moving for making my move easy and pleasent. Moving can be tough, everything about it can be stressful. From changing your address to packing/boxing all your items to having to find reliable movers. These guys were great and very affordable. The hardest part about this move is trying to find space for all my stuff!

Oleg and Max from Poseidon Moving showed up on time, worked hard, were polite, and most importantly, treated all of our items with care, moving everything in to our new apartment on time and within the estimate given to us. I will recommend them to friends and would certainly use their services again. Thanks guys!

Poseidon Moving helped my family and I make the move from Boston to Florida. The guys were super careful with all of our stuff, showed up on time and got straight to work. Not only did they do a great job they were also very courteous and pleasant to be around. I will certainly be using them and recommending them to everyone I know.

Recently hired these guys to help me move to California from Nj and had an awesome experience. They were very courteous and friendly. The move occured in a timely manner and no complications occurred. Would definitely recommend these guys for either a local or across country move