Top 20 Reason to Call NYC Home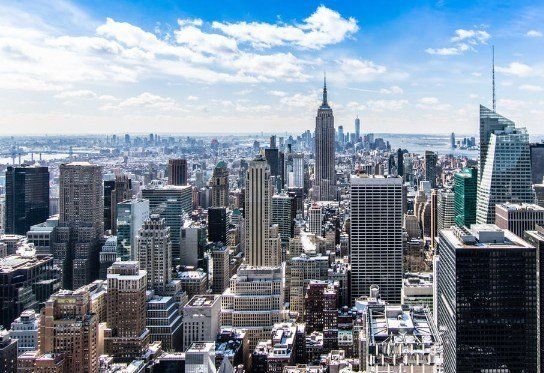 Moving to NYC? 20 Reasons to Help You Decide

The world is full of amazing places and cities, but there is no city like New York. This place, teeming with culture, movement, and people, stands as the center of the world and a desired place for many of us to live.
If, like us, you would like to live in New York, you've probably already considered all the points below. These are the reasons why you would love to live in New York:
1. City's History
New York's historical and multicultural significance can be seen through the arrival of immigrants, the Chinatown, the Jewish quarter, and the factories in the Meatpacking District. There is much to know and learn about this city's rich past.
2. Late Night Pizza
Similar to tacos in Mexico, New York's one-dollar pizza slices are a delight found on every corner. Delicious!
3. Love Story
The city's magical ambiance has been the backdrop for countless love stories, making it a magical place to be.
4. Incredible Pace
The city's fast-paced life, with people constantly on the move, creates a cathartic and unexpected experience when you pause to observe the bustling movement around you.
5. Abundance of Everything
New York has everything you can imagine, from restaurants, bars, and museums to parks, outdoor activities, conventions, spiritual groups, courts, offices, and music. There's nothing New York doesn't have.
6. Center of the World
In many ways, New York influences the world's culture and economy. It's where significant deals are closed, and major trends begin.
7. Beautiful Parks
New York boasts some of the most stunning parks globally, such as Central Park, the High-line in Manhattan, and Brooklyn Bridge Park—a perfect escape from the city's noise and commotion.
8. Spectacular Architecture
The city's architecture, including iconic landmarks like the Empire State Building and the buildings in the Financial District, captivates and enchants those who walk its streets.
9. Delicious Food
Being a multicultural city, New York offers a diverse array of delicious food, from the best sushi to tacos, gyros, gourmet (and non-gourmet) pizza, and traditional New York bagels.
10. Vibrant Creative Culture
Everywhere you go in New York, you'll encounter people dancing, singing, painting, and imagining—making it a haven for creative minds to express themselves.
11. Attractive People
As a hub for movies and fashion week, New York attracts beautiful boys and girls, along with aspiring models, actors, musicians, and more.
12. Inspired by Legends
Many celebrities, like Frank Sinatra and others, have dedicated their love to this wonderful city, making it a place of admiration and allure.
13. Great Concerts
New York is a hotspot for concerts, where bands from all over the world aspire to perform. From Madison Square Garden to cool bars, there's no shortage of live music experiences.
14. Renowned Museums
With places like MOMA, the Metropolitan Museum of Art, Guggenheim Museum, Chelsea galleries, and the Cloisters, New York is a treasure trove for art enthusiasts.
15. Urban Art Paradise
For urban art lovers, Brooklyn is a haven with works by artists like Mike Cuomo, Banksy, AVANT, Basquiat, and more.
16. Celebrating Individuality
In New York, individuality is celebrated, regardless of how you dress, what music you listen to, how much money you have, or your life goals.
17. Unique City Experience
New Yorkers embrace a special way of experiencing the city, relying on public transportation and walking, giving the city a futuristic vibe.
18. Breathtaking Seasonal Changes
From the beauty of spring to the hot summer, the orange-hued autumn with falling leaves, and the winter wonderland with snow and Christmas lights, the change of seasons in New York is a dream-like experience.
19. Proximity to Beaches
If you love going to the beach, New York offers many nearby options, such as Staten Island, Long Beach, and the Hamptons.
20. The City that Never Sleeps
New York is always bustling with activity, consistently planning the next surprise to capture your heart even further. So, what are you waiting for?
Frequently Asked Question About Living in NYC

How much do I need to make to live in NYC?
Renting a room in a shared apartment of medium quality in Manhattan can cost you between 1,500 and 2,000 dollars a month. If we want something cheaper, we can look in Queens, where the room can leave us for between 300 and 600 dollars a month.
Is New York the best city in the world?
NYC is in top 10 best cities in the world. In fact, a study involving 18,557 people from 26 countries, between 16 and 64 years old, found that out of 60 cities, New York is the ideal place to settle.
Who were the first settlers in NY?
The Dutch were the first Europeans to settle in the area. In 1614, they built Fort Nassau. In 1626, Peter Minuit, governor of the Dutch West Indies Company, bought the island of Manhattan from the Indians for $24 and created a colonywhich he called New Amsterdam.
Is Bronx a dangerous area in New York?
It is not fair to say that the entire Bronx is dangerous. However, the worst part is the southern part of the Bronx, known as the South Bronx. Apart from being a very poor area and without too much tourist attraction, it is a gang zone and where drug trafficking abounds.