5 Things to Explore Before Moving to Seattle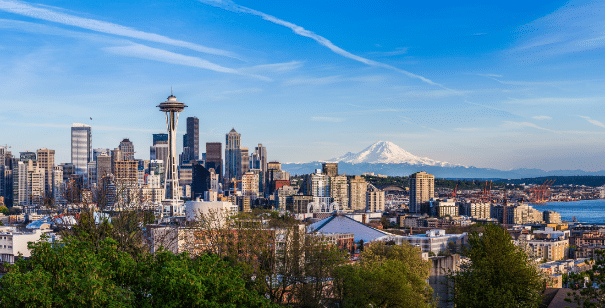 Seattle, Your New Chapter in Life
Are you thinking about moving to Seattle? Well, you're certainly not alone! The Emerald City is well known for its evergreen forests, incredible restaurants and young cosmopolitan vibe. A backdrop for hit movies such as Twilight and Sleepless in Seattle, this thriving northern city attracts many young entrepreneurs, ambitious professionals and coffee loves, and could well be the right place for you to call home next. Whether you're moving for a new job, to be closer to nature, or to explore a new exciting American city, at Poseidon Moving, we can help make your move easy, simple, and stress-free.
Here are 5 reasons why moving to Seattle is a fantastic idea!
1: Seattle Restaurants & Sushi
If you consider yourself a bit of a foodie, Seattle restaurants will leave you pining for more. Serving up sushi on par with Japan, if you enjoy spicy tuna, lobster rolls and bento boxes, Seattle is going to make your life more delicious. From experimental sushi combinations to fresh sashimi bites, this city has some of the best sushi restaurants in the whole of the US. If you prefer a taste of Korea, or culinary creations such as Early Grey ice cream, Seattle restaurants certainly won't disappoint. If you do make the move to Seattle, we seriously challenge to you try and taste your way through the city.
2: Seattle's Quirky Coffee Culture
If you're planning on moving to Seattle, you might already know that this city is where Starbucks was founded. But what you might not be aware of is, that Seattle is home to a buzzing and dynamic coffee culture. Bringing the world Microsoft, Amazon and Boeing, this tech epicenter demands a good cup of coffee in the morning. If you work online, or remotely, you'll have plenty of quirky places to grab an Americano and catch up on emails. Or if you're a bit of a caffeine connoisseur, moving to Seattle will help you to take your coffee love to the next level. Enjoy the Starbucks Reserve Roaster, try a golden milk latte at dog-friendly Makeda and Mingus or go off the grid at Preserve and Gather, a coffee shop designed to promote the art of conversation.
3: Bring Your Pup To Seattle
Moving to Seattle with your canine companion is a seriously good move! Seattle is a huge dog friendly city and there are plenty of off-leash dog parks for you and your pup to enjoy. Explore Washing Park Arboretum, grab a coffee and a dog treat at Bark Espresso, or why not burn off some energy at House Of Ruff, an indoor canine club. You'll be able to make friends easier than ever in your new city, as you take in local sights and tourist attractions with your pup in tow.
4. Explore Seattle's Outdoors
Yes, you'll likely need to invest in a good umbrella and perhaps a pair of walking boots when moving to Seattle, but with mountains, rainforest, farmland and the ocean on your doorstep, it's well worth some rainy days. If you're looking to get back to nature and explore the great outdoors, the Emerald City is the place to be. Whether you enjoy hiking and camping, canoeing or sailing, or romantic walks in the rain, breathe in the fresh air of Seattle's wilderness and unlock the adventurer inside you. Plus, Seattle is actually one of the best cities for whale watching. The San Juan Islands are home to orcas, so if whale watching is on your bucket list, it's time to make the move to Seattle.
Affordable Cross Country Moving
If the natural landscape and vibrant cosmopolitan city are calling your name, you'll be glad to hear that it's actually easier than ever to move to Seattle. Our professional and reliable moving team are here to offer you support, guidance and assistance when moving to Seattle. Taking all the hard work out of moving city, we offer moving and storage services for your interstate move. With over two decades of experience in the moving and relocating industry, we take pride in offering a customer-first service. So, if you're ready to move to the Emerald City and enjoy Seattle's restaurant scene, vibrant coffee culture and get back to nature with your pup, start your new chapter by contacting our moving team now at Poseidon Moving. Affordable, reliable and stress-free moving, at your service.