Things You Should Know Before Moving in Arlington
Have you thought about moving to Massachusetts? If so, it is likely that you have or are considering all of your options in terms of neighborhoods and suburbs. In your search, you may have heard of Arlington MA. If you are looking for a new home that is in close proximity to Boston, Poseidon Moving and Storage would like to tell you a bit more about Arlington MA. As the best Arlington MA movers, we are experienced in helping homeowners just like you settle into their new homes in Arlington.
Today, we will be sharing some of the information necessary to help you make the right choice concerning a move to Massachusetts and, specifically, the Boston area. This will include telling you more about the cost of living in Arlington, what life is like in Arlington, as well as telling you more about our local, long distance, and office services that can be provided by Poseidon Moving and Storage. Let's get started!
Moving Company Arlington Ma
As the top-rated Arlington MA movers, Poseidon Moving and Storage has the experience (over 20 years to be exact), passion for customer service, and knowledge of proper moving practices to make your move a huge success. Don't waste time trying to make the move to Arlington all on your own- call the best in the business! Contact us today or request a free online quote now to see how much you could save with our moving rates when you choose Poseidon Moving and Storage.

FAST SERVICE
Booking your move has never been this easy and stress-free. Let the professionals get the job done for you.

EXPERT TEAM
Our team goes through thorough training by management to ensure each person truly understands their role.

AFFORDABLE PRICES
Poseidon Moving offers high-quality service at affordable rates for your local/interstate/commercial moves.

AWARD WINNING
Bostons and NYC award-winning service of 2017 & 2018

MODERN TECHNOLOGY
Poseidon Moving offers easy to use software to help you manage your quote online, live GPS tracking system.

ALWAYS OPEN
Our agents can be available for you at any time by email
How Much Does it Cost to Live in Arlington Ma?
If you are considering or planning a move to Arlington MA, it is highly likely that you are operating with the cost of living in mind. Considering the fact that Massachusetts can, in some areas, be a more costly place to live, it is important that you consider the cost of living when deciding whether or not to move here. So how much does it cost to live in Arlington?
When determining the cost of living in Arlington, it is important that you consider a few different factors including housing, utilities, transportation, and groceries. In terms of housing costs, Arlington is 150 percent higher than the national average. This includes a median home value of $866,949 as well as a median rent of $2,716 per month.
As far as transportation goes, expenses such as gas prices and bus fares are 14 percent higher than the national average. That being said, the transportation system in and around Boston is considered to be one of the best across the country. Utilities and groceries in Arlington are 20 percent and 11 percent higher than the national average respectively.
Moving in Arlington MA
Now that you know how much it costs to live in Arlington, it is likely that you already have a better idea of whether or not this is the right place for you. To assist you in making a final decision even further, Poseidon Moving and Storage wants to tell you a bit more about life in Arlington MA.
With a population of approximately 44,992, Arlington has been called one of the best places to live around Boston according to Boston Magazine. There are various factors that earn Arlington that title. This includes a growing bar scene, easy access to Boston proper (which is located just six miles away) via public transportation, and a trendy atmosphere that draws many young families far and wide.
One of the best places to hang out in Arlington, as any resident will tell you, is Spy Pond Park. In fact, it is ranked as the number one thing to do in the town according to Trip Advisor. Residents enjoy kayaking and canoeing using the rentals offered at the park as well as taking a stroll around the beautiful pond. There is even a playground for children to enjoy.
Arlington is also home to a wide variety of restaurants for residents to enjoy. The most highly rated restaurant in Arlington is La Victoria Taqueria, an authentic Mexican food establishment. Those looking for the best dessert that Arlington has to offer should make their way to the Scoop N Scooter where a delicious selection of ice cream and frozen yogurt is served until 2 AM.
Call on Your Trusted Arlington MA Storage Providers
Have you decided on Arlington MA as your future home near Boston? If so, you will need the combined assistance of both our top-rated moving services as well as our fantastic packing and storage services. As the top Arlington MA storage providers, we specialize in offering climate-controlled storage units in various sizes. This means that whether you need to store a one-bedroom apartment's amount of items or household items from a four-bedroom home, Poseidon Moving and Storage has the right storage unit for you. Visit our Storage Services page to learn more!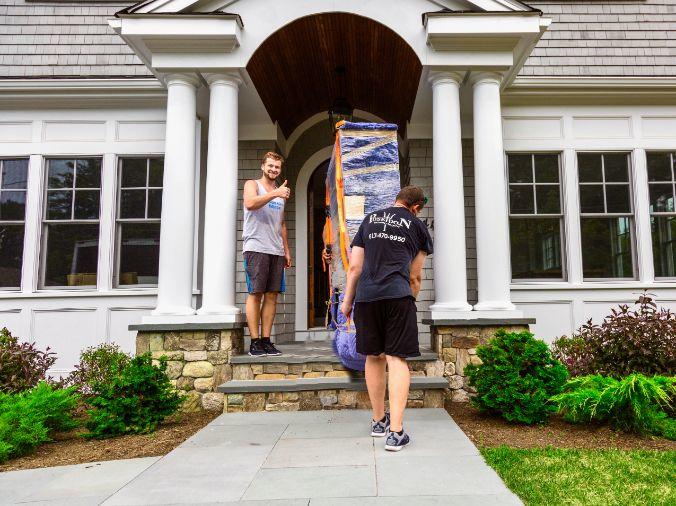 They trust us
Nothing is more important to us than your satisfaction. You will be happy with the quality of our services.
Frequently Asked Questions
How much do movers in Arlington cost?
Hiring movers in Arlington can cost on average $300-$700.
How much does packing in Arlington cost?
Hiring packing service in Arlington can cost on average $200-$500 plus packing materials cost.
What is the minimum charge for moving in Arlington?
Arlington movers have a minimum 2 – 3 hour charge.
How many movers do I need for my move in Arlington?
Arlington movers decide the number of movers your move will require by calculating the cubic feet of your move.
What size truck do I need for moving in Arlington?
On average most people in Arlington use 12'-16' box trucks.
Can I get a virtual estimate for my move In Arlington?
Many Arlington movers offer virtual estimates through zoom or Google meet.
Can my estimate be guaranteed by Arlington movers?
Most Arlington movers give a rough estimate which is not guaranteed unless it's a flat rate.
Is renting a truck cheaper than hiring Arlington movers?
Renting a truck in Arlington can be cheaper than hiring Arlington movers. If you have time, family/friends that are willing to help and experience.