5 Reasons to Move to New York City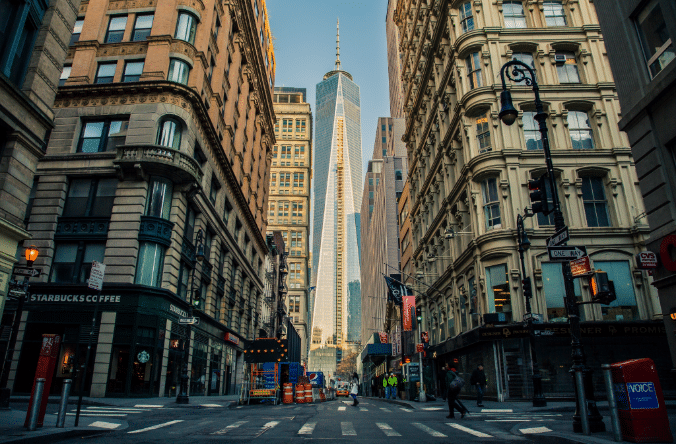 Why Consider Moving to NYC?
We all know the romantic version of New York City that has graced tv screens during the likes of Friends and Sex and the City. Many of us have had dreams of moving to "the City That Never Sleeps," full of wonder and possibility. And while the New York City of silver screens certainly has many perks, there are many amazing things about the city that often don't make it onto TV.
The city has many well-kept secrets and quirks, and one of the great parts of living there is discovering those little jewels. For those of you who have been enticed by the allure of the Big Apple, our staff at Poseidon Moving and Storage has compiled a guide of the top five reasons to move to New York City. If you are considering a move to the "City That Never Sleeps", contact
us for the best moving services around!
Walk Anywhere
Most people give up their cars upon making the move to New York City, trading spending time in traffic for walking the city block by block, possibly taking a ride on the subway. Because of the layout of the city, anything you could need is always just a few blocks from wherever you are, eliminating the need for driving. Even those who live most centrally walk on average twenty minutes to and from the subway station.
While you'll need to invest in several pairs of supportive shoes, spending that much time has great benefits for your body and mind. Research has shown that your brain lights up after twenty minutes of walking, causing the neurotransmitters to fire more rapidly. This process results in a flood of positive emotions and creativity, not to mention the physical health benefits of regular exercise.
Walking the blocks of New York City is also a great way to meet new people, reaping great benefits for your social life, especially as a recent transplant who may not know many people yet. For New York City residents, walking a couple of miles a day is simply part of their daily routine, and they are happier and healthier for it!
NYC Public Transit
Like we said, most New York City dwellers don't have cars. This may seem foreign to you if your current home is in a more suburban area, but trust us when we say you do not need a car to get around the Big Apple. After relocating to New York City, you won't ever think about gas prices again! New York City throbs with the pulse of its subway system, a 24-hour a day operation that can shuttle you to virtually every corner of the city.
While the subway is revered for its convenience, it also allows recent transplants to venture out into unknown parts of the city and discover some of its hidden jewels. In addition to the subway, New York City features a bus network that transverses the 302 square miles of every single one of the five boroughs, a flourishing bike-share program with 250 miles of protected bike lanes, multiple ferry services, and the classic yellow taxis we all associate with the hustle and bustle of the city. New York City is the easiest place to get around in and you can do it all while reducing your carbon footprint!
Twenty Four Hour City
It's not known as "The City That Never Sleeps" for nothing — New York City comes alive at night, functioning on its own unique internal clock that thrums with life at all hours of the night. There isn't a single city that has adapted this same circadian rhythm; where else can you get manicures at midnight, or premium steak cuts before the sun even comes up?
By law, bars and clubs can open as early as 7 a.m. and are not required to close until 4 a.m. Even if you're not interested in drinking and dancing, there are plenty of other benefits to the off-kilter biological clock of New York City: there are lots of nonessential services such as spas and gyms that are open around the clock.
With the centralized layout of the city, you're never more than a few blocks from a bodega that's open all hours of the day, just in case you need milk in the middle of the night. One of the many benefits of living in New York City is the ability to go anywhere or do anything at almost any hour — after all, the city never sleeps!
Diversity
New York City itself contains the five boroughs, Manhattan, The Bronx, Queens, Brooklyn, and Staten Island. "The Charter for the Greater New York" defines a borough as "a municipal corporation that is created when a county is merged with populated areas within it," though most New Yorkers think of them as neighborhoods or districts.
As America's melting pot, there's no area more diverse than the five boroughs: over 800 languages are spoken across the city while almost half of the population was born outside of the United States. This diversity and blending of cultures give birth to a variety of life you won't find anywhere else. With the 2020 census reflecting a population of almost 8.4 million people, New York City has a population density of 27,711 people per square mile, the highest in the US by leaps and bounds. What this means is all these people with their cultures and customs and art and food are packed into this tiny city; these days, living in the city means you can travel without leaving home.
Manhattan restaurants feature cuisines from across the globe, resulting in round-the-world culinary journeys. The bus and subway systems can transport residents to corners of the city bursting with art and music. Once you get a taste of all the possibilities of the city, you won't ever want to leave.
Getting Out and About
It's difficult to be bored in a city so full of life and movement like New York City. As one of America's cultural capitals, the options of things to go out and see or do are myriad and varied: the city features over 2,000 arts and cultural organizations and more than 500 art galleries, not to even mention the countless museums.
A wide range of historic landmarks serves to educate and inspire anyone who lays eyes on them. The sights, the sounds, the smells: the variety of experiences the Big Apple offers are unrivaled. New York City is the best place to be if you're feeling curious and inspired if you're hungry for new experiences.
Looking to move to NYC? Contact Poseidon Moving!
Now that you know five of the best reasons to move to New York, it's time to start planning! One of the most important parts of the moving process involves hiring the right moving company for the job. As the best movers in NYC, Poseidon Moving and Storage offers local, long-distance, and commercial moving services that are sure to meet and exceed your expectations. Contact us today to start planning for your move to New York!