Top 5 Reasons to Move to Brooklyn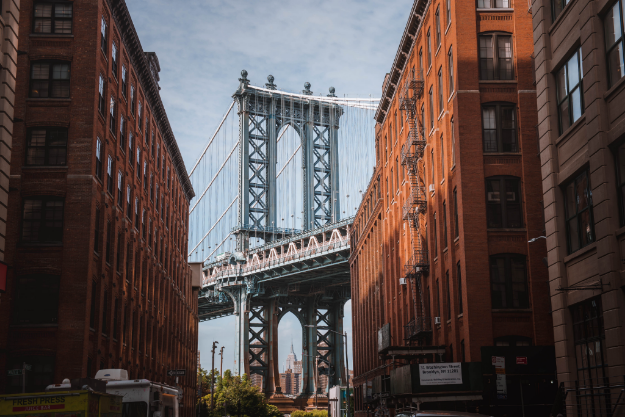 New York City is made up of five boroughs or "districts," including Brooklyn, its most populous borough. If it were a city, Brooklyn would be the fourth most populous in America with an estimated population of 2.6 million! Over the last few years, Brooklyn has blossomed into a trendy hub of industry and diversity, featuring world-class eateries, sprawling parks, and burgeoning communities full of life and culture. For most outsiders, considering a move to New York City involves the hustle and bustle of city life, but Brooklyn has so much more to offer. If you're considering a move, Poseidon Moving and Storage has five reasons why you should consider making Brooklyn your next home!
Public Transit
The subway system is the lifeblood of New York City and this is just as true in Brooklyn. More than half of Brooklynites don't own cars because they don't need one! Anywhere you may need to go — a bodega or drug store, a friend's apartment, work — is usually within walking distance, but when you need to travel further, Brooklyn offers plenty of other modes of transportation.
Most Brooklyn residents choose to travel the city by Metro, but you can also opt to make use of the borough's bike-share program or iconic yellow taxis. Brooklyn is one of the most beautiful areas to travel through and walking through the city allows you to take in all the picturesque spots spread throughout the borough. And the best part is living in Brooklyn means never having to worry about gas prices!
Get Outdoors
New York City may be known as an urban concrete jungle, but there's more to Brooklyn than meets the eye. Brooklyn is the closest borough to the Atlantic Ocean coastline, meaning many coastal communities have been incorporated into its sprawling urban atmosphere. Many New Yorkers choose to flee the city during the summer to the Hamptons or Fire Island, but why go all
that way when you can enjoy the beauty of nature from your own Brooklyn backyard?
Along with its proximity to beaches and the ocean, Brooklyn features beautiful parks such as Marine Park and Sunset Park, where people of all ages gather to soak up some sun. Residents can get outside and enjoy soccer fields, jogging trails, and gorgeous greenery without having to even drive anywhere. During the summer, parks offer live music and other events you can't find anywhere else in the city. If you're looking for a place to live that offers the feel of a big city without having to sacrifice outdoor space, Brooklyn is the place for you!
Not So Crowded
Those of us who have spent most of our lives living in American suburbia may feel overwhelmed by the prospect of living in such a densely populated area, full of bodies and energy and activity. The noise and fuss of crowds can be a scary possibility for those of us who haven't experienced that mode of living before. If you're enticed by city living but concerned about getting overwhelmed by the crowds and their associated noise, Brooklyn is the place for you.
Brooklynites enjoy significantly less hustle and bustle than their counterparts in Manhattan. Apartments in Brooklyn often feature shared outdoor space where you can get a breath of fresh air without getting knocked over by people hurrying to and from work. The open spaces and grassy parks of this borough are less crowded and more laid back, offering a suburban feel with all the amenities of a large city.
While the other four boroughs are emblematic of New York City's concrete jungle reputation, pulsing with the lives of millions of people, life in Brooklyn offers city living without quite so much crowding.
Restaurants and Eateries
If anything about moving to Brooklyn is certain, it's that you will never stay hungry! Brooklyn offers some of the most diverse cuisines in the country, with residents who have flocked to the borough from all corners of the world to introduce their food to the area. With the wide array of eateries the borough offers, there is something for everyone.
Whether it's pizza from Di Fara or a pastrami sandwich from A Taste of Katz's, you'll never have to look too far for a delicious meal while living in Brooklyn. Many of the best restaurants are hidden gems, giving you an excuse to get to know your neighbors and their favorite spots. DeKalb Market Hall houses some of Brooklyn's best delicacies in its 60,000 square-foot food hall, with more than 40 vendors including trendy spots such as Bushwick's Bunker or the southern eatery Wilma Jean. Moving to Brooklyn means getting to sample meals from all over the world whenever you want!
Community
Gentrification, the process of renovating an area so that it adheres to middle-class tastes and expectations, has become commonplace across New York City with the influx of affluence. This process often results in a white-washing erasure of local cultures and communities, dulling the vibrancy of the lives and customs in that area. Brooklyn has not been completely immune to this change but it has managed to resist some of these modifications, maintaining its diversity and personality.
Every neighborhood in Brooklyn has its own story, its own history, resulting in tight-knit communities that offer their own food, events, art, and culture to residents. These communities foster an atmosphere of connection and collaboration among Brooklynites, making the borough truly feel like home.
Poseidon Moving and Storage
While our staff at Poseidon Moving and Storage is thrilled to call Boston home, we know sometimes life calls for a change. Brooklyn has so much to offer to people who are looking to shake up the monotony of their lives and the habits they've settled into. As long-distance movers, our staff has two decades worth of experience helping clients manage transitions during a move. If you or someone you know is considering a move, visit our website today to find out how Poseidon Moving and Storage can help!