Moving Company Beverly Ma
Ready to make your dreams of settling down in Beverly MA a reality? Don't settle for any less than the best. As your trusted Beverly MA movers, Poseidon Moving and Storage will put our best effort into ensuring all of your needs are taken care of.
With over 20 years of experience and an extensive track record of providing local, long distance, and office moving services of the highest quality, there has never been a better time to work with Poseidon Moving and Storage. Contact us today or request a free online quote to start planning for your move to Beverly today!
Things you should know before moving in Beverly
Have you been considering a move to the Boston area but are unsure of where to start? There are countless options of places to live in and around Boston and, in your search, it is likely that you have come across Beverly MA. If you have been considering the area as your future home, our Beverly MA movers want to introduce you to the area! At Poseidon Moving and Storage, we believe that knowing everything you can about your potential home before making your final decision makes the entire moving process easier.
Today, Poseidon Moving and Storage will be giving you all of the necessary information to ensure an easier transition into life in Beverly MA. From the cost of living in Beverly to all of the activities, there are for residents to enjoy here, Poseidon Moving and Storage is your source for information. When it comes time for you to decide whether or not Beverly is the right place for you, we hope you'll make the right decision and choose our Boston movers. With that being said, let's get started!

FAST SERVICE
Booking your move has never been this easy and stress-free. Let the professionals get the job done for you.

EXPERT TEAM
Our team goes through thorough training by management to ensure each person truly understands their role.

AFFORDABLE PRICES
Poseidon Moving offers high-quality service at affordable rates for your local/interstate/commercial moves.

AWARD WINNING
Bostons and NYC award-winning service of 2017 & 2018

MODERN TECHNOLOGY
Poseidon Moving offers easy to use software to help you manage your quote online, live GPS tracking system.

ALWAYS OPEN
Our agents can be available for you at any time by email
What is the Cost of Living in Beverly MA?
Determining the cost of living is always important when you're considering a move to a new area. If you have been thinking about moving to Beverly MA, it is crucial that you have an understanding of what to expect in terms of the cost of living so that you can live comfortably in the area. In order to get the most accurate estimation of the cost of living in Beverly, you have to take housing costs, utility costs, and healthcare costs into account.
In terms of housing expenses in Beverly, it should be noted that the median home price is $503,909. Going a step further, it should be considered that 48 percent of the homes in Beverly sell for over $400,000. This means that housing costs in Beverly are significantly more expensive than the national average. Due to the high costs associated with owning a home in Beverly, many residents choose to rent rather than own (approximately two-thirds of residents). The median rent in Beverly is a bit more affordable at $1,113 per month on average.
Two more costs to consider before making the final decision to relocate to Beverly include healthcare and utilities. On average, residents of Beverly tend to spend 35 percent more than most Americans on healthcare while spending an estimated 40 percent more on utilities. Take this into consideration in order to ensure the most comfortable quality of life in Beverly.
Moving in Beverly MA
Now that you have a better idea of whether or not your family can afford comfortable living in Beverly, it's time to talk a bit more about what life is like in this popular suburb. First, let's take a look at demographic information. Beverly has a total population of around 41,341 people and this number has grown steadily with each passing year. The median age in the city is 40, meaning it is a city more centered around families than young professionals. In fact, 40 percent of the population in Beverly is made up of families with children aged between 6 and 17 years old.
People living in Beverly also tend to be more highly educated. Over 90 percent of adults over the age of 25 have received a high school diploma and a staggering 48 percent have gone on to complete a four-year degree at a university. Self-employment is also an area of interest in Beverly with an estimated 13 percent of residents being self-employed professionals.
So what is there to do in Beverly? Put simply, there's always something for residents to enjoy! Beverly is a very family-friendly city and the activities and attractions available are proof of that. One of the most popular locations for families is Dane Street Beach. Here, locals can hit the beach and engage in a day of swimming and sunbathing.
During the spring and winter months, locals enjoy spending time in the Lynch Park Rose Gardens. This beautiful garden is modeled after Italy's most fantastic gardens and is a popular spot for everything from wedding photos to weekend strolls.
The Best Beverly MA Storage Services
If you will need to downsize upon moving to Beverly, Poseidon Moving and Storage is happy to let you know that you can find top-notch moving services, packing and storage services at affordable rate all in one place! As the best Beverly MA storage provider, Poseidon Moving and Storage offers climate-controlled storage units that are available in a wide range of sizes. Whether you need short or long-term storage for your belongings, we have you covered!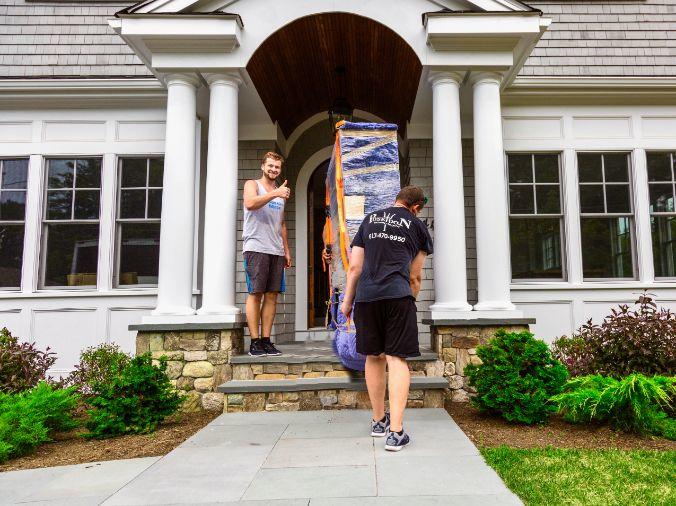 They trust us
Nothing is more important to us than your satisfaction. You will be happy with the quality of our services.
Frequently Asked Questions
How much do movers in Beverly cost?
Hiring movers in Beverly can cost on average $300-$700.
How much does packing in Beverly cost?
Hiring packing service in Beverly can cost on average $200-$500 plus packing materials cost.
What is the minimum charge for moving in Beverly?
Beverly movers have a minimum 2 – 3 hour charge.
How many movers do I need for my move in Beverly?
Beverly movers decide the number of movers your move will require by calculating the cubic feet of your move.
What size truck do I need for moving in Melrose?
On average most people in Melrose use 12'-16' box trucks.
Can I get a virtual estimate for my move In Melrose?
Many Melrose movers offer virtual estimates through zoom or Google meet.
Can my estimate be guaranteed by Beverly movers?
Most Beverly movers give a rough estimate which is not guaranteed unless it's a flat rate.
Is renting a truck cheaper than hiring Beverly movers?
Renting a truck in Beverly can be cheaper than hiring Beverly movers. If you have time, family/friends that are willing to help and experience.