Downtown Boston moving solutions
If you are considering a move to Boston and want the full experience, you might think about moving Downtown. Downtown Boston presents the perfect opportunity for those in search of urban living in its truest form. At Poseidon Moving and Storage, we believe that a move to the Downtown Financial District is made much easier when you have all of the right information upfront. That's why we've put together this guide to living in Downtown Boston. As the best Downtown Boston movers, we are well-acquainted with the Downtown area and know that, for some, Downtown living is the best possible choice.
Whether you are looking for the shortest possible commute to your day job or just want the most authentic city-living experience, Downtown Boston has much to offer. Thinking about selling your car and moving Downtown? Let Poseidon Moving and Storage be the first to welcome you to the area! We provide packing, local, long distance, and office relocation options.
Downtown Boston Moving Company
Ready to make Downtown Boston your new home? Call the best Downtown Boston movers in the business! At Poseidon Moving and Storage, we operate on a guaranteed satisfaction policy. Our job isn't done until you are fully settled into your new home and pleased with our services. With some of the most affordable moving rates that can be found in Boston, there's no better time than now to make us part of your moving experience! Poseidon Moving & Storage also offers Boston moving permits for your move, to make sure you have a secured parking space on your moving day in Boston. Contact us today or request a free online quote to get started.

FAST SERVICE
Booking your move has never been this easy and stress-free. Let the professionals get the job done for you.

EXPERT TEAM
Our team goes through thorough training by management to ensure each person truly understands their role.

AFFORDABLE PRICES
Poseidon Moving offers high-quality service at affordable rates for your local/interstate/commercial moves.

AWARD WINNING
Bostons and NYC award-winning service of 2017 & 2018

MODERN TECHNOLOGY
Poseidon Moving offers easy to use software to help you manage your quote online, live GPS tracking system.

ALWAYS OPEN
Our agents can be available for you at any time by email
What Does it Cost to Live in Downtown Boston?
First thing's first: what does it cost to live in Downtown Boston? As with most neighborhoods in Boston, there are three things to consider in terms of cost of living. These include housing costs, utilities, and healthcare. These three factors tend to be infamously more expensive in Boston as compared to the national average. That being said, if you can afford it and want to call Boston your new home, there are few better places to live in the country.
Specifically, in terms of Downtown living, the median home value and rent should be considered if you're planning a move here. In terms of home value, Downtown Boston is more than the national average, sitting at around $776,197 on average. With so many Bostonians living downtown being renters, it is also important to consider that the average monthly rent is $1,901. While this is higher than the national average of $949, downtown is still less expensive in terms of the monthly rent as compared to some other Boston neighborhoods.
Moving in Downtown Boston
So what's life like in Downtown Boston? One thing to keep in mind is that lots of people live in Boston proper but many more people live outside the city. For this reason, although busy, some of the busiest areas for tourists and residents alike actually extend beyond downtown. In fact, downtown Boston is home to a population of just 16,769 total.
Among the many reasons that many Bostonians call Downtown Boston home, perhaps one of the biggest is that it offers residents a dense urban feel with easy access to all of the needed amenities. Downtown Boston is home to many celebrated bars, restaurants, parks, and coffee shops. Although Boston is home to one of the oldest and best public transit systems in the world, many residents living Downtown chose the area for easy access to their work within the city. When planning your move to Boston, it is essential to plan which neighborhood you'll be living in carefully due to the need for easy access if you are working within the city. Those who have chosen Downtown have no need for a car as they are just a short walk or public transit ride away from their destination at any given time.
Of the many things to do in Downtown Boston, there are a few favorites of residents and tourists alike. One family favorite is a trip to the New England Aquarium. For just $32 per person, you can get your very own ticket to see an array of aquatic animals. Many Bostonians enjoy visiting the seals outside of the aquarium for free, however. Another fun thing to do in Downtown Boston is to visit Boston Common. This central public park is 50 acres and was built way back in 1634, making it the oldest city park in the entire United States. There are multiple family-friendly events held here year-round including events like scavenger hunts.
Downtown Boston Storage Services
If you are considering a move to Downtown Boston, you'll need the combined power of moving and storage services, especially if you will be downsizing for city life and need a little extra space. At Poseidon Moving and Storage, we offer comprehensive storage services at affordable rates. With several different storage unit sizes to choose from, you'll always have enough space for your household items when working with Poseidon Moving and Storage.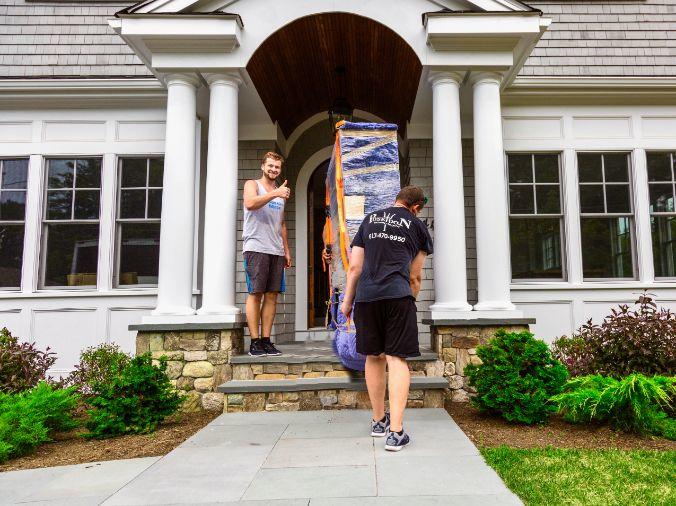 They trust us
Nothing is more important to us than your satisfaction. You will be happy with the quality of our services.
Frequently Asked Questions
How much do movers in Downtown cost?
Hiring movers in Downtown can cost on average $300-$700.
How much does packing in Downtown cost?
Hiring packing service in Downtown can cost on average $200-$500 plus packing materials cost.
What is the minimum charge for moving in Downtown?
Downtown movers have a minimum 2 – 3 hour charge.
How many movers do I need for my move in Downtown?
Downtown movers decide the number of movers your move will require by calculating the cubic feet of your move.
What size truck do I need for moving in Downtown?
On average most people in Downtown use 12'-16' box trucks.
Can I get a virtual estimate for my move In Downtown?
Many Downtown movers offer virtual estimates through zoom or Google meet.
Can my estimate be guaranteed by Downtown movers?
Most Downtown movers give a rough estimate which is not guaranteed unless it's a flat rate.
Is renting a truck cheaper than hiring Downtown movers?
Renting a truck in Downtown can be cheaper than hiring Downtown movers. If you have time, family/friends that are willing to help and experience.