East Boston made easy
When moving to Boston, it is important that you consider all of your options in terms of neighborhoods. At Poseidon Moving and Storage, we believe that the first step in planning which Boston neighborhood you will be moving to is learning about each of them in detail. East Boston offers the best in Boston living for young professionals in particular due to its close proximity to downtown and relatively affordable cost of living. The area is currently undergoing what Boston Magazine calls a "real estate renaissance" with new building properties popping up at a rapid speed. If you are considering a move to this up and coming neighborhood in Boston, let your dedicated East Boston movers be the first to welcome you to the area!
There is much to love about living in East Boston and longtime residents will tell you that the perks of calling East Boston home are well worth the prices of rental properties. Today, Poseidon Moving and Storage will be introducing you to East Boston to help you make a decision regarding your move to Boston. As professional movers specializing in packing, local, long-distance, and commercial moves, our team is well-equipped to help you make a smooth transition into life in East Boston. Let's get started!
Choose the Best East Boston Movers
Ready to get started in planning your move to East Boston? Trust the most reputable East Boston Movers! Our services come highly recommended by Boston residents and we want to make you our next happy customer. Poseidon Moving & Storage also offers Boston moving permits for your move, to make sure you have a secured parking space on your moving day in East Boston. With the right moving services, your move to East Boston will be all smooth-sailing. Request a free online quote or give us a call today to get started!

FAST SERVICE
Booking your move has never been this easy and stress-free. Let the professionals get the job done for you.

EXPERT TEAM
Our team goes through thorough training by management to ensure each person truly understands their role.

AFFORDABLE PRICES
Poseidon Moving offers high-quality service at affordable rates for your local/interstate/commercial moves.

AWARD WINNING
Bostons and NYC award-winning service of 2017 & 2018

MODERN TECHNOLOGY
Poseidon Moving offers easy to use software to help you manage your quote online, live GPS tracking system.

ALWAYS OPEN
Our agents can be available for you at any time by email
What Does it Cost to Live in East Boston?
The first question on many people's minds when thinking about a move to Boston is cost of living and for good reason. When it comes to the cost of living in East Boston, this neighborhood is considered to be expensive but still more affordable than several other neighborhoods in the area. Specifically, East Boston is estimated to be the 7th most expensive neighborhood in Boston. This makes it a more affordable option for young professionals as well as renters
moving to the area.
In terms of median home value, homes in East Boston are priced around $508,527 on average. Still, most of those living in East Boston are renters as this tends to be a more affordable option. The average rent in East Boston falls around $1,369 per month. Those prepared to make the move to Boston will be pleased with the more affordable cost of living offered by the East Boston neighborhood.
Moving in East Boston
Now that you know what the cost of living is in East Boston, it's time to learn even more about life in your future neighborhood! As any Boston real estate agent will tell you, the East Boston real estate market is hot with very few indications that it will slow down anytime soon. Luckily, with so much competition in the seller's market, developers are upping their game to provide amenities that used to be considered nothing more than extras. This includes roof decks, integrated technology, duplex units, and high-end cabinetry in most of the new residential developments being built.
A major perk of living in East Boston is found in the amount of historical landmarks found in the neighborhood. This waterfront neighborhood is home to landmarks such as the Madonna Queen of the Universe Shrine in Orient Heights to the Temple Ohabei Shalom Cemetery, the first Jewish cemetery in the state. East Boston is also home to one of the most aesthetically impressive neighborhood branches of the Boston Public Library, overlooking the Bremen State Park.
Although the neighborhood is positioned in close proximity to the city itself, East Boston is a neighborhood packed with beautiful green spaces such as Piers Park. Piers Park is a beautifully landscaped park where East Boston residents have easy, direct access to the waterfront. Here, residents are offered fantastic views of Downtown Boston across the harbor. Of the other features of Piers Park, there is also an amphitheater, large playground, and outdoor fitness system.
Top-Rated East Boston Storage Providers
If you have made the decision to finally make a move to East Boston, Poseidon Moving and Storage is the best choice you can possibly make in a Boston-based professional moving company. Why? Aside from offering the best in comprehensive moving services, we also offer top-rated storage services.
Our climate-controlled units are available in various sizes and are the perfect storage solution for both short and long-term storage. That's what you are guaranteed when working with Poseidon Moving and Storage!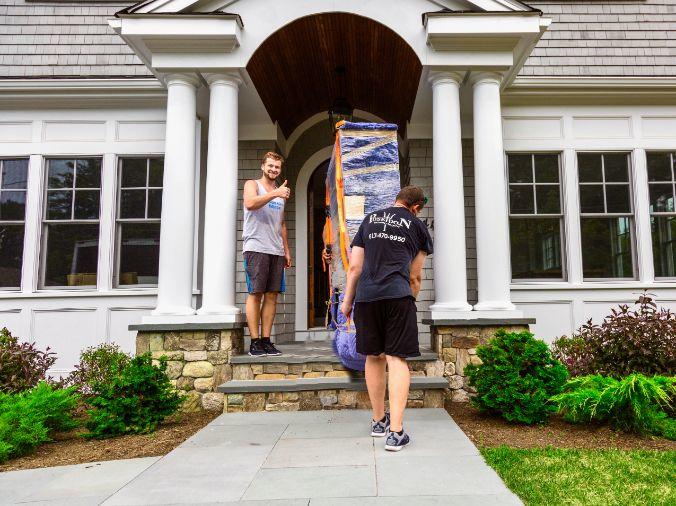 They trust us
Nothing is more important to us than your satisfaction. You will be happy with the quality of our services.
Frequently Asked Questions
How much do movers in East Boston cost?
Hiring movers in East Boston can cost on average $300-$700.
.
How much does packing in East Boston cost?
Hiring packing service in East Boston can cost on average $200-$500 plus packing materials cost.
What is the minimum charge for moving in East Boston?
East Boston movers have a minimum 2 – 3 hour charge.
How many movers do I need for my move in East Boston?
East Boston movers decide the number of movers your move will require by calculating the cubic feet of your move.
What size truck do I need for moving in East Boston?
On average most people in East Boston use 12'-16' box trucks.
Can I get a virtual estimate for my move In East Boston?
Many East Boston movers offer virtual estimates through zoom or Google meet.
Can my estimate be guaranteed by East Boston movers?
Most East Boston movers give a rough estimate which is not guaranteed unless it's a flat rate.
Is renting a truck cheaper than hiring East Boston movers?
Renting a truck in East Boston can be cheaper than hiring East Boston movers. If you have time, family/friends that are willing to help and experience.