Moving Company Natick MA
Ready to make your dreams of moving to Natick a reality? Call on the best Natick movers! Our professional movers are on standby and ready to help. Learn more by contacting us today. You can also request a quote online to see just how much you can save when choosing us as your moving services providers!
Things you should know when it comes to moving to Natick
Considering a move to the Boston area but feeling reluctant to move into the city itself? Luckily, there are a number of areas in close proximity to Boston proper that have a lot to offer residents. One such location is Natick MA. If you are thinking about a move to Natick but are unsure whether or not the area is right for you and your family, allow the best Natick movers to help make the decision a bit easier. Poseidon Moving and Storage would be honored to be among the first to welcome you to your new home in Natick MA. Our services include local, long distance, and office relocation options.
Today, Poseidon Moving and Storage will be introducing you to life in Natick. From the cost of living to all of the things, there are for residents to do and see, we will be giving you the information you need to make your final decision. With that, let's get started!

FAST SERVICE
Booking your move has never been this easy and stress-free. Let the professionals get the job done for you.

EXPERT TEAM
Our team goes through thorough training by management to ensure each person truly understands their role.

AFFORDABLE PRICES
Poseidon Moving offers high-quality service at affordable rates for your local/interstate/commercial moves.

AWARD WINNING
Bostons and NYC award-winning service of 2017 & 2018

MODERN TECHNOLOGY
Poseidon Moving offers easy to use software to help you manage your quote online, live GPS tracking system.

ALWAYS OPEN
Our agents can be available for you at any time by email
What Does it Cost to Live in Natick MA?
Let's start with the most important question on the minds of anyone considering a move to Boston and its surrounding areas: what does it cost to live in Natick MA? To determine whether or not life in Natick fits into your budget, we must consider a number of factors including housing costs, transportation costs, utility costs, and grocery costs.
In terms of housing, Natick residents can expect costs that, while 88 percent higher than the national average, are more affordable than several areas in and around Boston. More specifically, the median home value in Natick is estimated to be $652,360 while the median rent value is $2,044 per month on average.
In looking at transportation costs in Natick, residents should expect to pay 14 percent higher than the national average when paying bus fares and filling up their gas tank. When it comes to utilities, residents pay 20 percent higher than the national average while grocery costs are estimated to be just 11 percent higher than the national average.
Moving in Natick MA
Now that you have a better idea of whether or not you can afford life in Natick MA, it's time for our Natick MA movers to tell you more about life in the area. Natick is, most popularly, known as the home of miles 8 through 12 of the famous Boston Marathon. Natick is also home to a number of corporate headquarters including MathWorks and Cognex.
Natick also hosts a fun, family-friendly downtown area with a slew of things for residents to enjoy. According to the Boston Globe, Natick's downtown is one of the greatest reasons to call Natick home. In downtown, you'll find streets packed with brick buildings and quaint locally owned establishments. Natick's downtown is also home to the Natick Center Cultural District where some of the most well-loved arts and cultural events are held. Finally, Natick Mall is
another popular hangout spot for Natick residents. As TripAdvisor's number one thing to do in Natick, here you'll find plenty of places to shop and dine with over 250 stores.
Are you a lover of history? If so, the Museum of WWII Boston is a place you can't miss out on upon moving to Natick. Those with a love for the outdoors, however, should be sure to check out Belkin Family Lookout Farm (in operation since 1651) and Broadmoor Wildlife Sanctuary, an expansive retreat teeming with wildlife.
Top-Rated Natick MA Storage Services
If you think Natick may be the right place for you and your family, it's time to start planning for your move! Although hiring the best moving company Natick Ma should be at the top of your to-do list, it is also important that you think about storage services. In case you are in need of downsizing upon moving to Natick, Poseidon Moving and Storage has you covered! We are, after all, top-rated Natick MA storage providers.
Our climate-controlled units are monitored around the clock with 24-hour surveillance so you can always rest easy knowing your items are secure. Our storage units also come in a variety of sizes so you can be sure that, no matter how many items you are storing, Poseidon Moving and Storage has the right fit for you. Check out our Storage Services page to learn more!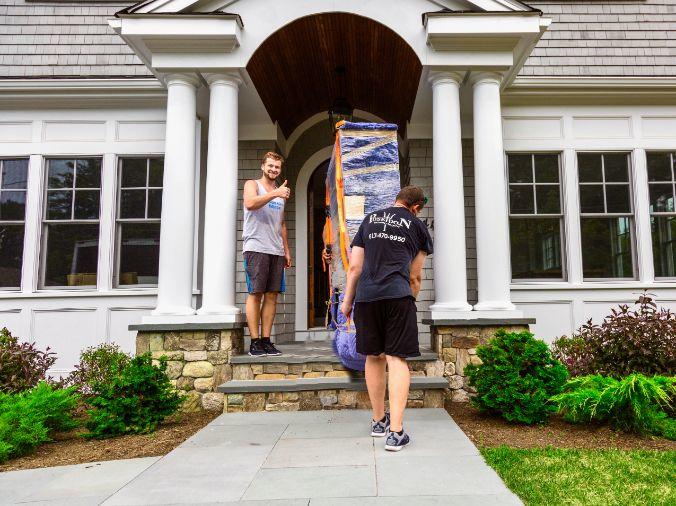 They trust us
Nothing is more important to us than your satisfaction. You will be happy with the quality of our services.
Frequently Asked Questions
How much do movers in Natick cost?
Hiring movers in Natick can cost on average $300-$700.
How much does packing in Natick cost?
Hiring packing service in Natick can cost on average $200-$500 plus packing materials cost.
What is the minimum charge for moving in Natick?
Natick movers have a minimum 2 – 3 hour charge.
How many movers do I need for my move in Natick?
Natick movers decide the number of movers your move will require by calculating the cubic feet of your move.
What size truck do I need for moving in Natick?
On average most people in Natick use 12'-16' box trucks.
Can I get a virtual estimate for my move In Natick?
Many Natick movers offer virtual estimates through zoom or Google meet.
Can my estimate be guaranteed by Natick movers?
Most Natick movers give a rough estimate which is not guaranteed unless it's a flat rate.
Is renting a truck cheaper than hiring Natick movers?
Renting a truck in Natick can be cheaper than hiring Natick movers. If you have time, family/friends that are willing to help and experience.