Moving Company Peabody MA
Ready to make your dreams of moving to Peabody MA a reality? You'll need the services of our Peabody MA movers! We specialize in local, long distance, and commercial moving services and can make your move easier than you could have possibly imagined. With over 20years of experience helping homeowners just like you, we are confident that you'll be the next of our many happy customers. Contact us today or request an online quote to get the moving process started!
Tips on moving in Peabody
Looking for the perfect Boston suburb to call home? Look no further than Peabody! Situated just west of Salem, many consider Peabody to be the epitome of what a New England city should be. As your trusted Peabody MA movers, Poseidon Moving and Storage feels it is our responsibility to help you get acquainted with your new home in Peabody MA. After all, knowing as much as possible about your new home ahead of time will make the moving process much easier.
Today, we'll be taking a look at everything you need to know about life in Peabody MA. From the cost of living in the area to information about the various activities to enjoy, Poseidon Moving and Storage has you covered. Upon getting all of the information you need and making your final decision about moving to Peabody, we hope you'll call on the best Peabody MA movers to assist you. With that, let's get started!

FAST SERVICE
Booking your move has never been this easy and stress-free. Let the professionals get the job done for you.

EXPERT TEAM
Our team goes through thorough training by management to ensure each person truly understands their role.

AFFORDABLE PRICES
Poseidon Moving offers high-quality service at affordable rates for your local/interstate/commercial moves.

AWARD WINNING
Bostons and NYC award-winning service of 2017 & 2018

MODERN TECHNOLOGY
Poseidon Moving offers easy to use software to help you manage your quote online, live GPS tracking system.

ALWAYS OPEN
Our agents can be available for you at any time by email
What Does it Cost to Live in Peabody MA?
Overall, the cost of living in Peabody is fairly expensive with expenses exceeding the national average in nearly all areas of interest. These areas include housing costs, transportation costs, utility costs, and grocery costs. When planning a move to any new area, it is crucial that you have an understanding of what to expect in terms of costs there. Let's take a closer look.
In terms of housing costs, it should be noted that the average home price in Peabody is $345,500. For comparison, the national average in terms of the average home price is just $184,700. The cost of rent also exceeds the national average with the median rent value in Peabody being around $1,200 per month or higher.
In the area of transportation, it is important to look mainly at gas prices. Luckily, gas prices in Peabody aren't significantly higher than that of the national average. It is important to take note, however, that other expenses associated with the cost of transportation are a bit higher in Peabody, specifically, tire balancing. Finally, the cost of utilities and groceries is also much higher than the national average in Peabody and anyone considering a move to the area should take these expenses into account to ensure that they can enjoy comfortable living in their new city.
Moving in Peabody MA
Now that you have a better idea of what to expect in Peabody MA in terms of the cost of living, it is likely that you have questions considering what life is like in this popular suburb. First, let's take a look at demographic information. Peabody is a fairly densely populated location with a total population of around 52,000 people and 3,200 residents per square mile.
Although the majority of Peabody's population is white, Hispanic people make up 9.2 percent of the population while African Americans make up 2.06 percent. A large portion of Peabody's population are also foreign-born. In terms of household income, residents of Peabody make, on average, $64,000 per year. This is almost $10,000 more than the national average. The most
common occupations in the city are management, sales, and administrative positions.
So what is there for residents to enjoy in Peabody? For one, if you love history, you'll never run out of fun things to do. Much like its neighboring town, Salem, Peabody is rich with American history. The most popular historical attractions include the Witch Dungeon Museum, the Witch House, and the Peabody Historical Society and Museum.
For those who want something fun to do in Peabody, there are plenty of options. A popular place, in particular, is Brooksby Farms. At Brooksby Farms, the whole family can enjoy picking their own fruits and vegetables. Peabody also boasts several community parks where the whole family can enjoy a leisurely stroll among nature.
Another great place to enjoy the weekend is the Northshore Mall, one of the largest malls in the entire region. This mall hosts over 140 different specialty stores and a variety of restaurants to grab a quick bite while you shop. The mall even has its own indoor mini-golf course!
Your Peabody MA Storage Providers
Have you decided that Peabody is the right place for you? You'll need more than just the topnotch moving services offered by our moving company Peabody Ma! Luckily, we also provide the best storage services at affordable flat rate in the Peabody area. Our climate-controlled units are very secure and monitored with 24-hour surveillance. Our units also come in a variety of sizes so regardless of whether you need enough room for major appliances or just a few boxes of keepsakes, we have you covered.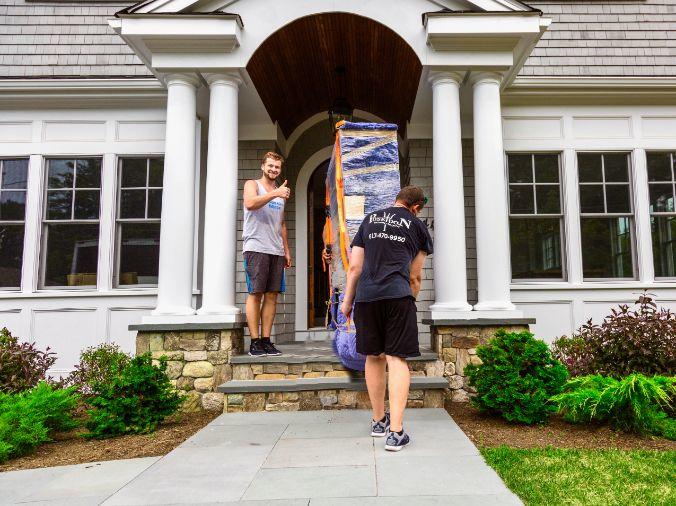 They trust us
Nothing is more important to us than your satisfaction. You will be happy with the quality of our services.
Frequently Asked Questions
How much do movers in Peabody cost?
Hiring movers in Peabody can cost on average $300-$700.
How much does packing in Peabody cost?
Hiring packing service in Peabody can cost on average $200-$500 plus packing materials cost.
What is the minimum charge for moving in Peabody?
Peabody movers have a minimum 2 – 3 hour charge.
How many movers do I need for my move in Peabody?
Peabody movers decide the number of movers your move will require by calculating the cubic feet of your move.
What size truck do I need for moving in Peabody?
On average most people in Peabody use 12'-16' box trucks.
Can I get a virtual estimate for my move In Peabody?
Many Peabody movers offer virtual estimates through zoom or Google meet.
Can my estimate be guaranteed by Peabody movers?
Most Peabody movers give a rough estimate which is not guaranteed unless it's a flat rate.
Is renting a truck cheaper than hiring Peabody movers?
Renting a truck in Peabody can be cheaper than hiring Peabody movers. If you have time, family/friends that are willing to help and experience.