Belmont Moving Company
If you have found yourself considering a move to Boston, it is likely that you have considered Boston's surrounding suburbs. Not only do Boston's suburbs offer a more laid-back atmosphere, but they also place you in close proximity to Boston proper. Today, Poseidon Moving and Storage will be introducing you to one of the most popular Boston suburbs, Belmont MA. Our team of Belmont movers believes that the first step to making your move to Belmont a success is knowing as much as you can about the area before making your final decision. Our services include local, long distance, and office relocation options. 
Poseidon Moving and Storage has years of experience helping homeowners just like you make the move to Belmont. From the cost of living in Belmont to all of the things there are for residents to see and do, Poseidon Moving and Storage has all of the information you need to decide whether Belmont MA is the right place for you. Let's get started!

FAST SERVICE
Booking your move has never been this easy and stress-free. Let the professionals get the job done for you.

EXPERT TEAM
Our team goes through thorough training by management to ensure each person truly understands their role.

AFFORDABLE PRICES
Poseidon Moving offers high-quality service at affordable rates for your local/interstate/commercial moves.

AWARD WINNING
Bostons and NYC award-winning service of 2017 & 2018

MODERN TECHNOLOGY
Poseidon Moving offers easy to use software to help you manage your quote online, live GPS tracking system.

ALWAYS OPEN
Our agents can be available for you at any time by email
What Does it Cost to Live in Belmont MA?
The first thing that anyone considering a move to the Boston area should think about is the cost of living. Boston is a notoriously pricey place to call home (although many Bostonians would argue that the quality of life is worth it). In planning a move to Belmont MA, it is important that you know what it costs to live here. To determine the cost of living, you should think about housing costs, transportation costs, utility costs, and grocery costs.
Overall, the cost of living in Belmont is 72 percent higher than the national average. In terms of housing costs, the median home value in Belmont is $1,111,021. That being said, most residents of value elect to rent their homes. If you are considering renting a home in Belmont, you should keep in mind that the median rent value is estimated to be $3,480 per month. In looking at the cost of transportation in Belmont, expenses such as bus fares and gas costs are 14 percent higher than the national average. Finally, looking at the costs of utilities and groceries, the cost of living in Belmont is 20 and 11 percent higher respectively.
Moving in Belmont MA
Now that you have a better idea of whether or not life in Belmont is within your budget, it's time to look at what life is like as a resident of this popular suburb. Located just eight quick miles from the city of Boston, Belmont is a preferred location of young professionals working in Cambridge and Boston. Although Belmont is made up of primarily residential properties, there are still town centers and plenty of green space for residents and visitors to enjoy. Known as the "town of homes", Belmont is made up of neighborhoods featuring single-family homes with historic vibes.
In terms of things to do in Belmont, most residents enjoy spending their time in one of the town centers. Belmont Center and Cushing Square are two popular locations for families to spend their evenings and weekends. Each of these town centers features a variety of locally-owned shops and restaurants. The Belmont Farmer's Market is also a lot of fun for residents of the area. Here, you can find various vendors offering local produce as well as tasting events, performances, and storytime for children to enjoy.
Those that have a love for the outdoors will also find much to enjoy in Belmont. The town is full of parks and playgrounds as well as the Mass Audubon's Habitat Education Center and Wildlife Sanctuary. This nature preserve offers a number of educational classes and is a great place to go on walks and enjoy the beauty that is Massachusetts outdoors.
Top-Rated Belmont MA Storage Services
If all of the information about life in Belmont provided by Poseidon Moving and Storage has been enough to convince you to make a move, you'll need more than just the best Belmont MA moving company. Reputable storage services are also an important part of the process. Luckily for you, Poseidon Moving and Storage is about much more than just the best moving services in Boston. We also offer top-rated Belmont MA packing and storage services.
Our climate-controlled storage units are safe and secure, monitored around the clock by 24-hour surveillance. They are also a great fit for short or long-term storage regardless of how much you need to store. Our storage units come in a variety of sizes so there's something for you here! Check out our Storage Services page to learn more.
Get Your Free Quote
Ready to make your dreams of moving to the Boston area a reality? Life in Belmont MA awaits you! As your dedicated Belmont MA movers, we are well-trained and highly experienced in the best moving processes. With our help, your move to Belmont will be nothing but smooth sailing. Contact us today with any questions or get started by requesting a free online quote! We'd be happy to work with you.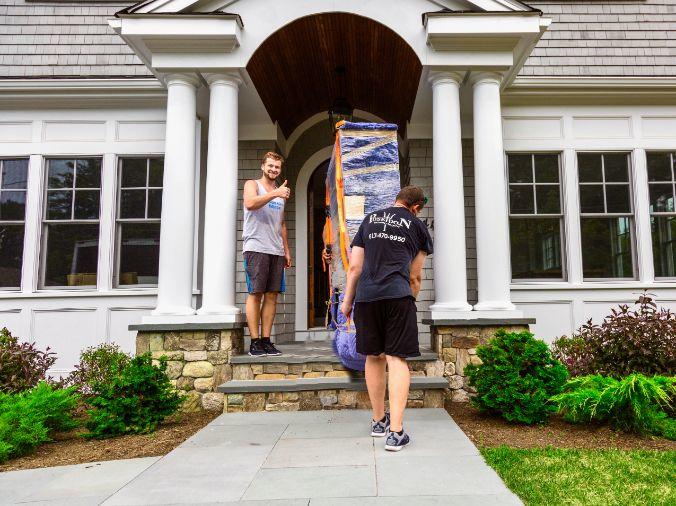 They trust us
Nothing is more important to us than your satisfaction. You will be happy with the quality of our services.
Frequently Asked Questions
How much do movers in Belmont cost?
Hiring movers in Belmont can cost on average $300-$700.
How much does packing in Belmont cost?
Hiring packing service in Belmont can cost on average $200-$500 plus packing materials cost.
What is the minimum charge for moving in Belmont?
Belmont movers have a minimum 2 – 3 hour charge.
How many movers do I need for my move in Belmont?
Belmont movers decide the number of movers your move will require by calculating the cubic feet of your move.
What size truck do I need for moving in Belmont?
On average most people in Belmont use 12'-16' box trucks.
Can I get a virtual estimate for my move In Belmont?
Many Belmont movers offer virtual estimates through zoom or Google meet.
Can my estimate be guaranteed by Belmont movers?
Most Belmont movers give a rough estimate which is not guaranteed unless it's a flat rate.
Is renting a truck cheaper than hiring Belmont movers?
Renting a truck in Belmont can be cheaper than hiring Belmont movers. If you have time, family/friends that are willing to help and experience.