Moving Company Lynn Ma
Now that you have made your final decision involving a move to Lynn MA, it's time to hire the best Lynn MA movers in the business! Poseidon Moving and Storage specialize in local, long distance, and commercial moves and, with over 20 years of experience, there are no better movers for your upcoming move than our team! Contact us today or request a free online quote to get started.
Moving solutions for Lynn residents
Looking for an up-and-coming Boston suburb to call home? As the most trusted Lynn MA movers, we are well-equipped to help you and your family make the smooth transition into life in Lynn. With over 14 years of experience helping homeowners just like you move to the diverse community that is Lynn, Poseidon Moving and Storage feels it is our responsibility to make sure that you have all of the facts straight. With this information, you will have an easier time transitioning into life in Lynn MA.
Today, we will be giving you all of the information you need to make your final decision about moving to Lynn MA. We'll be discussing everything from the cost of living to the things there are for residents to do and see in the area. With that, let's get started!

FAST SERVICE
Booking your move has never been this easy and stress-free. Let the professionals get the job done for you.

EXPERT TEAM
Our team goes through thorough training by management to ensure each person truly understands their role.

AFFORDABLE PRICES
Poseidon Moving offers high-quality service at affordable rates for your local/interstate/commercial moves.

AWARD WINNING
Bostons and NYC award-winning service of 2017 & 2018

MODERN TECHNOLOGY
Poseidon Moving offers easy to use software to help you manage your quote online, live GPS tracking system.

ALWAYS OPEN
Our agents can be available for you at any time by email
What Does it Cost to Live in Lynn MA?
The first factor to consider when you're thinking about moving to somewhere new is the cost of living in that area. Determining the cost of living in Lynn MA will give you a much better idea of whether or not the area is right for you. To determine the cost of living in Lynn, it is important that you consider a variety of different factors including housing costs, transportation costs, utility costs, and grocery costs.
Overall, the cost of living in Lynn MA is 27 percent higher than the national average. In terms of housing in Lynn MA, homes are more expensive than most areas in the United States but less expensive than the average cost of homes within New England. The median home value is $263,700 while the median rent is $1,055 per month. Most residents of Lynn choose to rent their homes. Specifically, about 10 percent more of residents choose to rent.
In terms of transportation costs, Lynn is 35.5 percent higher than the national average. This includes bus fares and gas prices. Utilities are estimated to be 16.6 percent higher than the national average. Finally, the cost of groceries is estimated to be 5.5 percent higher than the national average. Still, this is much lower than costs associated with various other areas in and around Boston.
Moving in Lynn MA
Now that you have a better idea of whether or not you and your family can afford life in Lynn MA, it's time to learn more about what life is like in this popular Boston suburb. Located just 10 miles north of Boston, Lynn is a place synonymous with diversity and community. As of the most recent count of the population in 2016, Lynn was estimated to be home to 92,697 people.
Among the biggest perks of living in Lynn, recent urban renewal is among the greatest. The city has recently attracted an influx in startups, businesses, and restaurants. This has brought new life to Lynn and has boosted the area's appeal to newcomers looking for a home in close proximity to Boston proper. This is also viewed as a reason that such a large percentage of Lynn's population is young with the median age for residents being just 28.2. About half of those living in Lynn are families with children under the age of 18. Lynn is also a culturally diverse city with only 47 percent of residents being white, 38 percent being Hispanic, 13 percent black, and 8 percent Asian.
Lynn also hosts a robust school system with 19 elementary schools, 24 middle schools, and 4 high schools distributed throughout the city. Lynn's only private high school is St. Mary's Junior/ Senior High School. One school to take special note of is the Lynn Technical Vocational Institute where a variety of different vocational programs are offered for students.
In terms of things to do and see in Lynn, one of the top attractions for residents and tourists alike is the Lynn Shore and Nahant Beach Reservation. This reservation includes 22 acres of protected shoreline including multiple beaches and parks. This area includes a harbor where you can launch a boat as well as areas for swimming and sunbathing.
Lynn MA Storage Services
When planning a move to Lynn MA, it is highly recommended that you seek more than just the quality services offered by moving company Lynn Ma. Why cause yourself the extra stress of looking for nearby storage services when Poseidon Moving and Storage offers exactly the storage services you are looking for all in one place for affordable monthly flat rate.
Our climate-controlled storage units are the perfect solution for those in need of downsizing. With several different storage unit sizes to choose from, you can rest assured that Poseidon Moving and Storage has exactly the right amount of space for your items. Check out our Storage Services page to learn more!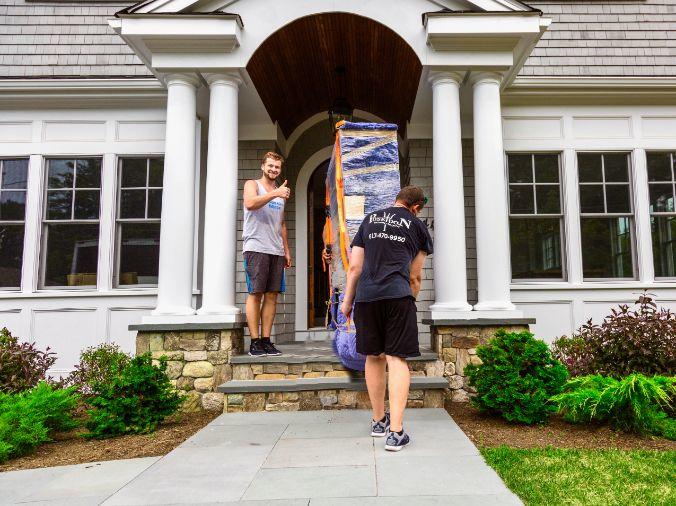 They trust us
Nothing is more important to us than your satisfaction. You will be happy with the quality of our services.
Frequently Asked Questions
How much do movers in Lynn cost?
Hiring movers in Lynn can cost on average $300-$700.
How much does packing in Lynn cost?
Hiring packing service in Lynn can cost on average $200-$500 plus packing materials cost.
What is the minimum charge for moving in Lynn?
Lynn movers have a minimum 2 – 3 hour charge.
How many movers do I need for my move in Lynn?
Lynn movers decide the number of movers your move will require by calculating the cubic feet of your move.
What size truck do I need for moving in Lynn?
On average most people in Lynn use 12'-16' box trucks.
Can I get a virtual estimate for my move In Lynn?
Many Lynn movers offer virtual estimates through zoom or Google meet.
Can my estimate be guaranteed by Lynn movers?
Most Lynn movers give a rough estimate which is not guaranteed unless it's a flat rate.
Is renting a truck cheaper than hiring Lynn movers?
Renting a truck in Lynn can be cheaper than hiring Lynn movers. If you have time, family/friends that are willing to help and experience.