Brighton Moving Company
While many view Brighton MA as nothing more than a college neighborhood, this label overlooks many of the great reasons that so many call Brighton home. If you are currently planning a move to Boston and are still trying to make a decision regarding your future neighborhood, Brighton MA has much to offer. As your dedicated Moving Company Brighton Ma – Poseidon Moving and Storage wants to be the first to introduce you to Brighton, detailing all of the reasons that it is a great place to live in Boston!
The stress of planning a local, long distance, packing or an office move can sometimes be overwhelming but at Poseidon Moving and Storage we believe that the key to a successful move is preparation. Knowing as much as you possibly can about your new neighborhood in Boston can make for an easier experience settling down into your new home. As Boston's best moving company, we feel it is our responsibility to help you prepare as much as possible.
There are many things you should know about Brighton MA before making the decision whether or not to call it your new home. From how much it costs to live in Brighton MA to what there is to see and do in the area, Poseidon Moving and Storage has put this guide to living in Brighton together. We hope it proves helpful in making your final decision! As the best Brighton movers, we are very familiar with the area and want to share what we know with you.

FAST SERVICE
Booking your move has never been this easy and stress-free. Let the professionals get the job done for you.

EXPERT TEAM
Our team goes through thorough training by management to ensure each person truly understands their role.

AFFORDABLE PRICES
Poseidon Moving offers high-quality service at affordable rates for your local/interstate/commercial moves.

AWARD WINNING
Bostons and NYC award-winning service of 2017 & 2018

MODERN TECHNOLOGY
Poseidon Moving offers easy to use software to help you manage your quote online, live GPS tracking system.

ALWAYS OPEN
Our agents can be available for you at any time by email
How much does it cost to live in Brighton?
On to the first all-important question: how much does it cost to live in Brighton MA? Brighton, compared to other neighborhoods found in Boston, has a fairly high cost of living. That being said, Brighton is home to mostly renters with a small percentage of people who own their homes. In fact, 74 percent of those living in Brighton are renters with just 26 percent being homeowners. The median rent in Brighton MA is $1,396 per month. Considering that the national average sits at $949 per month, Brighton is a more expensive area for renters.
Regardless, Brighton is home to over 49,000 people and Brighton residents are likely willing to pay a higher cost of living due to the convenience of location. Brighton is situated just outside of the big city and possesses an urban atmosphere, giving residents the best of both worlds. Those looking for a mix of urban living with less of a big city feel love, Brighton.
Moving in Brighton MA
Onto the next important question: what is it like to live in Brighton? To answer this, Poseidon Moving and Storage will be looking at a few of the most frequently asked questions regarding life in Brighton. From who typically lives in Brighton MA to what there is to see and do, your Brighton MA movers have all of the information you need!
Who Lives in Brighton MA?
Brighton is home to a population of 49,395 Bostonians. A large portion of Brighton residents is college students. That being said, Brighton is home to a number of both young professionals and young families. With close proximity to its sibling neighborhood, Allston, Brighton tends to be a meeting point for young, mostly liberal Bostonians as both areas are known for a certain hipster vibe. Those that move to Brighton praise the area for being the perfect balance between urban living and a more family-friendly atmosphere.
Placing Greater Emphasis on Family-Friendly Events
Considering the large population of college students, many consider Brighton to be, primarily, a college neighborhood. Many young university-going people rent their homes in Brighton. Although Brighton can get a bit rowdy during the college season, residents of Brighton have placed a greater emphasis on developing the area to host more family-friendly events and these changes are observable in the area. If you are able to look past Brighton's reputation as a college student-centered neighborhood, there are a slew of things to do, see, and enjoy in this Boston neighborhood.
Things to do in Brighton MA
If you're planning a move to Brighton MA, you'll want to know what there is to do in the neighborhood as far as entertainment goes. Brighton is praised for being one of the best neighborhoods in Boston for nightlife as it is home to many of the city's most-loved bars and nightclubs. There is also much ongoing development in the neighborhood where a variety of new businesses are setting up shop, adding to the appeal for young professionals looking for job opportunities.
One of the most popular locations for entertainment in Brighton is Boston Landing, a 15-acre mixed-use development packed with retail stores, family-owned restaurants, and office spaces. This location, situated on the Mass Pike for easy access no matter where you are in Boston, is home to both the Celtics and the Bruins. Boston Landing is also home to some of the most wellknown brands in sports as well as one-of-a-kind shops and upscale dining establishments.
Get Your Free Consultation!
If you have decided that Brighton MA is the place for you, you'll need the help of the best Brighton MA movers to help you get settled! Specializing in local, long-distance, and commercial moves, Poseidon Moving and Storage is your dedicated moving services provider. We also offer Boston moving permits for your move, to make sure you have a secured parking space on your moving day in Brighton. Contact us today or request a quote online to get started! We'll be happy to help.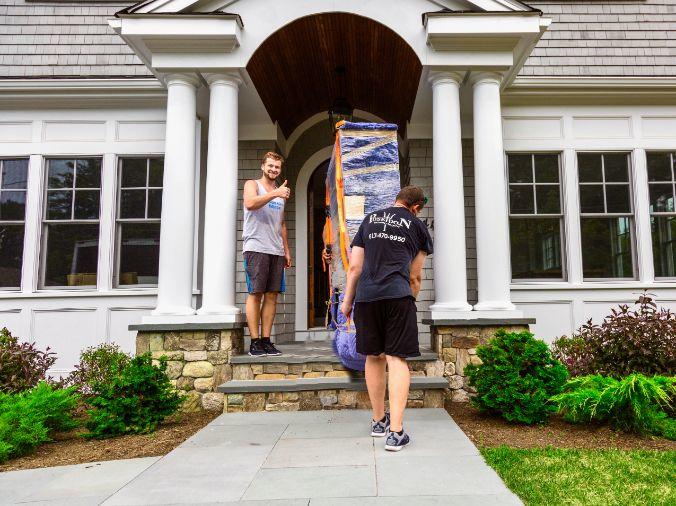 They trust us
Nothing is more important to us than your satisfaction. You will be happy with the quality of our services.
Frequently Asked Questions

How much do movers in Brighton cost?
Hiring movers in Brighton can cost on average $300-$700.
How much does packing in Brighton cost?
Hiring packing service in Brighton can cost on average $200-$500 plus packing materials cost.
What is the minimum charge for moving in Brighton?
Brighton movers have a minimum 2 – 3 hour charge.
How many movers do I need for my move in Brighton?
Brighton movers decide the number of movers your move will require by calculating the cubic feet of your move.
What size truck do I need for moving in Brighton?
On average most people in Brighton use 12'-16' box trucks.
Can I get a virtual estimate for my move In Brighton?
Many Brighton movers offer virtual estimates through zoom or Google meet.
Can my estimate be guaranteed by Brighton movers?
Most Brighton movers give a rough estimate which is not guaranteed unless it's a flat rate.