Moving Company Roxbury Boston
Ready to make your move to Roxbury? Make sure you have the help of the best Roxbury Boston movers! When you choose Poseidon Moving and Storage as your Roxbury movers, you are guaranteed a simplified moving experience. Our professional movers are skilled and highly trained in the best moving practices, meaning you'll be settled into your new home in Roxbury quickly and easily. Contact us or request a free online quote to get started today!
Tips on moving to Roxbury Ma
Moving to Boston is a big step in life and unless you have the necessary information to select the right neighborhood for you, you could be in for a hassle-filled experience. In your quest to find the perfect Boston neighborhood, it is likely you have heard about Roxbury at one point or another. In asking any longtime resident what sets Roxbury apart from other Boston neighborhoods, it is likely that they'll say it's the sense of community. With a population of 63,672, Roxbury is one of Boston's most densely populated neighborhoods. That being said, each resident's love for the area is observable and there are few communities as tightly-knit as Roxbury.
Today, Poseidon Moving and Storage will be giving you the rundown on living in Roxbury, Boston. From the cost of living to all of the things, there are to see and do in the area, your dedicated Roxbury Boston movers are here to make your decision easier. With that, let's take a look at life in Roxbury, Boston so you can see if it's the right area for you and your family. Our services include local, long distance, and office relocation options. 

FAST SERVICE
Booking your move has never been this easy and stress-free. Let the professionals get the job done for you.

EXPERT TEAM
Our team goes through thorough training by management to ensure each person truly understands their role.

AFFORDABLE PRICES
Poseidon Moving offers high-quality service at affordable rates for your local/interstate/commercial moves.

AWARD WINNING
Bostons and NYC award-winning service of 2017 & 2018

MODERN TECHNOLOGY
Poseidon Moving offers easy to use software to help you manage your quote online, live GPS tracking system.

ALWAYS OPEN
Our agents can be available for you at any time by email
What Does it Cost to Live in Roxbury?
It is likely that one of the biggest questions on your mind when considering a move to Boston has to do with the cost of living. After all, Boston is notorious for a higher cost of living and finding a neighborhood that fits your individual budget is essential in planning a move. Still, with the right information, you can make your dreams of moving to Roxbury a reality. So what does it cost to live in Roxbury, Boston and how does it compare with other neighborhoods in the area?
When determining the cost of living in Roxbury, a number of factors have to be considered. Of these factors, some of the most important include housing costs, transportation costs, and the cost of food. Overall, the cost of living in Roxbury is 6 percent lower than the average cost of living in Boston. This makes it a more affordable option for new residents.
Looking specifically at the housing costs in the Roxbury area, the median home value is $273,402. That being said, most residents living in Roxbury rent so the median rent is also an important factor to consider. With 77.4 percent of Roxbury residents renting their home, Roxbury is known for having one of the most affordable median rent values in Boston with rent costing just $845 per month on average. Compared to Boston's average rent cost of $1,369, this is a
big saving.
Moving in Roxbury, Boston
As we have established, Roxbury is one of the most affordable neighborhoods in Boston. But what is it like living in Roxbury, Boston? The first thing that should be said about living in Roxbury is that it is a hub for the arts and music community. A favorite thing to do for art lovers includes a visit to the Museum of the National Center of Afro-American Artists. Here, visitors can browse an assortment of historical and contemporary art exhibitions centered around black culture.
Roxbury has also become a point of interest for many young professionals and families who are drawn to the community's diversity and architectural history. With this, the affordable rates of housing are also a huge plus. While many neighborhoods in Boston can be significantly more expensive, Roxbury offers comfortable urban living at affordable prices.
Roxbury is also filled with a number of lush community gardens and green spaces. Of these, one of the most popular is Malcolm X Park, also known as Washington Park, where jazz events are held in the summer. This expansive park is Roxbury's largest and most programmed recreational park. There is always some recreational activity to partake in Malcolm X Park whether it be a basketball tournament, a game of baseball, or a round of tennis.
Roxbury Storage Providers Near You
Aside from being the best Roxbury Boston movers, Poseidon Moving and Storage is also the area's top-rated storage provider. When combined with our moving services, our storage services will mean a much easier moving process when settling into Roxbury. Our climate-controlled units come in a variety of sizes and are very secure, meaning that your household items will always be protected whether you are storing them short or long-term. Check out our Storage Services page to learn more!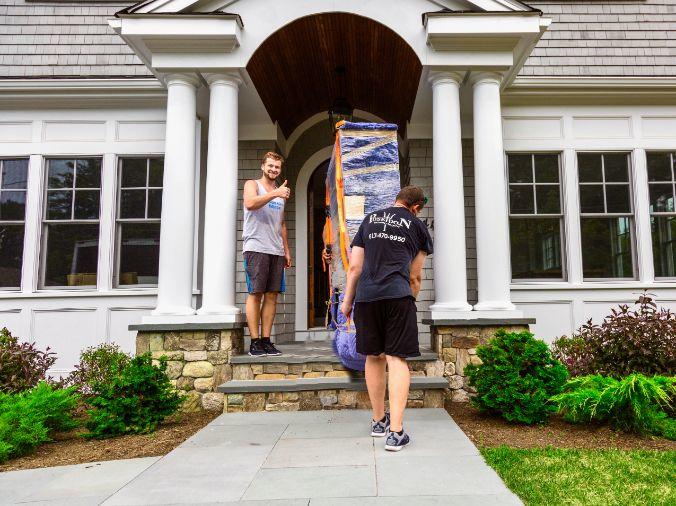 They trust us
Nothing is more important to us than your satisfaction. You will be happy with the quality of our services.
Frequently Asked Questions
How much do movers in Roxbury cost?
Hiring movers in Roxbury can cost on average $300-$700.
How much does packing in Roxbury cost?
Hiring packing service in Roxbury can cost on average $200-$500 plus packing materials cost.
What is the minimum charge for moving in Roxbury?
Roxbury movers have a minimum 2 – 3 hour charge.
How many movers do I need for my move in Roxbury?
Roxbury movers decide the number of movers your move will require by calculating the cubic feet of your move.
What size truck do I need for moving in Roxbury?
On average most people in Roxbury use 12'-16' box trucks.
Can I get a virtual estimate for my move In Roxbury?
Many Roxbury movers offer virtual estimates through zoom or Google meet.
Can my estimate be guaranteed by Roxbury movers?
Most Roxbury movers give a rough estimate which is not guaranteed unless it's a flat rate.
Is renting a truck cheaper than hiring Roxbury movers?
Renting a truck in Roxbury can be cheaper than hiring Roxbury movers. If you have time, family/friends that are willing to help and experience.