Moving Company Quincy Ma
Ready to make your dreams of moving to Quincy MA a reality? Look no further than the quality offered by our comprehensive moving services! Specializing in local, long distance, and office moves, our Boston movers are well-equipped to handle your move. With over over 20 years of experience helping Bostonians with their moving process, our professional movers have the experience you need to ensure a successful move to Quincy! Contact us today with any questions or go ahead and request a free online quote to get started.
Things you should know before moving in Quincy
Those that are considering a move to Boston should consider which neighborhood or suburb they want to move to carefully. After all, there are so many choices and each of Boston's neighborhoods have something different to offer residents. At Poseidon Moving and Storage, we believe that it is our job as the best Quincy MA movers to share what life is like in this popular Boston neighborhood. From the cost of living here to what there is to see and do, Poseidon Moving and Storage has you covered!
With a total population of 93,824, Quincy MA is considered one of the best places to live in Boston. Seen as an extension of Boston by many residents due to having more affordable living than Boston proper, Quincy is a popular suburb for young professionals and families alike. If you are considering a move to Quincy, Poseidon Moving and Storage has all of the information that you need to make your final decision. Let's get started!

FAST SERVICE
Booking your move has never been this easy and stress-free. Let the professionals get the job done for you.

EXPERT TEAM
Our team goes through thorough training by management to ensure each person truly understands their role.

AFFORDABLE PRICES
Poseidon Moving offers high-quality service at affordable rates for your local/interstate/commercial moves.

AWARD WINNING
Bostons and NYC award-winning service of 2017 & 2018

MODERN TECHNOLOGY
Poseidon Moving offers easy to use software to help you manage your quote online, live GPS tracking system.

ALWAYS OPEN
Our agents can be available for you at any time by email
How Much Does it Cost to Live in Quincy MA?
The cost of living in Quincy is likely one of the first questions on your mind as you consider a move to the area. Of the various factors to consider when determining the cost of living in Quincy, the most important is housing costs. The median value of a home in Quincy MA is $503,199 which, while being above the national average of $184,700, is more affordable for most than in many areas of Boston. That being said, most Quincy residents rent their homes as this tends to be the most affordable option for most residents. The median rent in Quincy is $1,370.
Moving in Quincy MA
So what is life like in Quincy? Overall, Quincy is a popular place for many Bostonians to move as it offers a residential atmosphere without the isolation associated with other suburban areas in Boston. One of the biggest perks to living in Quincy is found in the fact that the neighborhood has variety in location and atmosphere. No two areas are quite the same whether you choose to live on the waterfront at Marina Bay or the million-dollar homes found in Squantum. The main thing to consider when starting a new life in Quincy is budget as, overall, housing costs vary section by section of the suburb.
Another huge draw of choosing Quincy as the location of your new home is the proximity to Boston proper (just six miles to be exact) as well as the easy access to the public transportation system. Many neighboring communities don't have access to the T line and this is a huge perk to living in Quincy. Aside from the proximity to the city and access to public transportation, Quincy is also home to a variety of restaurants and bars. A few favorites include Townshend and Alba both located in Quincy Center. Wollaston Beach is also home to culinary delights in the form of Clam Box and Tony's Clam Shop.
Finally, another reason to consider Quincy as your new home is its 27 miles of coastline. In particular, Wollaston Beach is a favorite for those looking to get in their daily exercise as well as sightseers looking for a gorgeous view of Boston's city skyline.
Top-Rated Storage Services in Quincy MA
If all of this has been enough to convince you that Quincy is the place for you, it will soon be time to start planning your move. While hiring the best Quincy MA movers should definitely be at the top of the list concerning your planning process, you should also consider storage services if you are in need of downsizing. Luckily, along with offering top-notch moving services at affordable rates, Poseidon Moving and Storage is also well-known for being the best storage services provider for Quincy residents.
Our climate-controlled units are safe and secure and will offer the perfect storage solution for you. Available in a diverse variety of sizes, our storage units are perfect no matter how much you will need to store. From a small one-bedroom apartment to an entire four-bedroom house's amount of items, Poseidon Moving and Storage has you covered as the top-rated storage provider in Quincy MA!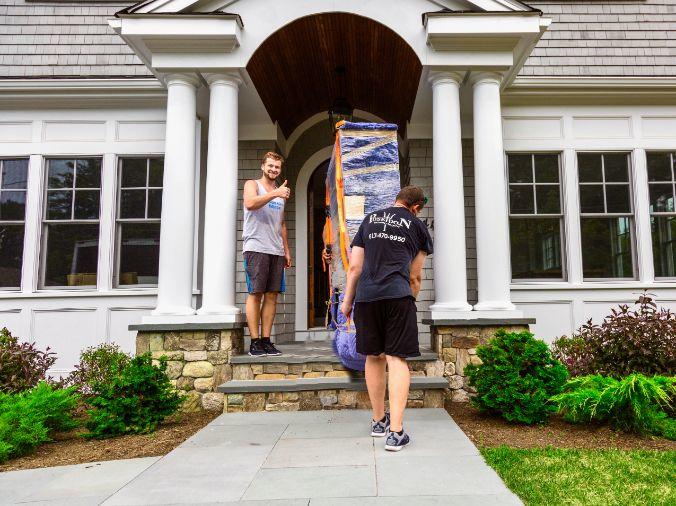 They trust us
Nothing is more important to us than your satisfaction. You will be happy with the quality of our services.
Frequently Asked Questions
How much do movers in Quincy cost?
Hiring movers in Quincy can cost on average $300-$700.
How much does packing in Quincy cost?
Hiring packing service in Quincy can cost on average $200-$500 plus packing materials cost.
What is the minimum charge for moving in Quincy?
Quincy movers have a minimum 2 – 3 hour charge.
How many movers do I need for my move in Quincy?
Quincy movers decide the number of movers your move will require by calculating the cubic feet of your move.
What size truck do I need for moving in Quincy?
On average most people in Quincy use 12'-16' box trucks.
Can I get a virtual estimate for my move In Quincy?
Many Quincy movers offer virtual estimates through zoom or Google meet.
Can my estimate be guaranteed by Quincy movers?
Most Quincy movers give a rough estimate which is not guaranteed unless it's a flat rate.
Is renting a truck cheaper than hiring Quincy movers?
Renting a truck in Quincy can be cheaper than hiring Quincy movers. If you have time, family/friends that are willing to help and experience.