Jamaica Plain Moving Company
Finding the right neighborhood for you in Boston can be a challenge. After all, there are so many neighborhoods to choose from and each of them comes with their own perks. If you have had your eye on the Jamaica Plain, Boston area, your dedicated Jamaica Plain Boston movers are here to offer you some information on your potential new home. At the same time, if you are already confident that Jamaica Plain is the right place for you, Poseidon Moving and Storage wants to introduce you to the area in a way that only true Bostonians can.
With a population of 43,363, Jamaica Plain, Boston is one of the more populated neighborhoods in Boston and for good reason. Those living in Jamaica Plain also tend to be a diverse lot ranging from young families and young professionals to artists. Jamaica Plain is also considered to be the more hipster side of town and is currently seeing a rise in the opening of new locally-owned businesses. Let Poseidon Moving and Storage tell you a bit more about your new home in Jamaica Plain, Boston. We provide local, long distance, and office relocation options. 

FAST SERVICE
Booking your move has never been this easy and stress-free. Let the professionals get the job done for you.

EXPERT TEAM
Our team goes through thorough training by management to ensure each person truly understands their role.

AFFORDABLE PRICES
Poseidon Moving offers high-quality service at affordable rates for your local/interstate/commercial moves.

AWARD WINNING
Bostons and NYC award-winning service of 2017 & 2018

MODERN TECHNOLOGY
Poseidon Moving offers easy to use software to help you manage your quote online, live GPS tracking system.

ALWAYS OPEN
Our agents can be available for you at any time by email
What Does it Cost to Live in Jamaica Plain Boston?
The top question on most people's minds when considering a move to a new neighborhood is the cost of living. The cost of living is defined by a number of factors including median home value, average rent, and transportation. Compared to the national average, the overall cost of living in Jamaica Plain is 39.5 percent higher. Compared to the entirety of Boston itself, the cost of living in Jamaica Plain is 5 percent higher. Still, areas like Beacon Hill have a much higher cost of living and the costs associated with life in Jamaica Plain may be more affordable for some.
The median home value in Jamaica Plain is $634,702 with home values have increased in the past year by 0.7 percent. Considering that most Jamaica Plain residents are renters, it is also important to note that rent in Jamaica Plain is estimated to be around $2,895 per month on average. This is lower than the average Boston rent of $2,950 on average.
Moving in Jamaica Plain Boston
Now that you know the cost of living in Jamaica Plain, it's time to learn more about what life is like in this popular Boston neighborhood. While Jamaica Plain was not originally the first neighborhood that those with families had in mind when moving to Boston, the area has become much more support for families in recent years. Boston families now feel sufficiently rooted in this area due to better housing options containing more space than before.
Another huge perk of living in Jamaica Plain is found in the steady increase of opening businesses in recent years. As new developments get underway, new locally-owned businesses seem to be popping up left and right. Jamaica Plain is home to a rich culture of both restaurants and independent shops with new additions to the area being made recently including businesses like Turtle Swamp Brewing, Exodus Bagels, and more. Residents of Jamaica Plain report that one of the greatest parts about living in the neighborhood, aside from the booming local businesses, is its close proximity to everything. Whether using Boston's well-known public transportation or simply taking a walk, everything is close by to those living in Jamaica Plain.
One of the biggest perks to living in Jamaica Plain is found in the amount of beautiful greenery available to residents. This is found in places like the Emerald Necklace, designed by Frederick Law Olmstead. The Emerald Necklace is a series of parks found in Boston and many of its jewels run through Jamaica Plain. These include Franklin Park, Olmstead Park, Jamaica Pond, and Arnold Arboretum- the oldest public arboretum in all of North America.
Those who love the outdoors will also love Jamaica Plain's abundance of biking and walking paths. These factors make Jamaica Plain the place to be for outdoor enthusiasts that still favor close proximity to the city as the neighborhood is only a 15-minute drive from Back Bay, another popular Boston neighborhood with close proximity to the city.
The Best in Jamaica Plain Storage Services
If all of this information has been enough to convince you that Jamaica Plain is the right place for you, you'll need a combination of the best moving services and storage services in Boston. That's where Poseidon Moving and Storage comes in. Not only are we the best, most affordable Jamaica Plain movers, we are also the top-rated Jamaica Plain storage providers. Our climate-controlled storage units are secure and come in a variety of sizes, making them the perfect fit no matter how many household items you need to store. Our storage units are also among the most affordable in the area. Look no further than Poseidon for all of your storage needs!
Get Your Free Quote
Ready to make your dreams of moving to Jamaica Plain, Boston a reality? Your dedicated Jamaica Plain movers are here for you. With Poseidon at the helm of operations, your move is guaranteed to be nothing but smooth-sailing. At Poseidon Moving and Storage, we like to say that we offer a truly moving experience and we want to make you our next happy customer. Poseidon Moving & Storage also offers Boston moving permits for your move, to make sure you have a secured parking space on your moving day in Jamaica Plain. Contact us today or request a free online quote to get started!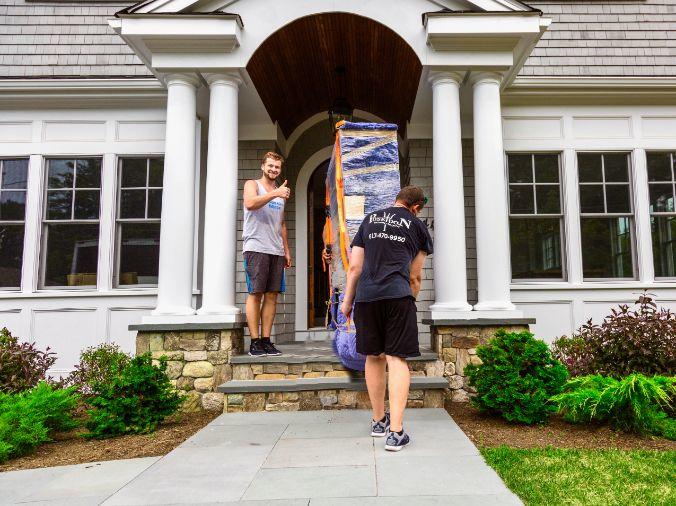 They trust us
Nothing is more important to us than your satisfaction. You will be happy with the quality of our services.
Frequently Asked Questions
How much do movers in Jamaica Plain cost?
Hiring movers in Jamaica Plain can cost on average $300-$700.
How much does packing in Jamaica Plain cost?
Hiring packing service in Jamaica Plain can cost on average $200-$500 plus packing materials cost.
What is the minimum charge for moving in Jamaica Plain?
Jamaica Plain movers have a minimum 2 – 3 hour charge.
How many movers do I need for my move in Jamaica Plain?
Jamaica Plain movers decide the number of movers your move will require by calculating the cubic feet of your move.
What size truck do I need for moving in Jamaica Plain?
On average most people in Jamaica Plain use 12'-16' box trucks.
Can I get a virtual estimate for my move In Jamaica Plain?
Many Jamaica Plain movers offer virtual estimates through zoom or Google meet.
Can my estimate be guaranteed by Jamaica Plain movers?
Most Jamaica Plain movers give a rough estimate which is not guaranteed unless it's a flat rate.
Is renting a truck cheaper than hiring Jamaica Plain movers?
Renting a truck in Jamaica Plain can be cheaper than hiring Jamaica Plain movers. If you have time, family/friends that are willing to help and experience.