Dorchester Moving Company
If you are currently browsing through online guides to assist you in making a decision about which Boston neighborhood is right for you, allow Poseidon Moving and Storage to assist you. Dorchester MA is Boston's largest neighborhood and with a population of 126,000 residents spread across six square miles, it is clear that there is a lot to love about living in this neighborhood.
If you are considering Dorchester MA as your new home, there is a lot you should know before making your final decision. Today, the best Dorchester movers will be giving you all of the information you need to decide whether or not Dorchester is the best place for you. Let's get started! We provide local, long distance, and office relocation options.

FAST SERVICE
Booking your move has never been this easy and stress-free. Let the professionals get the job done for you.

EXPERT TEAM
Our team goes through thorough training by management to ensure each person truly understands their role.

AFFORDABLE PRICES
Poseidon Moving offers high-quality service at affordable rates for your local/interstate/commercial moves.

AWARD WINNING
Bostons and NYC award-winning service of 2017 & 2018

MODERN TECHNOLOGY
Poseidon Moving offers easy to use software to help you manage your quote online, live GPS tracking system.

ALWAYS OPEN
Our agents can be available for you at any time by email
What Does it Cost to Live in Dorchester MA?
If you are considering a move to Boston, it is likely that your first question has to do with the cost of living. So what does it cost to live in Dorchester MA? Determining the cost of living involves looking at a few different factors ranging from housing costs to transportation costs. Looking at factors including housing, transportation, and housing, Dorchester is a bit more expensive than most areas in the United States, coming in at 39.5 percent higher than the national average.
More specifically, you may be wondering about housing costs in Dorchester MA. The median home value in Dorchester is $511,859 and this is an increase of 1.9 percent over the past year. If you are considering renting when you move to the Dorchester area, it is important that you know that the median rent price is $2,300 per month. Still, this total is lower than Boston's overall median rent price of $2,950, making Dorchester a more affordable option for many.
Moving in Dorchester MA
So what's it like living in Dorchester MA? As your dedicated Dorchester MA movers, we feel that it is our responsibility to introduce you to everything there is to see and do in Boston's largest neighborhood. First, let's talk a bit more about the residents living in Dorchester. Along with being the largest neighborhood in Boston, Dorchester is also home to one of the most diverse communities. Filled with diversity and many Boston families, Dorchester is a neighborhood made up of multitudes. Dorchester is, ultimately, a melting pot of culture and way of life.
Aside from being one of Boston's most diverse neighborhoods, Dorchester is also one of rich history and well-loved restaurants. Considering the diversity of Dorchester's resident's locallyowned establishments are home to global cuisines and there's always a new dish to try. A few resident favorites include the Polish Donut at DJ's Market, bubble tea in Fields Corner, and Ashmont Grill, a neighborhood staple and local meeting place for many residents.
Another great reason to live in Dorchester MA is found in the fact that this neighborhood is well known for its lively musical performances and art. Those looking to take in the art should make their way down to see the Dorchester Art Project in Fields Corner while music lovers should consider attending one of Dorchester Brewing Company's latest concerts. There's always a way to spend your weekend in Dorchester!
Dorchester MA Storage Providers
If you have decided that you want to become the newest resident in Boston's largest neighborhood, it's time to start planning and preparing for your move! Poseidon Moving and Storage offers the best in local, long-distance, and commercial moving services but it doesn't stop there! We also offer top-rated storage services in Dorchester MA and would be proud to make you our next satisfied customer.
Our climate-controlled units come in a variety of sizes and are the best, most secure option for storing your household items. Whether you are in need of short or long-term storage solutions, Poseidon Moving and Storage has just what you're looking for at affordable rates. Similarly to our moving services, we believe that our job isn't done until you are completely satisfied and that's why we are one of the most highly-rated storage unit providers in Dorchester MA!
Get Your Free Quote
Ready to make your dreams of becoming a true Bostonian a reality? Have you decided that Dorchester is the place for you? Poseidon Moving and Storage is ready to help! We offer moving services that can't be beaten in terms of quality or affordability. All it takes is one look at our moving rates and stellar customer reviews to see that we're the best option for your move to Dorchester. Poseidon Moving & Storage also offers Boston moving permits for your move, to make sure you have a secured parking space on your moving day in Dorchester. Contact us today with any questions or request a quote online today to get an idea of how much we can save you!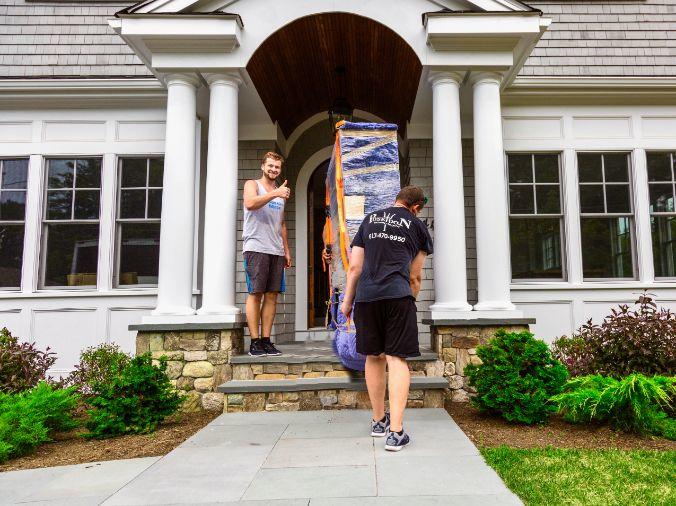 They trust us
Nothing is more important to us than your satisfaction. You will be happy with the quality of our services.
Frequently Asked Questions
How much do movers in Dorchester cost?
Hiring movers in Dorchester can cost on average $300-$700.
How much does packing in Dorchester cost?
Hiring packing service in Dorchester can cost on average $200-$500 plus packing materials cost.
What is the minimum charge for moving in Dorchester?
Dorchester movers have a minimum 2 – 3 hour charge.
How many movers do I need for my move in Dorchester?
Dorchester movers decide the number of movers your move will require by calculating the cubic feet of your move.
What size truck do I need for moving in Dorchester?
On average most people in Dorchester use 12'-16' box trucks.
Can I get a virtual estimate for my move In Dorchester?
Many Dorchester movers offer virtual estimates through zoom or Google meet.
Can my estimate be guaranteed by Dorchester movers?
Most Dorchester movers give a rough estimate which is not guaranteed unless it's a flat rate.
Is renting a truck cheaper than hiring Dorchester movers?
Renting a truck in Dorchester can be cheaper than hiring Dorchester movers. If you have time, family/friends that are willing to help and experience.