Moving Company Lexington MA
Ready to make your dreams of moving to the Greater Boston area a reality? There are few suburbs as popular among residents as Lexington! As your moving company Lexington Ma, we are dedicated to making your move as easy as possible. As the most trusted professional movers in Boston, Poseidon Moving and Storage goes the distance to meet and exceed your every
expectation. Contact us today or request a quote online to get started in planning your move to Lexington!
Things you should know before moving in Lexington
If you are currently thinking about a move to one of Boston's suburbs, it is crucial that you are considering all of your options. In browsing through the most popular suburbs in Boston, it is highly likely that you have come across Lexington. Aside from being close in proximity to the city of Boston (just about 30 minutes), Lexington is a community known for its rich history, award-winning schools, and a variety of things to do and see. As the most experienced Lexington MA movers, Poseidon Moving and Storage would like to take this time to introduce you to Lexington.
If you have been considering this popular Boston suburb as your future home, we will be answering all of your questions regarding life in Lexington. From the cost of living to the various activities there are for residents to enjoy, Poseidon Moving and Storage has all of the information you need to make your final decision. Our services include local, long distance, and office relocation options. With that, let's get started and take a look at life in Lexington MA!

FAST SERVICE
Booking your move has never been this easy and stress-free. Let the professionals get the job done for you.

EXPERT TEAM
Our team goes through thorough training by management to ensure each person truly understands their role.

AFFORDABLE PRICES
Poseidon Moving offers high-quality service at affordable rates for your local/interstate/commercial moves.

AWARD WINNING
Bostons and NYC award-winning service of 2017 & 2018

MODERN TECHNOLOGY
Poseidon Moving offers easy to use software to help you manage your quote online, live GPS tracking system.

ALWAYS OPEN
Our agents can be available for you at any time by email
What Does it Cost to Live in Lexington MA?
The first thing that we should take a look at in regards to living in Lexington MA is cost of living. Massachusetts, specifically areas in and around Boston proper, are notorious for being expensive for residents. That being said, some of the best quality of life in the nation is found in Boston and this is worth the cost of living for many Boston residents. In terms of Lexington specifically, we will need to take a variety of factors into account when defining the cost of living including housing costs, transportation costs, utility costs, and grocery costs.
Overall, the cost of living in Lexington is 94 percent higher than the national average. For this reason, Lexington tends to attract mostly professionals and wealthy families. The biggest factor to consider when planning a move to Lexington involves the cost of housing. The median home value in Lexington is $1,060,293. For many, renting a home in Lexington tends to be a more affordable option and median rent for a one-bedroom apartment is just $2,327 per month. That being said, rentals can be hard to come by in the Lexington area and most buyers, 80%, choose to buy a home rather than rent for this reason.
In terms of transportation, utility, and grocery costs, things tend to be a bit more expensive in the Lexington area. Transportation expenses such as bus fares and gas prices are 14 percent higher than the national average. Utilities are 20 percent higher than the national average. Grocery prices are 11 percent higher than the national average.
Moving in Lexington MA
Now that you have a better idea of how much it costs to live in Lexington MA, you are likely wondering what it's like to live here. There are a number of perks to living in Lexington and any resident will tell you that it is, by far, one of the best suburbs to live within the Boston area. The first perk to living in Lexington is found in its rich history. Known best as the setting of the Battle of Lexington and Concord, the first battle of the American Revolution, Lexington is a community alive with history. History buffs will enjoy visiting landmarks such as the Lexington Battle Green where historical reenactments are commonplace.
Another reason that many residents move to Lexington is the award-winning school system. The public schools in Lexington are top-rated. The main public school in the suburb, Lexington High School, was ranked within the top 20 schools in the nation. Further, Lexington holds Boston magazine's spot as the 4th best place for schools in the Greater Boston area.
Finally, another reason that many homeowners make the move to Lexington MA is found in the amount of things to see, do, and enjoy. Wilson Farm, in particular, is a popular attraction for many locals. At this market, you'll find locally-grown produce and plenty of fish and meats to enjoy. This is the perfect place for those that consider themselves amateur chefs! If you're looking to eat out in Lexington, there are a number of diverse restaurants to enjoy. Some particular favorites include Lexx Restaurant and Mario's Italian Restaurant. Be sure to check them out upon your move to the area!
Lexington MA Storage Providers
If you are planning a move to Lexington anytime soon, it is likely that you will need more than just the moving services provided by our Lexington MA movers. Luckily, Poseidon Moving and Storage also offers comprehensive storage services. Our climate-controlled storage units are the perfect storage solution for your needs. Regardless of whether you need short-term or longterm storage, Poseidon Moving and Storage has the storage services you need to rest easy knowing your items are protected. Visit our Storage Services page to learn more!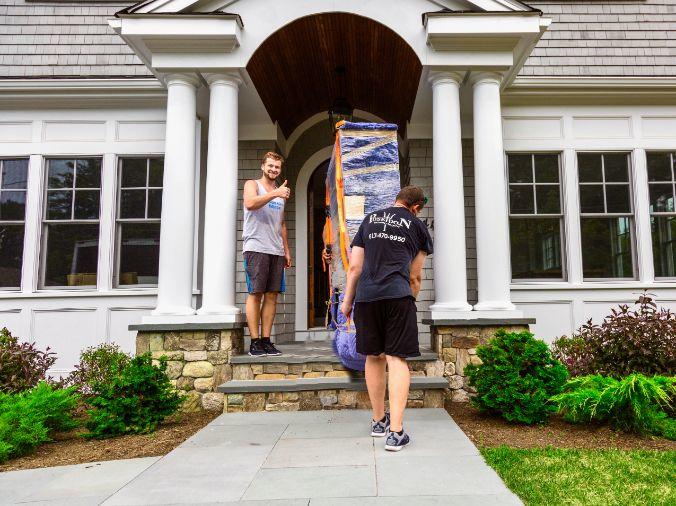 They trust us
Nothing is more important to us than your satisfaction. You will be happy with the quality of our services.
Frequently Asked Questions
How much do movers in Lexington cost?
Hiring movers in Lexington can cost on average $300-$700.
How much does packing in Lexington cost?
Hiring packing service in Lexington can cost on average $200-$500 plus packing materials cost.
What is the minimum charge for moving in Lexington?
Lexington movers have a minimum 2 – 3 hour charge.
How many movers do I need for my move in Lexington?
Lexington movers decide the number of movers your move will require by calculating the cubic feet of your move.
What size truck do I need for moving in Lexington?
On average most people in Lexington use 12'-16' box trucks.
Can I get a virtual estimate for my move In Lexington?
Many Lexington movers offer virtual estimates through zoom or Google meet.
Can my estimate be guaranteed by Lexington movers?
Most Lexington movers give a rough estimate which is not guaranteed unless it's a flat rate.
Is renting a truck cheaper than hiring Lexington movers?
Renting a truck in Lexington can be cheaper than hiring Lexington movers. If you have time, family/friends that are willing to help and experience.