Moving Company Malden MA
It's time to start planning for your move to Malden MA! Make sure you're working with the best professional moving company Malden Ma available. Poseidon Moving and Storage has over 20 years of experience helping homeowners just like you get started off on the right foot in their new homes. Providing the best local, long distance, and commercial  moving services available, we have a reputation for making moves easier. Contact us today or request an online quote to get started!
Things you should know before moving in Malden MA
When considering a move to Boston or any of its surrounding areas, it is important that you have all of the facts. Before making your final decision involving a move to Malden MA, a rapidly developing suburb, it is crucial that you know whether it is the right place for you and your family. As your dedicated Malden MA movers, Poseidon Moving and Storage is here to help make it easier for you to decide.
Today, we'll be discussing the cost of living in Malden as well as what life is like in this city. Malden is in a rapid period of transition and as the area develops, newcomers are arriving in droves and becoming permanent residents. Those looking for a diverse community to call home to have something to enjoy in Malden. With that, let's get started!

FAST SERVICE
Booking your move has never been this easy and stress-free. Let the professionals get the job done for you.

EXPERT TEAM
Our team goes through thorough training by management to ensure each person truly understands their role.

AFFORDABLE PRICES
Poseidon Moving offers high-quality service at affordable rates for your local/interstate/commercial moves.

AWARD WINNING
Bostons and NYC award-winning service of 2017 & 2018

MODERN TECHNOLOGY
Poseidon Moving offers easy to use software to help you manage your quote online, live GPS tracking system.

ALWAYS OPEN
Our agents can be available for you at any time by email
How much does it cost to live in Malden?
Let's start with what is likely the top concern of anyone considering a move to Malden: what is the cost of living in Malden, MA? When determining the cost of living in this popular Boston suburb, it is crucial that you consider a number of factors including housing costs, transportation costs, utility costs, and grocery costs.
Overall, the cost of living in Malden is 36 percent higher than the national average. In looking at the cost of housing in Malden MA, specifically, it is estimated that expenses are 70 percent higher than the national average. This includes median home prices of $590,799 and median rent of $1,851 per month. While these averages are higher than the national average, they are more affordable than many areas in and around Boston proper.
In terms of transportation costs, it should be noted that expenses are 14 percent higher than the national average. Utility expenses are estimated to be 20 percent higher than the national average while grocery costs are 11 percent higher than the national average.
Moving in Malden MA
Now that you have a better idea of what to expect in terms of living expenses in Malden, it is likely that you have the information you need to make a decision. Still, it is important that you know what life is like in the area itself, including what there is for residents to enjoy as well as demographic information.
With an estimated population of 61,246, one of the greatest perks to living in Malden, according to most residents, is its diversity. Known for its sizable population of citizens of Asian descent (22.9 percent), Malden earned its spot on Boston's list of the other area's "other Chinatowns". Those living in Malden are sure to make friends with people from all over the world and this diversity adds to the area's charm and appeal for residents.
Another great perk to life in Malden is found in the area's accessibility. While many residents do drive, Malden's close proximity and easy accessibility to downtown Boston via the MBTA makes it a top choice for young professionals working within Boston itself. Using either Oak Grove or the Orange Line at Malden Center, residents can easily find themselves in Boston in no time.
In the last few years, Malden's culinary scene has certainly gained momentum. Young professionals flock to popular dining spots like Idle Hands Brewery and Mystic Station. There are a number of classing dining joints to enjoy as well in the form of Pisa Pizza and Jay's Pizza and Ice Cream.
As noted, Malden finds itself in a period of great transition with constant construction happening every day. The changes in Malden Square are observable with luxury apartments being rented out for $2,000 or more per month going up regularly. These new changes have attracted residents and this has made the real estate market in Malden a competitive one.
Top-Rated Malden MA Storage Services
Have a better idea as to whether or not Malden is the right place for you and your family? It's time to start preparing! While finding and hiring the best Malden MA movers in the area should be a primary concern, we also highly recommend searching for the best storage service providers. Luckily, you won't have to look far! Poseidon Moving and Storage, aside from being the best moving company serving the Malden area, also provides top-rated Malden MA storage services at affordable monthly flat rate.
Our climate-controlled storage units are safe, secure, and monitored with 24-hour surveillance. With several different storage unit sizes available for you to choose from, you can rest easy knowing the right amount of space is always available at Poseidon Moving and Storage. Check out our Storage and Packing services page to learn more!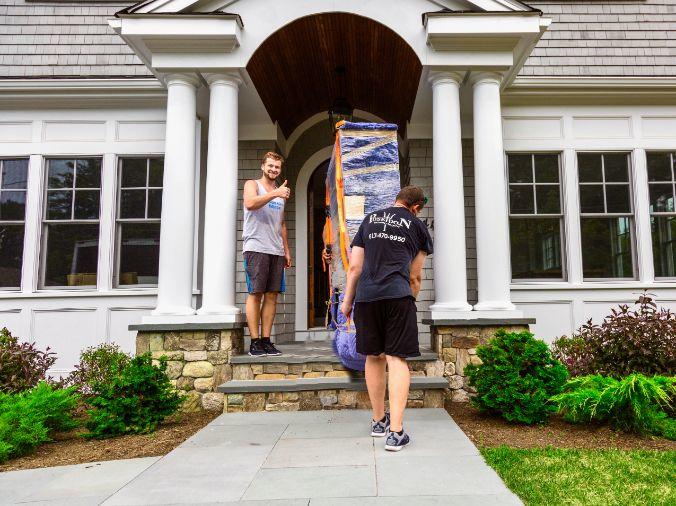 They trust us
Nothing is more important to us than your satisfaction. You will be happy with the quality of our services.