Moving Company Medford Ma
Ready to start planning your move to Medford? Call on the best Medford MA movers! We offer comprehensive moving services, and rates that are sure to meet and exceed your every expectation. We specialize in local, long distance, and office moves, and would love to make you our next satisfied customer. Contact us today or request a free moving quote online to get started!
Things you should know before moving in Medford
When making the decision to move to either Boston or one of the surrounding areas, it is important that you take all of your options into consideration. As Boston's best moving company, Poseidon Moving and Storage wants to tell you all about Medford MA so that you'll be one step closer to making the right decision for you. Those looking for a place to live that is close to Boston while still offering the amenities of suburban life will find a lot to love in Medford. As the best Medford movers, we have the knowledge of the area and experience assisting families just like yours in moving to Medford.
Today, Poseidon Moving and Storage will be telling you everything you need to know about life in Medford MA. Knowing everything that you can before deciding to move to the Medford area is essential. We will be detailing everything from the cost of living in Medford to things to do in this popular Boston suburb. Hopefully, this useful information will prove valuable to you in making the decision to move to Medford! Let's get started.

FAST SERVICE
Booking your move has never been this easy and stress-free. Let the professionals get the job done for you.

EXPERT TEAM
Our team goes through thorough training by management to ensure each person truly understands their role.

AFFORDABLE PRICES
Poseidon Moving offers high-quality service at affordable rates for your local/interstate/commercial moves.

AWARD WINNING
Bostons and NYC award-winning service of 2017 & 2018

MODERN TECHNOLOGY
Poseidon Moving offers easy to use software to help you manage your quote online, live GPS tracking system.

ALWAYS OPEN
Our agents can be available for you at any time by email
What Does it Cost to Live in Medford MA?
When considering a move to Massachusetts, it is always a good idea to think about the cost of living. That being said, it is likely that the first question on your mind when thinking about moving to Medford is the cost of living. When determining the cost of living in Medford, you have to take a series of factors into account including housing costs, utilities, transportation, and groceries. In terms of housing costs, the median home value in Medford is $620,476. The median rent value is $2,650. That being said, most residents in Medford own their homes with 56.3 percent owning their homes and 43.7 percent renting.
In discussing the other important components of the cost of living in Medford, transportation costs include gas prices at $2.99 per gallon. Utility prices are 20 percent higher in Medford compared to the national average. Grocery prices are an estimated 11 percent higher than the national average.
Moving in Medford MA
So what is life like in Medford MA? This is an important question to ask if you are considering moving there. There are many reasons that residents love living in Medford and, as highlighted, one of the biggest is the suburb's close proximity to Boston proper. Your best options for a commute to the city are either a short 15-minute drive or an even shorter 10-minute ride on the Commuter Rail at the West Medford Station.
Among the other reasons that Meford residents love living there, it should also be said that Meford offers a higher quality of life than areas closer to Boston. Not only is the suburb particularly family-friendly, but it also is home to a number of great restaurants and fun activities for residents of all ages to enjoy. There are plenty of trendy amenities found in Medford that has made the area's real estate market a hot one. This includes the addition of new retail establishments.
Medford is also home to plenty of green spaces with Medford residents enjoying two beaches, twelve parks, and a slew of recreational activities including tennis and horse stables. One of the favorite locations of outdoor lovers in Medford is the Middlesex Falls Reservation. This 2,200- acre state park dips into Medford and hosts many trails for outdoorsy types to enjoy.
The Best Medford MA Storage Services
If you have decided that Medford MA is the place for you and your family, it's time to start preparing for your move. One of the biggest parts of the moving process is downsizing for many new Boston residents. For this reason, you will need to find a reputable storage company that offers everything you need to ensure the safe packing and storage of your household items. Luckily, Poseidon Moving and Storage offers the best of both worlds!
Our storage services offer everything you need for a successful move. Our climate-controlled storage units are available in several sizes so you are sure to find the right fit for you no matter how many items you are storing. Visit our Storage services page to learn more about what Poseidon Moving and Storage has to offer!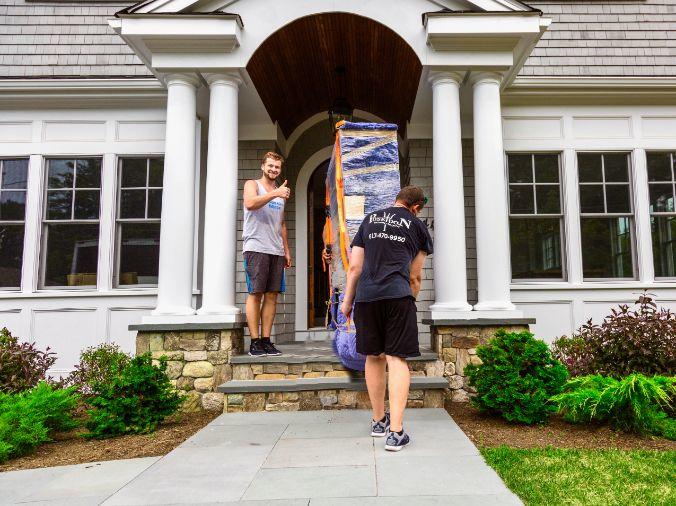 They trust us
Nothing is more important to us than your satisfaction. You will be happy with the quality of our services.
Frequently Asked Questions
How much do movers in Medford cost?
Hiring movers in Medford can cost on average $300-$700.
How much does packing in Medford cost?
Hiring packing service in Medford can cost on average $200-$500 plus packing materials cost.
What is the minimum charge for moving in Medford?
Medford movers have a minimum 2 – 3 hour charge.
How many movers do I need for my move in Medford?
Medford movers decide the number of movers your move will require by calculating the cubic feet of your move.
What size truck do I need for moving in Medford?
On average most people in Medford use 12'-16' box trucks.
Can I get a virtual estimate for my move In Medford?
Many Medford movers offer virtual estimates through zoom or Google meet.
Can my estimate be guaranteed by Medford movers?
Most Medford movers give a rough estimate which is not guaranteed unless it's a flat rate.
Is renting a truck cheaper than hiring Medford movers?
Renting a truck in Medford can be cheaper than hiring Medford movers. If you have time, family/friends that are willing to help and experience.