Brookine Moving Company
Ranked as one of the best suburbs to live in the entire nation by Business Insider in 2019, Brookline is a wonderful place to call home. Whether you are planning a move to Brookline MA or simply want to know more about the area before making your decision, there is much that you should know about moving to Brookline. As the best Brookline MA movers and packers, Poseidon Moving and Storage wants to be the first to tell you more about your new home!
Planning a move to Brookline, can be stressful but when you know what to expect, and have a reputable moving company Brookine Ma on your side, the process goes much more smoothly. As Boston's top-rated moving company and local Bostonians ourselves, we feel that we have the knowledge necessary to make deciding whether or not Brookline MA is the right place for you easier.
So what should you know before making the decision to move to Brookline MA? From the cost of living and information about the nearby schools to a glimpse at the entertainment available in the area, there are many factors to take into account. If you and your family are considering Brookline, let the top Brookline Moving Company MA  introduce you to your new home! Let's get started.

FAST SERVICE
Booking your move has never been this easy and stress-free. Let the professionals get the job done for you.

EXPERT TEAM
Our team goes through thorough training by management to ensure each person truly understands their role.

AFFORDABLE PRICES
Poseidon Moving offers high-quality service at affordable rates for your local/interstate/commercial moves.

AWARD WINNING
Bostons and NYC award-winning service of 2017 & 2018

MODERN TECHNOLOGY
Poseidon Moving offers easy to use software to help you manage your quote online, live GPS tracking system.

ALWAYS OPEN
Our agents can be available for you at any time by email
How much does it cost to live in Brookline?
Compared to other Boston neighborhoods, the cost of living in Brookline is high. That being said, there is a reason for this and there are few Boston neighborhoods that offer as high a quality of life as Brookline. The most expensive part of living in Brookline is housing. With homes in Brookline holding an average value of $758,000, it is no surprise that most people living in Brookline don't own their homes. That being said, the cost of renting in Brookline is also higher than the state average with rent running around $2,000 per month on average. Still, the quality of life that you can expect in Brookline MA is fantastic. Why? Let's look at that more in-depth.
Moving in Brookline MA
Despite the high cost of living in Brookline, nearly 60,000 people call this popular Boston neighborhood home. This is due to a variety of factors including easy, convenient access to the city, highly rated public schools, and a low unemployment rate. Aside from the necessities of life, Brookline also offers a host of things to do and see. Due to its close proximity to the city, Brookline offers residents all of the benefits of living in the big city. Within Brookline itself, there are plenty of local restaurants and family-owned establishments to enjoy.
Brookline MA Schools
Families moving to Brookline MA have a varied selection of schools within the city to choose from. With a total of 52 schools found in Brookline itself, including 8 different high schools, education is a huge focus in Brookline. The only public high school found in Brookline is Brookline High School but this school is top-rated and offers a diverse variety of programs for students to choose from. College preparation is also a focus in Brookline's schools with Brookline High School offering a total of 18 different Advanced Placement courses for students looking to sharpen their skills before setting off for college.
Brookline MA Jobs
Professionals moving to Brookline will be happy to know that Brookline's unemployment rate is extraordinarily low. Sitting at just 3.2 percent compared to the national average of 4.7 percent, Brookline is home to professionals of various ages with an average income per capita of over $61,000. Residents of Brookline are typically highly educated, resulting in an average median household income of $102,175 per year.
Things to Do in Brookline MA
Brookline is, again, located extremely close to the city itself. This means that residents can enjoy the best of both worlds, enjoying a more peaceful life outside of the city with close access to all of the city's amenities. For this reason, there is no shortage of things to do and see for those living in Brookline MA.
Within Brookline itself, there is also much to do and see. Some of the most popular activities for families include outdoor activities found in some of New England's best parks and waterways, located just minutes from Brookline. Of the most loved by families is the Emerald Necklace, a chain of parks that cover over 1,000 acres of beautiful land.
Brookline boasts a small-town charm with easy access to the big city with popular spots such as Coolidge Corner and Brookline Village. Bookworms will love Brookline Booksmith, a well-loved bookstore originally opening in 1961. This popular shop hosts a slew of new and used books and regularly puts on author nights, book club gatherings, as well as many other events.
Get Your Free Quote!
As Boston's best movers, we are well-equipped to make your move to Brookline easy. With the best, most affordable rates on moving services and all of the knowledge to make your move smooth-sailing, it's no wonder that so many Bostonians have become happy customers of Poseidon Moving and Storage. We also offer Brookline moving permits for your move, to make sure you have a secured parking space for your moving truck. Contact us today for your local, long distance, or office move.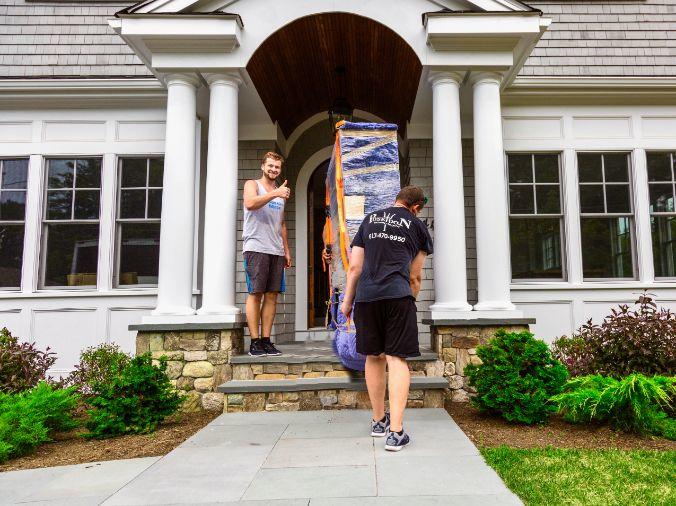 They trust us
Nothing is more important to us than your satisfaction. You will be happy with the quality of our services.
Frequently Asked Questions
How much do movers in Brookline cost?
Hiring movers in Brookline can cost on average $300-$700.
How much does packing in Brookline cost?
Hiring packing service in Brookline can cost on average $200-$500 plus packing materials cost.
What is the minimum charge for moving in Brookline?
Brookline movers have a minimum 2 – 3 hour charge.
How many movers do I need for my move in Brookline ?
Brookline movers decide the number of movers your move will require by calculating the cubic feet of your move.
What size truck do I need for moving in Brookline ?
On average most people in Brookline use 12'-16' box trucks.
Can I get a virtual estimate for my move In Brookline ?
Many Brookline movers offer virtual estimates through zoom or Google meet.
Can my estimate be guaranteed by Brookline movers ?
Most Brookline movers give a rough estimate which is not guaranteed unless it's a flat rate.
Is renting a truck cheaper than hiring Brookline movers?
Renting a truck in Brookline can be cheaper than hiring Brookline movers. If you have time, family/friends that are willing to help and experience.