Things you should know before moving in Burlington MA
When considering any move, it is helpful to weigh your options carefully. With so many options available to those thinking about moving to Boston or one of its surrounding areas, it will pay off for you to choose wisely. In your search, you will eventually come across Burlington MA. Located just 12 miles away from Boston proper, Burlington attracts residents from all walks of life and Poseidon Moving and Storage is confident that there's something you'll love there. As your dedicated Burlington MA movers, we feel there is more to our jobs than just providing the best in Boston moving services; we want to be among the first to welcome you to your new home!
Today, Poseidon Moving and Storage will be telling you everything you need to know about this popular suburb. From the cost of living in Burlington to all of the things that there are to see and do, our movers have you covered. We hope this valuable information will be helpful to you when it comes time to make your final decision. With that, let's get started!
How much does it cost to live in Burlington?
Let's start with the question that is likely on the minds of many considering a move to Burlington MA: what is the cost of living there? In order to answer this question, we first have to determine all of the expenses that make up the overall cost of living. These include housing costs, transportation costs, utility costs, and grocery costs.
Overall, the cost of living in Burlington MA is 50 percent higher than the national average. Still, this cost of living is lower than in many places in Boston's surrounding areas. In terms of housing costs, Burlington is 118 percent higher than the national average. This includes a median home value of $758,017 and a median rent of $2,375. In taking transportation costs into account, Burlington is 14 percent higher than the national average. In terms of utilities and groceries, Burlington's costs are 20 and 14 percent higher respectively.

FAST SERVICE
Booking your move has never been this easy and stress-free. Let the professionals get the job done for you.

EXPERT TEAM
Our team goes through thorough training by management to ensure each person truly understands their role.

AFFORDABLE PRICES
Poseidon Moving offers high-quality service at affordable rates for your local/interstate/commercial moves.

AWARD WINNING
Bostons and NYC award-winning service of 2017 & 2018

MODERN TECHNOLOGY
Poseidon Moving offers easy to use software to help you manage your quote online, live GPS tracking system.

ALWAYS OPEN
Our agents can be available for you at any time by email
Moving in Burlington MA
If the cost of living in Burlington MA is within your budget, it is likely that you're interested in learning more about the area. Situated just 12 miles from Boston proper, Burlington has become somewhat of a technology hub in the state of Massachusetts. While Burlington was once a farming town, the 21st century has brought about some real changes in the area such as Microsoft moving 300 employees here from Kendall Square.
While there is little room for new homes to be built in Burlington due to the recent surge in new construction, there are a number of mid-century ranch homes and colonial homes for new residents to move into. Most of these homes were constructed during a period of expansion between 1955 and 1965 after the construction of Route 128. This expansion is the reason that the Boston Globe popularly refers to Burlington as a "boom town".
In terms of things to do in Burlington, the most popular activity by far for residents involves a trip to the upscale Burlington Mall. With over 185 stores available for shoppers and a massive food court, Burlington Mall is rated as one of TripAdvisor's top things to do in Burlington. For those that aren't quite as fond of the shopping experience, Burlington is also home to Kings Bowling. Kings Bowling describes itself as a "classy bowling joint" and bowlers will enjoy a menu packed with dishes that aren't typical bowling food fare ranging from appetizers and salads to burgers and entrees.
The Boston Globe also refers to Burlington as "an emerging culinary destination" with enough high-quality restaurants and establishments to rival Boston's South End. There are a variety of locally-owned establishments for residents to enjoy and these businesses are opening with increasing frequency.
The Best Burlington MA Storage Services
If you are starting to plan a move to Burlington, our moving company Burlington Ma suggest more than just Boston's best moving services. Luckily, Poseidon Moving and Storage also specializes in the best storage services that can be found in the area. Our climate-controlled storage units are available in a variety of sizes, making them the perfect fit for any number of items at an affordable fixed price. Our storage units are also monitored around the clock with 24-hour surveillance, meaning your items will always be safe and secure at Poseidon Moving and Storage.
Moving services for Burlington MA residents
Ready to make the move to Burlington? Our Burlington MA movers are here to assist you! Specializing in local, long distance, and office moves, our movers have over 20 years of experience helping homeowners settle down into their new lives in Burlington. We'd love to make you our next happy customer! Contact us today or request a free online quote to get started.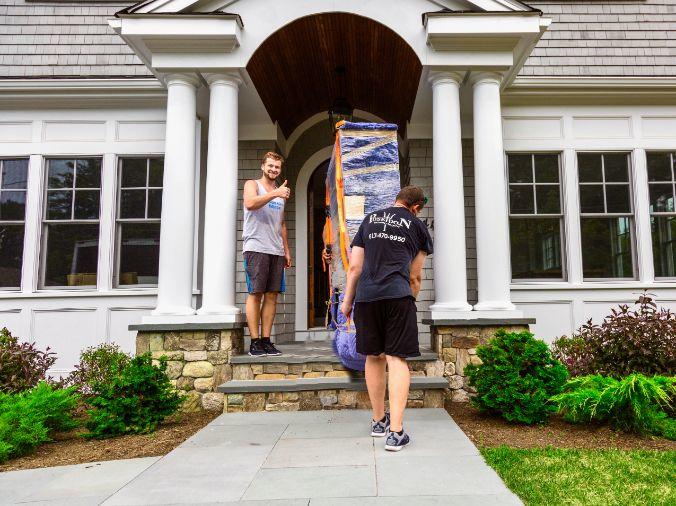 They trust us
Nothing is more important to us than your satisfaction. You will be happy with the quality of our services.
Frequently Asked Questions
How much do movers in Burlington cost?
Hiring movers in Burlington can cost on average $300-$700.
How much does packing in Burlington cost?
Hiring packing service in Burlington can cost on average $200-$500 plus packing materials cost.
What is the minimum charge for moving in Burlington?
Burlington movers have a minimum 2 – 3 hour charge.
How many movers do I need for my move in Burlington?
Burlington movers decide the number of movers your move will require by calculating the cubic feet of your move.
What size truck do I need for moving in Burlington?
On average most people in Burlington use 12'-16' box trucks.
Can I get a virtual estimate for my move In Burlington?
Many Burlington movers offer virtual estimates through zoom or Google meet.
Can my estimate be guaranteed by Burlington movers?
Most Burlington movers give a rough estimate which is not guaranteed unless it's a flat rate.
Is renting a truck cheaper than hiring Burlington movers?
Renting a truck in Burlington can be cheaper than hiring Burlington movers. If you have time, family/friends that are willing to help and experience.