Things you should know before moving in Melrose MA
If considering a move to Boston, it is important that you take into account each neighborhood and suburb in order to find the best fit for you and your family. One such area to consider is Melrose, located just north of Boston and only a few short miles from the coast. Thanks to its close proximity to the city itself, Melrose sticks out as a great place for young families and history lovers alike. As your dedicated Melrose MA movers, Poseidon Moving and Storage wants to be among the first to welcome you to Melrose.
This suburb has a total population of 28,132 people and is considered by many to be one of the best places to live in Boston. Although a move to Boston can be a stressful process for some, Poseidon Moving and Storage seeks to make everything a bit easier. Aside from offering the best local, long distance, and office moving services in Melrose and beyond, we also feel it is our responsibility to offer you valuable information about the area. Knowing as much as you possibly can about an area before deciding to move there is, after all, the key to a successful move. Let's get started!
Moving Company Melrose Ma
Ready to make your dreams of moving to Melrose MA a reality? Call on the most reputable Melrose movers in the area! With over 20 years of experience helping Bostonians move into their dream homes, Poseidon Moving and Storage is the most trusted name in professional moving companies. Contact us today or request a free online quote to get started!

FAST SERVICE
Booking your move has never been this easy and stress-free. Let the professionals get the job done for you.

EXPERT TEAM
Our team goes through thorough training by management to ensure each person truly understands their role.

AFFORDABLE PRICES
Poseidon Moving offers high-quality service at affordable rates for your local/interstate/commercial moves.

AWARD WINNING
Bostons and NYC award-winning service of 2017 & 2018

MODERN TECHNOLOGY
Poseidon Moving offers easy to use software to help you manage your quote online, live GPS tracking system.

ALWAYS OPEN
Our agents can be available for you at any time by email
How Much Does it Cost to Live in Melrose MA?
On to what is likely the biggest question on your mind: what does it cost to live in Melrose MA? The cost of living should be a key concern when considering a move to Boston, Massachusetts. Of the factors to consider when determining the cost of living in Melrose MA, the most important is housing costs. The median home value in Melrose is $463,300. This exceeds the national average of $184,700. While most of the residents of Melrose actually own their homes, 33 percent of residents are renters. The median rent in Melrose is $1,243 per month on average. Compared to other areas of Boston, this is a more affordable option.
Moving in Melrose MA
So what is life like in Melrose, Massachusetts? Many of the residents living in Melrose have lived in the state of Massachusetts for their entire lives, 71 percent to be exact, but there are more and more people moving to the area each day. Melrose is known for being an especially family-friendly area, and in fact, 46 percent of the population is made up of families with children. Melrose is loved for its close proximity to the city of Boston, just 10 miles in fact. Despite the closeness in proximity to Boston, however, housing costs are much more affordable than within the city of itself. This is a huge reason that so many people consider a move to Melrose.
Melrose is also well-known for its beautiful suburban neighborhoods. These neighborhoods possess large homes and low crime rates with some of the most popular neighborhoods to live in being Melrose Highlands, Fells, and City Center. Melrose is also known for having some of the top schools in the state of Massachusetts. The Melrose Public School District is made up of five elementary schools, one middle school, and one high school. Melrose High School even
received a College Success Award in 2019 and offers a total of 22 advanced placement courses to better prepare high school students for their college careers.
Melrose is also known for having a thriving local economy. The median household income among residents is $93,434. This is over $10,000 more than the median household income of residents living in Boston proper. The largest industries in Melrose include technology, healthcare, and education. Due to Melrose's close proximity to Boston, many Melrose residents choose to work positions in the city itself in tech startups, government agencies, and finance
companies just to name a few.
The Best Storage Services in Melrose MA
If you are planning a move to Melrose or any other area of Boston, you'll need more than just the high-quality moving services offered by your dedicated Melrose MA movers. In fact, storage services could go a long way in simplifying your moving process. Luckily, Poseidon Moving and Storage offers comprehensive storage services to Melrose residents!
Our climate-controlled storage units make it easy to store your items. Whether you are in the need for short or long-term storage solutions, our storage units come in a variety of sizes to fit any need. From a small one-bedroom apartment to a large four-bedroom house, we have a storage unit to fit your needs. Visit our Storage services page to learn more!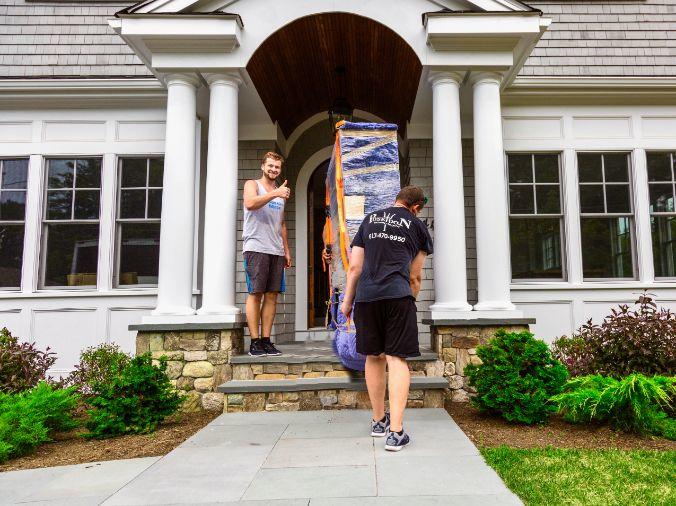 They trust us
Nothing is more important to us than your satisfaction. You will be happy with the quality of our services.
Frequently Asked Questions
How much do movers in Melrose cost?
Hiring movers in Melrose can cost on average $300-$700.
How much does packing in Melrose cost?
Hiring packing service in Melrose can cost on average $200-$500 plus packing materials cost.
What is the minimum charge for moving in Melrose?
Melrose movers have a minimum 2 – 3 hour charge.
How many movers do I need for my move in Melrose?
Melrose movers decide the number of movers your move will require by calculating the cubic feet of your move.
What size truck do I need for moving in Melrose?
On average most people in Melrose use 12'-16' box trucks.
Can I get a virtual estimate for my move In Melrose?
Many Melrose movers offer virtual estimates through zoom or Google meet.
Can my estimate be guaranteed by Melrose movers?
Most Melrose movers give a rough estimate which is not guaranteed unless it's a flat rate.
Is renting a truck cheaper than hiring Melrose movers?
Renting a truck in Melrose can be cheaper than hiring Melrose movers. If you have time, family/friends that are willing to help and experience.