Moving Company Watertown MA
Ready to start planning for your move to Watertown? Poseidon Moving and Storage is here to make your move an easier one. Specializing in local, long distance, and office moves, the best Watertown MA movers are here for you. Contact us today to get started or request a free online quote. We look forward to working with you!
Things you should know before moving in Watertown
If you are considering a move to Boston and are looking for an area that offers a slightly more affordable cost of living than Cambridge or Belmont, Watertown MA may be just what you're looking for. With a recent upswing in businesses and residential areas, Watertown is steadily becoming one of the top places to live around Boston. As your dedicated moving company Watertown Ma, Poseidon Moving and Storage wants to be the first to welcome you to the area.
Today, we will be telling you everything you need to know about life in Watertown MA. From the cost of living to all of the things, there are to see and do, Poseidon Moving and Storage has all of the details you need to make your final decision about moving to Watertown. With this information, you will be better prepared to start planning your move to the Boston area. Let's get started!

FAST SERVICE
Booking your move has never been this easy and stress-free. Let the professionals get the job done for you.

EXPERT TEAM
Our team goes through thorough training by management to ensure each person truly understands their role.

AFFORDABLE PRICES
Poseidon Moving offers high-quality service at affordable rates for your local/interstate/commercial moves.

AWARD WINNING
Bostons and NYC award-winning service of 2017 & 2018

MODERN TECHNOLOGY
Poseidon Moving offers easy to use software to help you manage your quote online, live GPS tracking system.

ALWAYS OPEN
Our agents can be available for you at any time by email
What Does it Cost to Live in Watertown MA?
The most important thing to consider when thinking about moving to any new area is the cost of living. With many areas in and around Boston being notorious for a higher cost of living, it is crucial that you and your family know what to expect concerning the cost of living in Watertown. To determine the cost of living, you must consider a variety of factors including housing costs, transportation costs, utility costs, and grocery costs.
Let's start by taking a look at housing costs in Watertown. Overall, the cost of housing in Watertown is a bit more affordable than other areas around Boston such as Cambridge or Belmont. The median home value in the area is estimated to be $596,900 with the median rent value being an estimated $2,378 for a one-bedroom apartment. Next, we should examine transportation costs. This includes gas prices primarily. In this area, Watertown is an estimated 2.1 percent higher than the national average with gas prices averaging $2.56. In terms of utility costs, electric bills in Watertown are estimated to be 28 percent higher than the national average. Finally, grocery costs are estimated to be 13 percent higher than the national average.
Moving in Watertown MA
Now that you have a better idea of whether or not you can afford life in Watertown MA, it is likely that you have a few questions concerning what life is like in the area. The first thing to note about life in Watertown is that the real estate market has really begun to heat up in recent years as a steady stream of new businesses and residential construction has popped up. Watertown is also positioned for easy access to both the Massachusetts Turnpike and Boston alike, drawing young professionals interested in jobs in the city to the area.
Further looking into why Watertown is a particularly popular area for young professionals, many residents choose the area for the more affordable costs. While areas in close proximity such as Cambridge and Belmont also ensure easy access to Boston proper, these areas demand a higher cost of living for residents than that of which is found in Watertown. This makes it the best choice for young professionals pursuing job opportunities in Boston itself while offering a more affordable way of life.
Next, let's talk about things to do in Watertown. As is the case with many areas in and around Boston, Watertown is home to activities that any history lover will enjoy. Most notably, there is the American Heritage Museum located in nearby Hudson. This museum showcases a number of interactive exhibits including tanks and military aircraft and seeks to educate Watertown residents on the history of our nation's military and veterans.
An activity for residents with children to take note of is Watertown's Inside Playground, a four-season indoor play area with over 8,000 square feet of area for children to enjoy activities like inflatables, swings, and ball-pools. These are just a few of the most popular activities for Watertown residents to enjoy.
Watertown MA Storage Providers
Have you decided that Watertown MA is the place for you? Do yourself a service and plan for more than just hiring the best Watertown MA movers! Poseidon Moving and Storage also offers the best Watertown storage and packing services available at an affordable monthly flat rate. Our climate-controlled storage units come in a variety of sizes and are safe and secure with 24-hour surveillance. Whether you need short or long-term storage services, Poseidon Moving and Storage has you covered!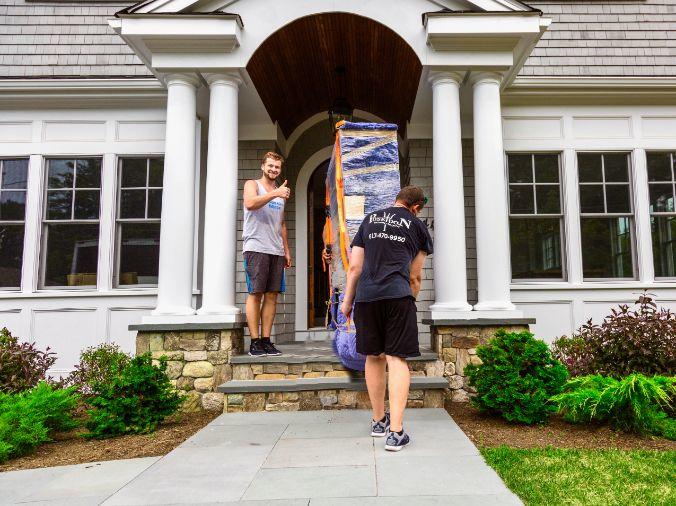 They trust us
Nothing is more important to us than your satisfaction. You will be happy with the quality of our services.
Frequently Asked Questions
How much do movers in Watertown cost?
Hiring movers in Watertown can cost on average $300-$700.
How much does packing in Watertown cost?
Hiring packing service in Watertown can cost on average $200-$500 plus packing materials cost.
What is the minimum charge for moving in Watertown?
Watertown movers have a minimum 2 – 3 hour charge.
How many movers do I need for my move in Watertown?
Watertown movers decide the number of movers your move will require by calculating the cubic feet of your move.
What size truck do I need for moving in Watertown?
On average most people in Watertown use 12'-16' box trucks.
Can I get a virtual estimate for my move In Watertown?
Many Watertown movers offer virtual estimates through zoom or Google meet.
Can my estimate be guaranteed by Watertown movers?
Most Watertown movers give a rough estimate which is not guaranteed unless it's a flat rate.
Is renting a truck cheaper than hiring Watertown movers?
Renting a truck in Watertown can be cheaper than hiring Watertown movers. If you have time, family/friends that are willing to help and experience.