Call the Best Moving Company Back Bay Ma
Ready to make the move to Back Bay? Congratulations! Poseidon Moving and Storage is here to make the entire process easier. As the best in Boston moving services, our Back Bay movers are well-equipped and highly-trained, making them the best choice for your move. We also offer Boston moving permits for your move, to make sure you have a secured parking space on your moving day in Back Bay. Contact us today or request a free quote online to get started. Your new home in Back Bay awaits you!
Things You Should Know for Moving in Back Bay
Considered one of Boston's most elite neighborhoods, Back Bay is a popular choice for newcomers to the Boston area. If you are currently considering a move to Boston and think that Back Bay may be the neighborhood for you, Poseidon Moving and Storage wants to introduce you to the area! As Bostonians ourselves, we believe we have the insight needed to give you a glimpse into life in Back Bay and feel that it will prove helpful in making your ultimate decision! When it comes time to make your move to the area, we hope you'll choose us as your Back Bay movers! We provide local, long distance, and office relocation options.
Back Bay is a Boston neighborhood packed with architectural character and rich history. Those looking for a spot to call home that is isolated from the city itself while remaining in close proximity will love what is to be found in Back Bay. As one of Boston's wealthier neighborhoods, the quality of life in this iconic area makes it a great fit for families. But what else should you know about living in Back Bay, Boston? Let your Back Bay Boston movers introduce you to your new home!

FAST SERVICE
Booking your move has never been this easy and stress-free. Let the professionals get the job done for you.

EXPERT TEAM
Our team goes through thorough training by management to ensure each person truly understands their role.

AFFORDABLE PRICES
Poseidon Moving offers high-quality service at affordable rates for your local/interstate/commercial moves.

AWARD WINNING
Bostons and NYC award-winning service of 2017 & 2018

MODERN TECHNOLOGY
Poseidon Moving offers easy to use software to help you manage your quote online, live GPS tracking system.

ALWAYS OPEN
Our agents can be available for you at any time by email
How Much Does it Cost to Live in Back Bay?
The first thing you are likely wondering about when it comes to moving to Back Bay is the cost of living. As such a historically prestigious area known for being home to 45 percent of Boston's upper-class families in 1894, Back Bay continues to be an area associated with wealth although the mix in resident demographics is observable. Today, everyone from young professionals to wealthy families calls Back Bay home. That being said, the cost of living is a bit higher than most areas in Boston.
Back Bay can be a pricey place to live but with a population of 16,559, it is clear that many Bostonians are proud to call the area their home. With a median home value of $1,222,788 and the median price of homes currently listed being $1,799,000, much of Back Bay's homes are more expensive than in other areas in Boston. Rent is also a bit higher in the area running out an average of $3,378 per month. This is compared to Boston's average rent of $2,950 per month. Still, those looking for all of the amenities associated with the city while still holding on to a more quiet neighborhood charm will find the expense well worth it when it comes to Back Bay.
Moving to Back Bay MA
So why do so many Bostonians call Back Bay home? From the family-friendly atmosphere to the variety of shopping destinations, Back Bay is no stranger to things to see and do. While Back Bay is considered the most exclusive residential area near the city, recent developments such as the new Four Seasons Residences at One Dalton and upcoming Raffles Hotel and Residences are changing the face of the area. Now, Back Bay will be home to full-service luxury buildings.
If you ask any Back Bay resident what they love most about the area, they are sure to say that it's all in location, location, location. Residents of Back Bay are offered easy access to nearly any part of the city. Those who will be making a daily transit to the city for work will also appreciate the fact that Back Bay contains great public transit options. These include three major options, the Green Line, Orange Line, and Commuter Rail for easy access to the city itself. Still, there is a great ability to walk to almost anywhere in the city and this is a big draw for residents, specifically those who work downtown.
Families will enjoy all of the family-friendly activities in Back Bay. One popular choice is the Clarendon Street Playground where children are free to enjoy the beauty of the outdoors. Children and adults alike also love to take a stroll down Marlborough and Beacon where residents can enjoy the peace of the tree-lined streets, a welcome change from the hustle and bustle of busy Boston life.
Back Bay Boston Storage
If you are considering Back Bay as the location of your future home, you'll need more than just Boston's best moving services! Along with offering the most comprehensive moving services in the area, Poseidon Moving and Storage is also well-known for being the top-rated Back Bay storage services provider.
No matter how much you'll need to put into storage, our climate-controlled storage units come in a variety of sizes suited to fit your individual needs. Whether you'll be storing items short or long-term, Poseidon Moving and Storage has the packing and storage services you'll need to experience true peace of mind!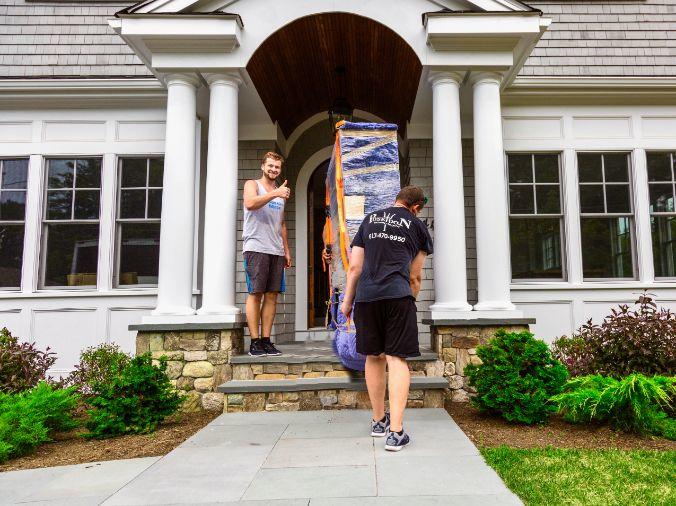 They trust us
Nothing is more important to us than your satisfaction. You will be happy with the quality of our services.
Frequently Asked Questions
How much do movers in Back Bay cost?
Hiring movers in Back Bay can cost on average $300-$700.
How much does packing in Back Bay cost?
Hiring packing service in Back Bay can cost on average $200-$500 plus packing materials cost.
What is the minimum charge for moving in Back Bay?
Back Bay movers have a minimum 2 – 3 hour charge.
How many movers do I need for my move in Back Bay?
Back Bay movers decide the number of movers your move will require by calculating the cubic feet of your move.
What size truck do I need for moving in Back Bay?
On average most people in Back Bay use 12'-16' box trucks.
Can I get a virtual estimate for my move In Back Bay?
Many Back Bay movers offer virtual estimates through zoom or Google meet.
Can my estimate be guaranteed by Back Bay movers?
Most Back Bay movers give a rough estimate which is not guaranteed unless it's a flat rate.
Is renting a truck cheaper than hiring Back Bay movers?
Renting a truck in Back Bay can be cheaper than hiring Back Bay movers. If you have time, family/friends that are willing to help and experience.