Chinatown Boston moving services
Are you considering a move to Boston? If so, it is important that you choose a neighborhood that fits your needs and wants as a resident. If Chinatown is one of the neighborhoods that you are currently considering, there are a few things you should know about the area before making your ultimate decision. Luckily, as the most reputable Chinatown Boston movers, we have all of the information you need to make a decision about moving to Chinatown.
Today, we will be looking at all of the factors that you, as a new resident of Boston, should be considering for your move to the area. As professional Chinatown Boston movers, we have experience helping residents just like you settle down into their new homes in Chinatown. This means that we have a good grasp on what attracts people to the area, what life there is like, and why you should consider Chinatown as your new home in Boston. Let's get started! Our services include local, long distance, and office relocation options. 
Top-Rated Chinatown Boston Movers
Make your dreams of moving to Chinatown a reality! Contact the top-rated Chinatown Boston movers today. We have over 20 years of experience helping new Boston residents just like you settle down into their dream homes. Start your new life in Chinatown with an easy moving experience by working with Poseidon Moving and Storage. Chinatown may have difficulties with parking a moving truck on the day of your move, that's why we offer moving permits just for you!   Contact us today with any questions or use our two-step quote calculator to receive an online quote on the moving services you need!

FAST SERVICE
Booking your move has never been this easy and stress-free. Let the professionals get the job done for you.

EXPERT TEAM
Our team goes through thorough training by management to ensure each person truly understands their role.

AFFORDABLE PRICES
Poseidon Moving offers high-quality service at affordable rates for your local/interstate/commercial moves.

AWARD WINNING
Bostons and NYC award-winning service of 2017 & 2018

MODERN TECHNOLOGY
Poseidon Moving offers easy to use software to help you manage your quote online, live GPS tracking system.

ALWAYS OPEN
Our agents can be available for you at any time by email
How Much Does it Cost to Live in Chinatown?
The first question on the minds of many new residents of Boston has to do with the cost of living. After all, Boston is well-known for being an expensive place to live. Knowing all that you can about a particular neighborhood's cost of living before making a final decision to move there is important. So what does it cost to live in Chinatown?
When determining the cost of living in Chinatown, there are a few different factors that should be considered. These include housing costs as well as the condition of the job market in that area. The median home value in Chinatown is $1,088,479. That being said, most residents of Boston's Chinatown rent their homes (81 percent to be exact). For this reason, it is important to note that the median rent in Chinatown is $1,432 per month on average.
In terms of the job market in Chinatown, the average household income of residents is $35,876. Only 12 percent of families living in Chinatown have children, meaning that most residents are young professionals or retirees.
Moving in Chinatown Boston
So what is life like in Chinatown? With a population of 7,634 people, Chinatown is known for its colorful streets and close-knit community. Compared to other neighborhoods in Boston, Chinatown has a relatively low population, resulting in a community atmosphere where everyone knows everyone. The most well-known landmark is the neighborhood's ChinatownGate, which is situated at the intersection of Surface Road and Beach Street. The gate has an engraving that says "all under heaven for the common good of the people" in Chinese characters.
One of the biggest perks of living in Chinatown is its location. From Chinatown, you can walk almost anywhere in just a few short minutes, from the popular neighborhood of South End to Downtown Crossing. The neighborhood is also filled with a diverse variety of restaurants and people come from all over the city of Boston to enjoy the fine cuisine that is found in Chinatown. Residents of Chinatown also enjoy shopping around at the unique shops, many offering Chinese antiques, and trinkets. These shops include everything from herb stores to Korean beauty shops.
Lovers of art will love visiting one of the most recognizable pieces of public art in the entire city of Boston, the Chinatown community mural. This mural was co-designed by artists Wen-Ti Tsen and David Fitcher in 1986 and depicts the history of the Chinese population in the city of Boston. Although the original mural was torn down in 2002, a photographic replica was installed in 2005 and has since been a popular location to visit for Bostonians that appreciate art and history alike.
Chinatown Storage Providers
If you have made the decision to follow your dreams and make the move to Boston's Chinatown neighborhood, you'll need more than just the top-rated moving services provided by our Chinatown Boston movers. If you will have to downsize upon moving to the area, you'll also need comprehensive storage services to house your household items.
Whether you need short-term or long-term storage for your items, Poseidon Moving and Storage has the solution. Our climate-controlled storage units are safe, secure, and available in a variety of storage unit sizes to fit the needs of our customers. If you are making the smart choice to work with Poseidon Moving and Storage upon your move to the Chinatown area, take the time to ask us about our storage services. You can learn more by visiting our Storage services page!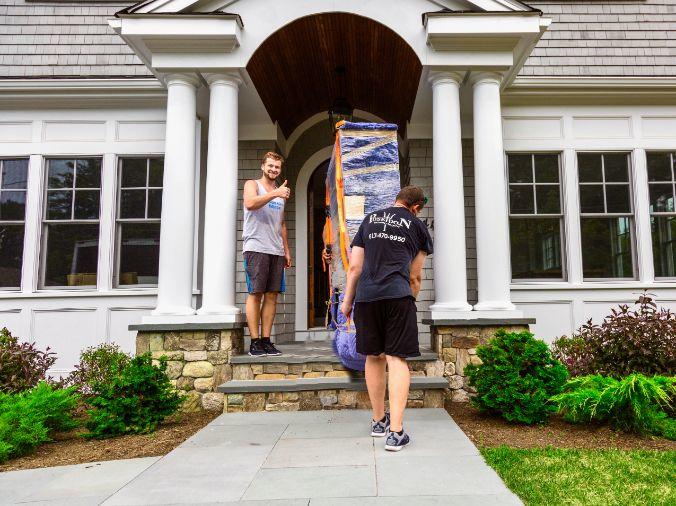 They trust us
Nothing is more important to us than your satisfaction. You will be happy with the quality of our services.
Frequently Asked Questions
How much do movers in Chinatown cost?
Hiring movers in Chinatown can cost on average $300-$700.
How much does packing in Chinatown cost?
Hiring packing service in Chinatown can cost on average $200-$500 plus packing materials cost.
What is the minimum charge for moving in Chinatown?
Chinatown movers have a minimum 2 – 3 hour charge.
How many movers do I need for my move in Chinatown?
Chinatown movers decide the number of movers your move will require by calculating the cubic feet of your move.
What size truck do I need for moving in Chinatown?
On average most people in Chinatown use 12'-16' box trucks.
Can I get a virtual estimate for my move In Chinatown?
Many Chinatown movers offer virtual estimates through zoom or Google meet.
Can my estimate be guaranteed by Chinatown movers?
Most Chinatown movers give a rough estimate which is not guaranteed unless it's a flat rate.
Is renting a truck cheaper than hiring Chinatown movers?
Renting a truck in Chinatown can be cheaper than hiring Chinatown movers. If you have time, family/friends that are willing to help and experience.