South Boston Moving Company
If you have made the final decision and are currently in the process of planning your move to the South End, our South End Boston movers are here to help make your experience easier than ever! Want to learn more about our local, long distance, and commercial  moving services? Check out our website! Poseidon Moving & Storage also offers Boston moving permits for your move, to make sure you have a secured parking space on your moving day in South Boston. You can also feel free to contact us with any questions or receive a free online quote by using our handy two-step quote calculator today. Welcome to the South End!
Things you should know before moving in South End
Finding the right neighborhood for your move to Boston can be a difficult search. From considering housing costs and the amenities in the area to public school systems and the job market, there are many things to consider before making your final decision. If you are considering Boston's South End as your new neighborhood, you will need the expertise of the best South Boston movers. As the most trusted professional moving company in the area, Poseidon Moving and Storage hopes to make your decision a bit easier!
Today, we will be taking a look at some of the reasons that you should make the move to the South End. From the highly acclaimed restaurants to its historical character, the South End is one of the most coveted neighborhoods in Boston. As Bostonians ourselves, we know a lot about the area and want to share a few facts and figures about the South End. Let's get started!

FAST SERVICE
Booking your move has never been this easy and stress-free. Let the professionals get the job done for you.

EXPERT TEAM
Our team goes through thorough training by management to ensure each person truly understands their role.

AFFORDABLE PRICES
Poseidon Moving offers high-quality service at affordable rates for your local/interstate/commercial moves.

AWARD WINNING
Bostons and NYC award-winning service of 2017 & 2018

MODERN TECHNOLOGY
Poseidon Moving offers easy to use software to help you manage your quote online, live GPS tracking system.

ALWAYS OPEN
Our agents can be available for you at any time by email
How Much Does it Cost to Live in South Boston?
On to what is likely the first question on your mind if you are moving to Boston from out of state: how much does it cost to live in the South End? Boston is well-known for being an expensive place to live but people flock to the area in droves regardless. This is due to various factors including great job stability, beautiful neighborhoods, and an overall low crime rate. That being said, the South End has always been and remains to be one of the most coveted neighborhoods in Boston for new residents. This is reflected by the cost of living as well.
In the South End, the cost of living is estimated to be 23 percent higher than the Boston average. The average home value in Boston's South End is $423,200 while the median rent is $1,369 per month. These averages are higher than the national average but the South End still remains to be a hot market for buyers. Luckily, the median household income in the South End is $72,022 and this secure job market means that the South End is more affordable.
Moving in South Boston
So what is life like in the South End? One of the biggest perks of moving to south Boston, according to most residents, is the food. Many consider the South End to be Boston's best food neighborhood. The South End is also known for some of the best brunch locations in Boston. Another staple of the South End is the neighborhood's large Victorian row houses and the neighborhood has been on the National Register of Historic Places since 1973.
In terms of things to do in the South End, some of the most popular activities include shopping at boutiques and visiting the highly-acclaimed restaurants in the area. South of Washington Street, popularly referred to as SoWa by residents, is well-known for its South End Open Market where residents and tourists alike can partake in shopping at the farmers market or art market, eating at the 15-20 local food trucks, or browsing the offerings of local vendors. This event takes place in both the summer and fall months.
Aside from the popular restaurants for brunch in the South End, there are also a variety of music halls and bars within and around the neighborhood. These sites act as a tribute to the neighborhood's historic relationship with jazz music and commonly offer live jazz performances for music lovers. Those with an appreciation for fine art should also take the time to browse through the Boston Center for the Arts located in the South End. According to curators, the
Boston Center for the Arts offers "a creative 'home' for artists, a welcoming arts destination for audiences, and an art connection for city youth and communities.''
The Best South End Boston Storage Providers
If you are currently in the process of planning and preparing for your move to the South End, you'll need more than just the top-rated moving services provided by Poseidon Moving and Storage. Storage services are also an important part of most moving processes as you will likely have to store some of your household items.
Whether you are in need of short or long-term storage options, our climate-controlled storage units are the perfect solution. Available in a variety of sizes, there is always a unit fit for your needs at Poseidon Moving and Storage. Visit our storage services page to learn more about the best South End Boston storage and packing providers!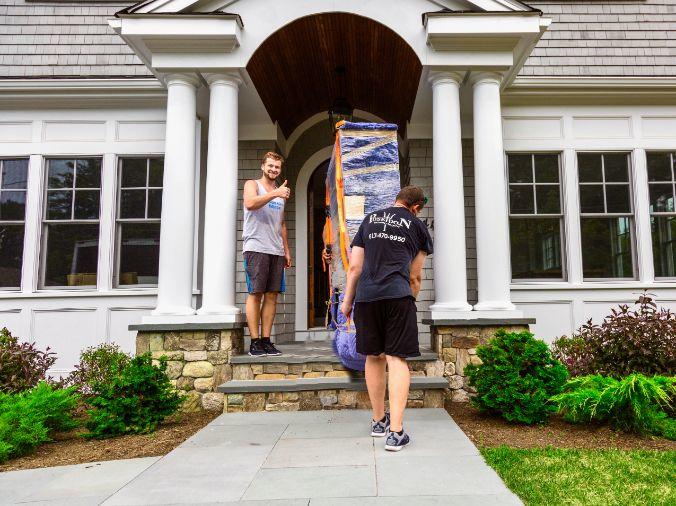 They trust us
Nothing is more important to us than your satisfaction. You will be happy with the quality of our services.
Frequently Asked Questions
How much do movers in South End cost?
Hiring movers in South End can cost on average $300-$700.
How much does packing in South End cost?
Hiring packing service in South End can cost on average $200-$500 plus packing materials cost.
What is the minimum charge for moving in South End?
South End movers have a minimum 2 – 3 hour charge.
How many movers do I need for my move in South End?
South End movers decide the number of movers your move will require by calculating the cubic feet of your move.
What size truck do I need for moving in South End?
On average most people in South End use 12'-16' box trucks.
Can I get a virtual estimate for my move In South End?
Many South End movers offer virtual estimates through zoom or Google meet.
Can my estimate be guaranteed by South End movers?
Most South End movers give a rough estimate which is not guaranteed unless it's a flat rate.
Is renting a truck cheaper than hiring South End movers?
Renting a truck in South End can be cheaper than hiring South End movers. If you have time, family/friends that are willing to help and experience.