Moving Company Somerville MA
If you have decided that Somerville is the right place for you and your family, it's time to start planning. The top priority on any moving to-do list should be hiring the best moving company. Poseidon Moving and Storage specializes in packing,  local, long distance, and commercial  moves and has a long track record of providing top-notch service to our customers. We want to make you our next happy customer! Contact us today or request a free quote online to get started.
Things you should know before moving in Somerville
As the best Somerville movers, Poseidon Moving and Storage wants to make it easier for you to decide whether or not to move to Somerville MA. Located just a short 4 miles outside of the city of Boston itself, Somerville is a popular location for families and professionals to relocate. If you are looking to learn more about Somerville MA to see if it's the right place for you and your family, Poseidon Moving and Storage is here to introduce you to the area.
Today, we will be exploring life in Somerville MA. We'll be taking a look at everything from the cost of living in Somerville MA to what life is like in this popular area. With this information, we hope you'll have an easier time making your final decision. If you decide that Somerville is the right place for you, feel free to call your dedicated Somerville MA movers. We can guarantee a simplified moving process and our moving company Somerville Ma will help you make an easier transition to life in your new home.

FAST SERVICE
Booking your move has never been this easy and stress-free. Let the professionals get the job done for you.

EXPERT TEAM
Our team goes through thorough training by management to ensure each person truly understands their role.

AFFORDABLE PRICES
Poseidon Moving offers high-quality service at affordable rates for your local/interstate/commercial moves.

AWARD WINNING
Bostons and NYC award-winning service of 2017 & 2018

MODERN TECHNOLOGY
Poseidon Moving offers easy to use software to help you manage your quote online, live GPS tracking system.

ALWAYS OPEN
Our agents can be available for you at any time by email
What Does it Cost to Live in Somerville MA?
When considering a move to any new area, it is important that you know what to expect in terms of the cost of living. Before making your final decision to move to Somerville MA, it is crucial that you know what to expect so you can be budget ready. Overall, the cost of living in Somerville is 62 percent higher than the national average. That being said, there are many factors to consider when looking at the cost of living including housing costs, transportation costs, utility costs, and grocery costs.
In terms of housing costs, Somerville is more expensive than most areas in the United States. Overall, Somerville's housing costs are 171 percent higher than the national average. The median home value in the area is $941,412 while the average rent is $2,949 per month according to PayScale. Next, we should take a look at transportation costs such as bus fare and gas prices. Overall, Somerville MA's transportation costs are 14 percent higher than the national average.
Finally, we should take a look at utility and grocery costs in Somerville. Utility prices are estimated to be 20 percent higher than the national average while grocery costs are estimated to be 11 percent higher, similarly to many areas in close proximity to Boston proper.
Moving in Somerville MA
Have you decided that you and your family can afford life in Somerville MA? If that's the case, it's time to learn more about what you can expect from life in the area. Due to its close proximity to Boston, Somerville is a popular location for young professionals and families alike. Despite being the 15th most densely populated city in the nation, Somerville maintains a small town atmosphere. In terms of the area's demographics, Somerville tends to attract a younger crowd with the resident median age being just 31.
One of the best things about living in Somerville is the quality of the public school system. Families with children will be happy to know that Somerville is home to a total of 39 schools. The Somerville School District, hosting a total of 5,000 students, focuses on providing a quality education to students with a number of great after-school programs. In terms of private schools, one of the most popular choices amongst residents is the International School of Boston which offers an education to children from preschool to the 12th grade. The International School of Boston focuses its curriculum on providing students a high-quality global education.
Finally, let's talk about some of the most popular things to see and do in Somerville. A few favorites of residents and tourists alike include a visit to the LegoLand Discovery Center, a trip to Davis Square, and dining out in any of the area's best restaurants. Best of all, with such close proximity to the city itself, Somerville offers residents all of the amenities associated with life in Boston.
Somerville MA Storage Services
Those looking for the best Somerville MA movers in the area will need more than just great moving services. Storage services are also a big part of the planning and preparing for a move. Luckily for you, you can get the best of both services when you choose Poseidon Moving and Storage.
Our storage services offer you a variety of storage unit sizes to choose from. Apart from that, each of our storage units is also climate-controlled and secure with 24-hour surveillance. Want to learn more about the best storage services in Somerville MA? Check out our Storage Services page!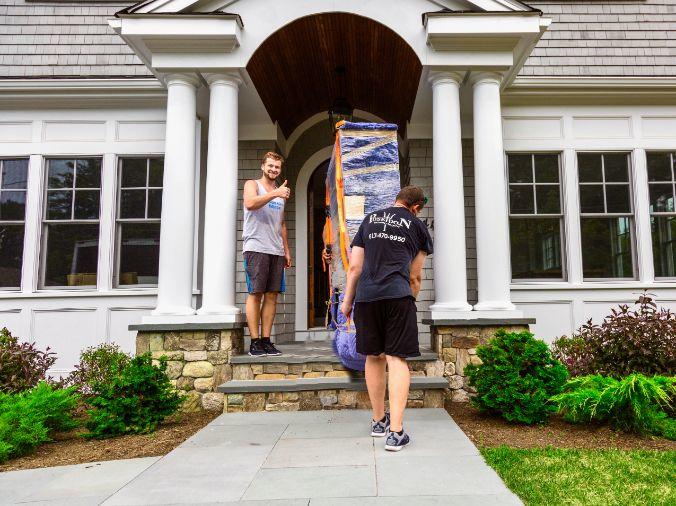 They trust us
Nothing is more important to us than your satisfaction. You will be happy with the quality of our services.