Moving Company Winchester MA
Now that you know a bit more about life in Winchester, it's time to make your final decision. If Winchester is calling your name, it's time to enlist the help of the best Winchester MA movers! Poseidon Moving and Storage has everything you're looking for in a professional moving company.
Specializing in local, long distance, and office moves, we have years of experience simplifying the moving experience. Don't leave yourself to carry the load alone- hire the best in the business! Contact us today or request a free online quote to get started.
Winchester MA moving solutions
When thinking about moving to any new town, it is important that you know as much about the area as possible before making your final decision. As the best Winchester MA movers, Poseidon Moving and Storage believes that it is our responsibility to help you get to know the area so that you can make your final decision.
Today, we'll be taking a look at Winchester MA and giving you all the information you need. This will include taking a look at the cost of living in Winchester, what there is to see and do there, and what our services can do to make the entire process easier. With that, let's get started!

FAST SERVICE
Booking your move has never been this easy and stress-free. Let the professionals get the job done for you.

EXPERT TEAM
Our team goes through thorough training by management to ensure each person truly understands their role.

AFFORDABLE PRICES
Poseidon Moving offers high-quality service at affordable rates for your local/interstate/commercial moves.

AWARD WINNING
Bostons and NYC award-winning service of 2017 & 2018

MODERN TECHNOLOGY
Poseidon Moving offers easy to use software to help you manage your quote online, live GPS tracking system.

ALWAYS OPEN
Our agents can be available for you at any time by email
Cost of Living in Winchester MA
Are you curious whether or not life in Winchester MA fits your budget? To best determine whether or not you and your family can afford life in Winchester, you have to consider all of the expenses. Specifically, these expenses include housing costs, transportation costs, utility costs, and grocery costs.
Overall, the cost of living in Winchester is 74 percent higher than the national average. In terms of housing costs, housing in Winchester is 238 percent higher than the national average. This includes a median home value of $1,173,394 as well as an average rent cost of $3,676 per month. Transportation costs including expenses such as gas prices and bus fares are estimated to be 14 percent higher than the national average in Winchester while utility costs are estimated to be 20 percent higher. Finally, grocery costs should be considered. These costs are estimated to be just 11 percent higher than the national average.
Moving in Winchester MA
If it seems likely that you and your family can afford a move to Winchester MA, it is likely that you would like to learn more about the area. One of the biggest perks to living in Winchester is found in its convenience of location. The town is home to two commuter rail stops on the Lowell line and access to Interstate 93 near the town's border. Winchester is also a very walkable community with many prime locations being within walking distance.
Another great reason to call Winchester home is found in the quality of the suburb's school system. With a 97 percent graduation rate, 17 percent higher than the national average, and average school test scores of 88 percent, it is clear that Winchester takes education seriously. In fact, Niche rates the Winchester public school system 13th out of all 213 public schools in Massachusetts.
Winchester is also viewed as a particularly family-friendly place to call home. There are a number of family-friendly activities for those of all ages to enjoy. KidSpace is particularly popular for children, offering dozens of theater workshop programs year-round for those preschool age through high school. Programs include video production, theater, and studio art. Splash Park at Boggard Beach is another popular place for families with 19 above and below ground elements for children to play in. Splash Park is a wonderful supplement to an already fun day at the beach.
Although Winchester's downtown area is small, it is packed with a variety of restaurants, a bookshop, and a slew of downtown businesses for residents to enjoy. Overall, while Winchester doesn't have a bustling city atmosphere, it is never more than a 10-15 minute drive to get where you need to go. This makes it perfect for residents who are reluctant to subscribe to the busy city life of Boston itself while wanting to remain in close proximity to its amenities.
Storage Services in Winchester MA
Looking to downsize upon your move to Winchester? You'll need more than just the help of our Winchester MA movers! Leave it to Poseidon Moving and Storage to also offer the best storage services found in the Boston area. With several different sizes of storage units available, we have just enough space for you no matter how much or how little you need to store for an affordable monthly flat rate.
Our storage units are also climate-controlled, meaning your items will stay in perfect condition whether you need short-term or long-term storage. Check out our Storage Services page to learn even more about what we have to offer you upon moving to Winchester!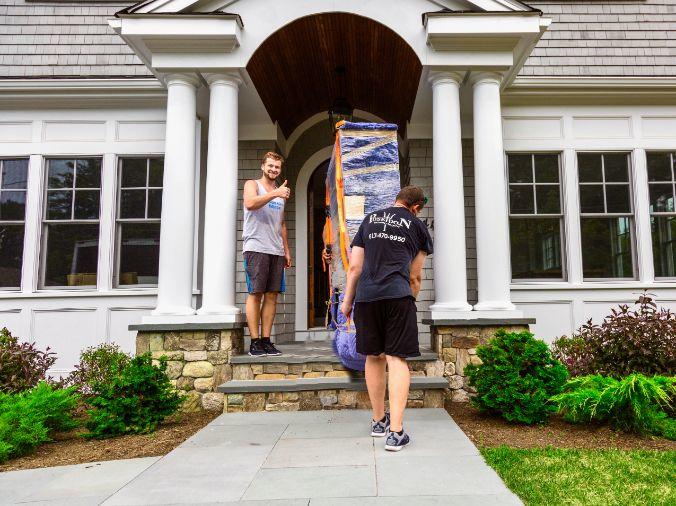 They trust us
Nothing is more important to us than your satisfaction. You will be happy with the quality of our services.
Frequently Asked Questions
How much do movers in Winchester cost?
Hiring movers in Winchester can cost on average $300-$700.
How much does packing in Winchester cost?
Hiring packing service in Winchester can cost on average $200-$500 plus packing materials cost.
What is the minimum charge for moving in Winchester?
Winchester movers have a minimum 2 – 3 hour charge.
How many movers do I need for my move in Winchester?
Winchester movers decide the number of movers your move will require by calculating the cubic feet of your move.
What size truck do I need for moving in Winchester?
On average most people in Winchester use 12'-16' box trucks.
Can I get a virtual estimate for my move In Winchester?
Many Winchester movers offer virtual estimates through zoom or Google meet.
Can my estimate be guaranteed by Winchester movers?
Most Winchester movers give a rough estimate which is not guaranteed unless it's a flat rate.
Is renting a truck cheaper than hiring Winchester movers?
Renting a truck in Winchester can be cheaper than hiring Winchester movers. If you have time, family/friends that are willing to help and experience.