North End Boston moving company
Ready to make your dream of moving to the North End a reality? As your dedicated North End Boston movers, we will make it our mission to guarantee you the best moving experience you have ever had. From the high quality of our moving services to the extreme affordability of our rates, there is truly no better fit for you than Poseidon Moving and Storage. Poseidon Moving & Storage also offers Boston moving permits for your move, to make sure you have a secured parking space on your moving day in North End. Looking to get started? Contact us today or request a free online quote!
Things you should know before moving in North End
When selecting a neighborhood for your move to Boston, it is important that you have all of the facts. If you are considering Boston's North End as your new home, Poseidon Moving and Storage has all of the facts you need to make your ultimate decision. As your dedicated North End movers we provide packing, local, long distance, and office relocation options for you! We have experience working in and around the North End and want to share a little information about the area with you as you consider it for your new home.
With a population of 12,911, the North End is considered one of the more densely populated neighborhoods in Boston. This is because the North End is just 234 acres in size, roughly 0.36 square miles. Though the North End is small in size, the neighborhood is home to nearly one hundred establishments as well as various tourist attractions.

FAST SERVICE
Booking your move has never been this easy and stress-free. Let the professionals get the job done for you.

EXPERT TEAM
Our team goes through thorough training by management to ensure each person truly understands their role.

AFFORDABLE PRICES
Poseidon Moving offers high-quality service at affordable rates for your local/interstate/commercial moves.

AWARD WINNING
Bostons and NYC award-winning service of 2017 & 2018

MODERN TECHNOLOGY
Poseidon Moving offers easy to use software to help you manage your quote online, live GPS tracking system.

ALWAYS OPEN
Our agents can be available for you at any time by email
How Much Does it Cost to Live in the North End?
When considering a move to a new neighborhood, it is crucial that you know how much it costs to live there. In determining the cost of living, various factors must be taken into account including housing costs, transportation costs, and the cost of healthcare.
When looking into housing costs in the North End specifically, it is important to note that the median home value in the neighborhood is $817,049 on average. This far exceeds the national average of $184,700 but most residents of the North End rent their homes. In fact, 67 percent of residents in the North End rent their homes. In terms of median rent, things are a bit more affordable at a price of $1,998 per month.
Despite higher housing costs, it should be noted that job security in the North End works to make up for a higher cost of living. In fact, residents of the North End make around $99,158 per year on average. This is much higher than the national average of $55,322.
Moving in the North End Boston
So what is life like living in Boston's North End neighborhood? As the city's oldest residential community, the North End finds its roots in European history with many residents referring to it fondly as "Little Italy". Although much of the more old-fashioned way of life still thrives in the North End, it has continuously become home for a younger generation. While the days of old Italian charm are far from being gone in the North End, the area has undergone significant changes in recent decades.
The North End is a hub of sorts for the city's Italian community. With close proximity to both downtown and the waterfront, real estate companies have capitalized on the North End's location. This has made it a hot market for those moving to Boston. In fact, recent years have seen the North End become the destination of choice for wealthy retirees and young professionals alike.
One of the biggest perks of living in Boston's North End comes in the form of its food scene. As home to nearly one hundred fine establishments, there isn't a corner of the North End that isn't made finer by some form of delicious cuisine. A few favorites of residents include the Sicilian pizza found at Galleria Umberto and the cappuccinos served at Caffe Vittoria.
While the North End is home to various Italian restaurants, it is also the location of many historical homes and buildings as well. Some to take particular note of include the Old North Church and the Skinny House. In fact, the district itself is being considered as a Boston Landmark in itself.
North End Boston Storage Services
If you have made the decision to make the move to Boston's coveted North End neighborhood, you'll need more than just top-notch moving services. At Poseidon Moving and Storage, we are also proud to offer the absolute best in North End Boston storage services. Our climate-controlled units come in sizes to fit any need, whether it be a small one-bedroom apartment or a four-bedroom house's worth of belongings.
No matter the need, Poseidon Moving and Storage has the storage solutions you need. Best of all, our storage units are well-secured and extremely affordable. It truly doesn't get any simpler than working with Poseidon Moving and Storage when planning your move to Boston!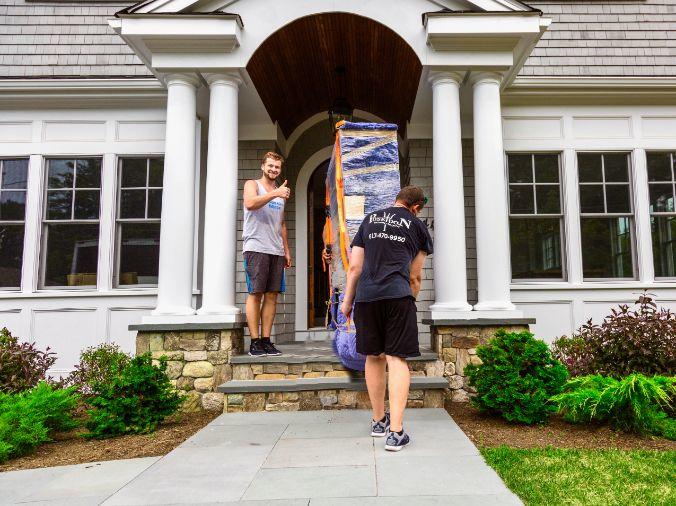 They trust us
Nothing is more important to us than your satisfaction. You will be happy with the quality of our services.
Frequently Asked Questions
How much do movers in North End cost?
Hiring movers in North End can cost on average $300-$700.
How much does packing in North End cost?
Hiring movers in North End can coat on average $300-$700.
What is the minimum charge for moving in North End?
North End movers have a minimum 2 – 3 hour charge.
How many movers do I need for my move in North End?
North End movers decide the number of movers your move will require by calculating the cubic feet of your move.
What size truck do I need for moving in North End?
On average most people in North End use 12'-16' box trucks.
Can I get a virtual estimate for my move In North End?
Many North End movers offer virtual estimates through zoom or Google meet.
Can my estimate be guaranteed by North End movers?
Most North End movers give a rough estimate which is not guaranteed unless it's a flat rate.
Is renting a truck cheaper than hiring North End movers?
Renting a truck in North End can be cheaper than hiring North End movers. If you have time, family/friends that are willing to help and experience.