Boston North End Moving Company
When selecting a neighborhood for your move to Boston, it is important that you have all of the facts. If you are considering Boston's North End as your new home, Poseidon Moving and Storage has all of the facts you need to make your ultimate decision. As your dedicated North End movers we provide packing, local, long distance, and office relocation options for you! We have experience working in and around the North End and want to share a little information about the area with you as you consider it for your new home.
With a population of 12,911, the North End is considered one of the more densely populated neighborhoods in Boston. This is because the North End is just 234 acres in size, roughly 0.36 square miles. Though the North End is small in size, the neighborhood is home to nearly one hundred establishments as well as various tourist attractions.

FAST SERVICE
Booking your move has never been this easy and stress-free. Let the professionals get the job done for you.

EXPERT TEAM
Our team goes through thorough training by management to ensure each person truly understands their role.

AFFORDABLE PRICES
Poseidon Moving offers high-quality service at affordable rates for your local/interstate/commercial moves.

AWARD WINNING
Bostons and NYC award-winning service of 2017 & 2018

MODERN TECHNOLOGY
Poseidon Moving offers easy to use software to help you manage your quote online, live GPS tracking system.

ALWAYS OPEN
Our agents can be available for you at any time by email
How Much Does it Cost to Live in the North End?
Moving in the North End Boston
North End Boston Storage Services
Get Your Free Quote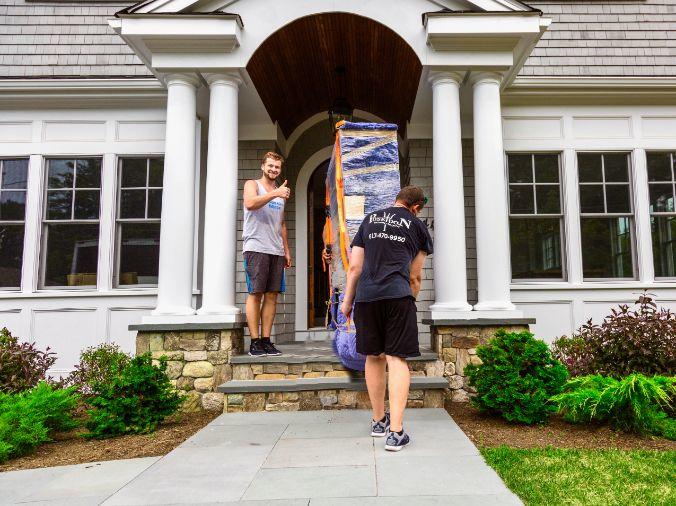 They trust us
Nothing is more important to us than your satisfaction. You will be happy with the quality of our services.
Frequently Asked Questions
How much do movers in North End cost?
Hiring movers in North End can cost on average $300-$700.
How much does packing in North End cost?
Hiring movers in North End can coat on average $300-$700.
What is the minimum charge for moving in North End?
North End movers have a minimum 2 – 3 hour charge.
How many movers do I need for my move in North End?
North End movers decide the number of movers your move will require by calculating the cubic feet of your move.
What size truck do I need for moving in North End?
On average most people in North End use 12'-16' box trucks.
Can I get a virtual estimate for my move In North End?
Many North End movers offer virtual estimates through zoom or Google meet.
Can my estimate be guaranteed by North End movers?
Most North End movers give a rough estimate which is not guaranteed unless it's a flat rate.
Is renting a truck cheaper than hiring North End movers?
Renting a truck in North End can be cheaper than hiring North End movers. If you have time, family/friends that are willing to help and experience.